Starz's Boss is back in business, with Grammer still reason enough to watch
08/16/12 08:54 AM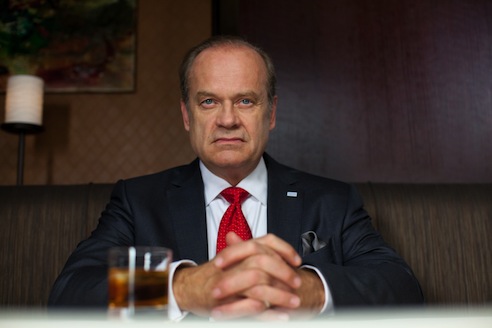 Kelsey Grammer is still in fine, glowering form in Boss. Starz photo
By ED BARK
@unclebarkycom

The Ewings of
Dallas
are done for this season and USA's
Political Animals
is concluding its limited run this Sunday. So viewers looking for a backstabbing serial soap to wind down their summers might want to next turn to the Starz network's
Boss
.
The Kelsey Grammer-paced saga of a corrupt Chicago mayor with a terminal hallucinatory brain disease returns on
Friday, Aug. 17th at 8 p.m. (central)
with its at times loopy
gravitas
also intact. It takes itself very seriously without any of the knowing winks of the aforementioned potboilers. But there's no shortage of wheeler dealer double-crossing, with Grammer's mayor Tom Kane leading the charge as an increasingly unhinged contemporary King Lear determined to build monuments to himself while perhaps amending at least a few of his evil ways before he dies.
(Side trip: Grammer won a Golden Globe for this role but was snubbed in last month's Emmy nominations. On Wednesday's Tonight Show, he told Jay Leno that it may be because he's "a declared out of the closet Republican in Hollywood."

Grammer piled up 10 Emmy nominations as the star of Frasier, winning four times as best lead actor in a comedy series. But his last win, in 2004, came just before he outed himself as a Republican, Grammer told Leno.

He may have a point. Patricia Heaton, likewise an outspoken Republican in recent years, received seven Emmy nominations and won two -- in 2000 and 2001 -- for her work in Everybody Loves Raymond. But she's been shut out ever since, even though her ongoing comedy series The Middle, has received widespread critical acclaim in its three seasons on ABC. Neither the series or any of its cast members have ever been nominated for an Emmy.

Tom Selleck, another vocal Republican, received five Emmy nominations for Magnum, P.I., winning in 1984. His far better work in CBS' series of Jesse Stone movies has got him just one nomination (in 2007), but not a win. And Selleck was snubbed altogether for his against-the-grain but very well received portrayal of Dwight D. Eisenhower in 2004's Ike: Countdown to D-Day.

We live in increasingly polarized times, with the above three actors clearly in Hollywood's minority in terms of their political affiliations. So fair is fair, and it's valid to raise the question. Even though Grammer comes across as somewhat vainglorious for doing so. And it would be hard to subtract one of this year's six nominees -- Steve Buscemi (Boardwalk Empire); Bryan Cranston (Breaking Bad); Michael C. Hall (Dexter); Hugh Bonneville (Downton Abbey); Damian Lewis (Homeland; Jon Hamm (Mad Men) -- for the purposes of including Grammer. Personally, though, I would have left Hall off the list this time around.)
All right, back to the
Boss
review. In Friday's opener Kane reprieves the doctor he had exiled, only to learn his disease is "progressing -- faster than expected."
"You're not God," she tells him.
"Purpose. I have purpose," he replies to no avail. "Mr. Mayor, you have to know," he's informed. "Your best days are behind you."
Through the course of five episodes made available for review, Kane remains hell-bent on ramrodding through his two pet projects -- an expansion of O'Hare Airport and the demolition of the Lennox Gardens public housing project, which is crime-infested and dominated by drug dealers.
The honest poor residents distrust his vow to relocate them in affordable residences while the project is being razed and rebuilt. So Kane persuades Mona Fredericks (Sanaa Lathan) to join his staff as an emissary. She grew up in Lennox Gardens and had opposed Kane's relentless push to implode. But a deal with the devil may result in a better deal in the end, she rationalizes.
Just about everyone rationalizes in
Boss
. Kane's former aide, promiscuous Kitty O'Neil (Kathleen Robertson), also hops between the gubernatorial campaigns of slick, duplicitous Ben Zajac (Jeff Hephner) and charisma-challenged opponent Catherine Walsh (Amy Morton).
Kane's impossibly green new aide, young Ian Todd (Jonathan Groff), has the requisite dark secret while also plotting to impress his volatile boss by any means necessary. The mayor's estranged wife, Meredith (Connie Nielsen), has learned of his debilitating illness and hopes to use it to her advantage. Their drug-addicted daughter, Emma (Hannah Ware), still pretty much despises both of her parents. But she uses as well as being a user. And
Chicago Sentinel
investigative reporter turned editor Sam Miller (Troy Garity) has morphed into the kind of boss that any staffer would love to guillotine. How far will he go for a scoop, though?
There's also Ezra Stone (Martin Donovan), the longtime right-hand man who double-crossed Kane last season and wound up seemingly murdered in the finale. He is in fact dead. But Stone continues to haunt Kane, both goading and lecturing him with increasing frequency as the mayor's mind melts further toward mush.
The scenes with Kane and Stone aren't supposed to be comical. But they come ver close at times. Too many TV characters are talking to dead people these days, with Kane regularly telling Stone, "You are not here!" before again succumbing to his advances. This stuff can get old.
Kane's ramped up conversations with people who aren't really there regularly occur in front of staff members. But they just as often respond with quizzical looks that border on being laughable -- until they actually become so. Believable or not, the mayor's all-encompassing powers -- and powers of intimidation -- keep him out of the loony bin. By Episode 5, though, a rather public blow-up may end up being one too many.
Grammer has proven that he's more than just a comedic actor. His center-ring performance pulls
Boss
along even when it gets bogged down. The supporting actors likewise are all capable, although Grammer's glower clearly is the series' tower of power.
Starz renewed
Boss
for a second season before the first one even aired. But the ratings have been a considerable disappointment, making it highly probable that this second season will be the last. If so, Kane's dementia will have to be accelerated in the interests of closure.
Last season's finale found him flat on his back and seemingly physically incapacitated. In the end he may have to curl up into a little ball before being bounced out to make way for Chicago's next prototypically amoral mayor.
GRADE:
B