New series review: Drive (Fox)
04/13/07 02:06 PM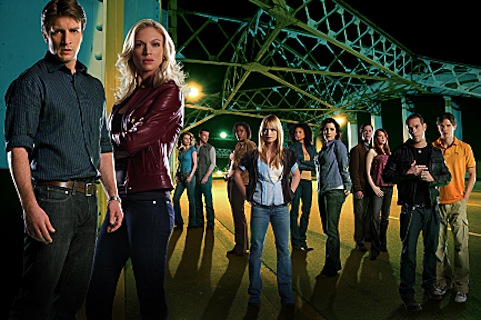 Premiering:
Sunday (April 15) at 7 p.m. central, 8 eastern on Fox. Then it moves to Mondays at 7 central.
Starring:
Nathan Fillion, Kristin Lehman, Kevin Alejandro, Melanie Lynskey, Dylan Baker, Emma Stone, J.D. Pardo, Charles Martin Smith
Produced by:
Ben Queen, Tim Minear, Greg Yaitanes
By ED BARK
The long and winding road of
Drive
may be way too much to ask at a very late point in a serial-killing season.
Fox launches this intriguing
Amazing Race
-ish string-along opposite Sunday night's latest chapter of CBS' real-life
Amazing Race: All Stars
. The latter isn't doing all that hot this season, but at least its racing teams are down to the Final Four.
Not so with
Drive
, which easily could reach an abrupt dead-end if enough viewers aren't quickly seated. Previous examples this season include
The Nine, Vanished, Kidnapped, Runaway, Day Break, Six Degrees
and
Smith
, all of which said hello and goodbye before paying any dividends.
Word to the wise: Don't get too attached to
Drive
either. Then again, attachment is what these serials need to thrive and survive. Ay yi yi.
Drive's
two-hour opener sets up "The Race," otherwise known as a "secret, exclusive and illegal cross-country" competition with a $32 million prize at its finish line. It's run by unseen forces that might as well be "The Others" of
Lost
.
"No one knows. No one asks, They make it so you don't ask," says racer Corinna Wiles (Kristin Lehman), who's likewise mysterious. She's thrown herself into a behind-the-wheel partnership with landscaper Alex Tully (Nathan Fillion), who's also searching for his missing wife.
Fillion, a semi-cult figure from his days as Capt. Malcolm Reynolds on
Firefly
, is a solid
Drive
shaft during these first two hours. You'd like things to end well for him, even if there's probably no chance of that.
Hosting the festivities is bespectacled "Mr. Bright" (durable Charles Martin Smith from
American Grafitti
), who meets the racers at various checkpoints to dole out new clues and disinformation. He's not nearly as congenial as
Amazing Race's
jaunty Phil Keoghan, but does say "good luck" on occasion whether he means it or not.
The racers range far and wide in their makeups and motivations.
John Trimble (Dylan Baker), has a terminal illness, but hasn't told his daughter. Winston Salazar (Kevin Alejandro), freshly sprung from prison, teams up with a younger brother who didn't know he had an older brother. Timid Wendy Patrakas (Melanie Lynskey) is a new mom who for some reason is terrified of her unseen husband. And so on.
Drive
mixes in a little offhand humor, although it's no
Cannonball Run
. It also flashes as far back as 28 years for reasons that are partially explained toward the end of Sunday's second hour.
Competitors otherwise are united only through their special cellphones. They dispense next destination text messages such as "Kennedy killed in '73" with a countdown clock also in view. Hmm, that must mean they have to get to ________ before ________ happens.
Fox has given
Drive
a major promotional jump-start in hopes it'll gain traction. We'll know in a hurry, because three hours are coming at you in two nights, including Monday's regular time slot debut in
Prison Break
's old haunt.
Hitching a ride seems worth it for now. But will this prove to be a serial that really knows where it's going? We may never know. But you already knew that.
Grade:
B