TNT's Men of a Certain Age again winningly serves up a triple shot of angst -- but not a lotta whining
12/03/10 09:02 AM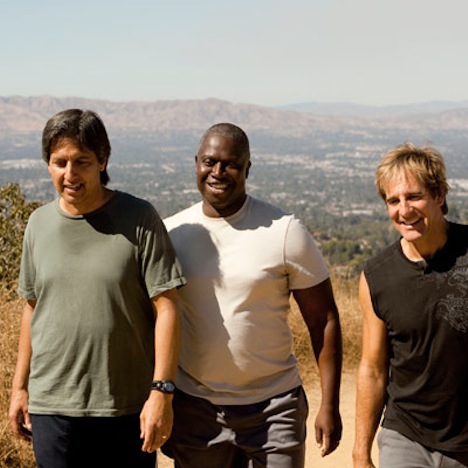 Romano, Braugher and Bakula try to walk the walk. TNT photo
By ED BARK
TNT's best ever drama series -- the show that defies all conventional wisdom about what should work on TV -- finds its way to Season 2 Monday night.
Amazingly,
Men of a Certain Age
(
9 p.m. central
) has nothing to do with fatalities, legalities or life-saving medical procedures. Its three middle-aged central characters -- Joe Tranelli, Owen Thoreau Jr. and Terry Elliott -- respectively are a party store owner, a car dealership manager and a fading actor turned car salesman. Not a lot of made-for-TV jeopardy there in times when all 12 of CBS' drama series are either crime- or courtroom-related.
Created by Ray Romano and Mike Royce,
Certain Age
makes for a fine mess of male angst. But no one's in a fetal position just yet. The midlife struggles of Mike (Romano), Owen (Andre Braugher) and Terry (Scott Bakula) are relatable without ever being overbearing. A little whining is permissible but only in short bursts. These aren't pathetic sad sacks. But yeah, they do have issues.
Mike, a newly divorced father of two, has curbed his enthusiasm for sports gambling and hopes to join the senior pro golf tour. In real life, Romano is an avid swinger/putter, so he looks pretty good with a club. His Joe's Party Depot is of increasingly less interest to him.
Owen, married with two young sons, is striving to be an effective bossman at the dealership his domineering dad (Richard Gant as Owen Sr.) built from the ground up. His newest employee is Terry, who still finds it relatively easy to get laid. Meanwhile, his acting career has fallen down and can't get up.
The three of them otherwise go on weekly hikes and hang out not at a bar, but at Norm's diner. This allows for ample banter and grousing, with Joe newly embarrassed by the reading glasses he needs to decipher the menu.
Terry is chided about his "bang-zoom" sex life, but protests that "I don't bang-zoom." Joe's re-entry into the dating world and its attendant bedrooms is aided by a chance meeting in Monday's Season 2 opener. Owen and his wife, Melissa (Lisa Gay Hamilton), remain happily if sometimes fitfully married. She wants to re-enter the work force; he doesn't know if it's time yet.
The touch remains light, but never farcical, throughout the new season's first two episodes. Bakula's Terry initially resonates a bit more than his mates, particularly in a second episode that has him enduring dealership slings and arrows from a ridiculous old commercial that lately has gone viral on youtube.
TNT is owned by Turner Broadcasting System, Inc., which also runs TBS. And it's clear there's a product placement deal in place with Chevrolet. Twenty new Chevy Cruzes currently are part of a contest giveaway on TBS'
Conan
. And a Cruze also has a bit part in Monday's episode of
Certain Age
.
Romano, whom virtually everyone knows from
Everybody Loves Raymond
, has succeeded in fashioning quite a second act for himself. Not that his increasingly sturdy dramatic acting is any threat to the likes of Sean Penn or Johnny Depp.
Still, the ways in which
Certain Age
charms and disarms are a major accomplishment in the current prime-time scheme of things. Weekly tales of three life-challenged middle-aged men would be laughed out of the programming suites at CBS, ABC, NBC and Fox. What's the hook, how 'bout the crooks, whose life is threatened, who's being two-timed, where's the heat? In short, how the hell do we
sell
this thing?
Romano and TNT have found a way, drawing a robust-for-cable average of 4.2 million viewers per episode for
Certain Age
's first season. All of TNT's seven other first-run dramas are about cops, docs or freelance vigilantes. The lone exception remains exceptional.
GRADE:
A-minus