CBS picks six, including a Big Bang Theory prequel, for new fall schedule
05/17/17 08:50 AM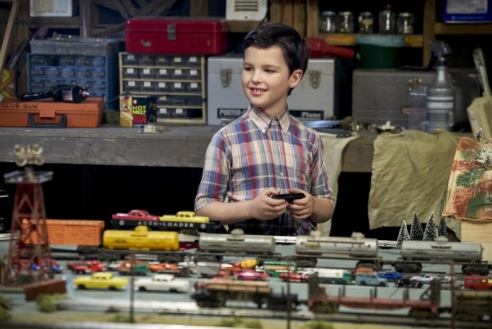 Iain Armitage plays a 9-year-old, East Texas brainiac in Young Sheldon, a spinoff prequel of The Big Bang Theory. CBS photo
By ED BARK
@unclebarkycom on Twitter
No. 1 in total viewers for nine consecutive seasons and 14 of the last 15, CBS nonetheless is adding more newcomers to its fall schedule than any of its rivals.
The network's six freshman series are one more than ABC and three more than either NBC or CBS. Even so, Tuesdays, Fridays and Saturdays will stay the same in the early stages of next season.
A trio of new action dramas and a like number of comedies are being readied for this fall, with
The Big Bang Theory
prequel
Young Sheldon
likely to draw the most attention. The two shows will be paired on Thursdays following CBS' five-game NFL football schedule, with
Young Sheldon
first getting a one-shot Monday night preview on Sept. 25th. Newcomer Iain Armitage plays nine-year-old Sheldon Cooper, whose big brain already has advanced him to an East Texas high school.
Big Bang
star Jim Parsons narrates in an approach reminiscent of ABC's
The Wonder Years
, veteran CBS scheduler and senior executive vice president Kelly Kahl said in a Wednesday morning briefing.
CBS has renewed five freshman series --
Bull, Kevin Can Wait, Man With a Plan, Superior Donuts
and
MacGyver
, although Matt LeBlanc's
Man with a Plan
isn't scheduled to return until midseason. There's still room in the cancellation corral, though, for
2 Broke Girls, The Great Indoors, Training Day, Doubt, Pure Genius, Criminal Minds: Beyond Borders
and
The Odd Couple
.
The network also plans to celebrate the 50-year anniversary of
60 Minutes
throughout next season while adding Oprah Winfrey as a correspondent. NBC has scheduled Megyn Kelly's new newsmagazine show directly opposite
60 Minutes
, but "we won't take too many early shots at Megyn Kelly -- yet," CBS Corporation chairman/president/CEO Leslie Moonves told TV critics.
Moonves also confirmed that CBS had talks about rebooting
American Idol
before ABC ended up buying it for a midseason launch. "We looked at it very seriously, but the economics made absolutely no sense to us," he said.
One big stumbling block: CBS "wouldn't have any piece of selling the 'back end' " Moonves said. He earlier noted that for the first time in history, less than 50 percent of CBS' revenues are from advertising. "The back end is now worth more than the front end."
In other words, CBS now is making more money selling the rights to its shows in rerun syndication, to streaming services such as Hulu and to other "platforms." In that context, the network has at least part ownership, via CBS Television Studios, of all five of the freshman series it picked up for second seasons, Kahl said. CBS Television Studios also is a profit-sharing production partner in all of the network's new fall series except
Young Sheldon
, which is solely the property of Warner Bros. Television.
Here are CBS' six new fall series:
SEAL Team
(drama) -- David Boreanaz bounces from a long run on Fox's
Bones
to playing the commander of an elite special ops unit specializing in "unwavering patriotism and fearless dedication."
S.W.A.T.
(drama) -- "Hondo" Harrelson rides again, with Shemar Moore (
Criminal Minds
) starring in the role made reasonably famous by Steve Forrest in the 1975 original on ABC.
Wisdom of the Crowd
(drama) -- Jeremy Piven (
Entourage
) returns to series TV as "visionary tech innovator" Jeffrey Tanner. How so? He creates a "cutting-edge crowdsourcing app" to solve his daughter's murder and thereby "revolutionizes" the art of catching criminals.
Young Sheldon
(comedy) -- It can be tough fitting in as a pre-teen at an East Texas high school "where church and football are king." But li'l Sheldon is gonna make it after all, as we already know.
Me, Myself & I
(comedy) -- It's an obvious effort to piggyback on the success of NBC's time-spanning
This Is Us
, with
Saturday Night Live
veteran Bobby Moynihan the principal star as a "present day" 40-year-old version of a guy named Alex. Other actors will play Alex at the ages of 14 and 65. Jaleel "Urkel" White also is in the cast as present day Darryl.
9JKL
(comedy) -- Mark Feuerstein (
Royal Pains
) stars as divorced actor Josh Roberts, a character inspired by his real life. Languishing between projects, he finds himself living in a New York apartment "sandwiched between" his meddlesome parents and a competitive brother and sister-in-law, plus their new baby. TV vets Linda Lavin and Elliott Gould play the pain-in-the-butt parents.
Here is CBS' night-by-night new fall lineup.
Monday
(during Thursday Night Football)
The Big Bang Theory
9JKL
Kevin Can Wait
Me, Myself & I
Scorpion
After Football
Kevin Can Wait
9JKL
Me, Myself & I
Superior Donuts
Scorpion
Tuesday
NCIS
Bull
NCIS: New Orleans
Wednesday
Survivor
Seal Team
Criminal Minds
Thursday
Football from Sept. 28 to Oct. 26 before a regular lineup of:
The Big Bang Theory
Young Sheldon
Mom
Life In Pieces
S.W.A.T.
Friday
Macgyver
Hawaii Five-0
Blue Bloods
Saturday
Crimetime Saturday
Crimetime Saturday
48 Hours
Sunday
60 Minutes
Wisdom of the Crowd
NCIS: Los Angeles
Madam Secretary
CBS also announced these two midseason series:
Instinct
(drama) -- Alan Cumming (
The Good Wife
) plays a former CIA operative who gets pulled back in to help apprehend -- what else -- a serial killer. He'd otherwise been a college professor teaching psychopathic behavior courses to "packed classes of adoring students."
By the Book
(comedy) -- Shades of ABC's new
The Gospel of Kevin
, with Jay R. Ferguson (
Mad Men
and ABC's recently axed
The Real O'Neals
) playing a wayward "modern day man" and New York film critic who decides to live "strictly in accordance with the Bible." The cast also includes TV vet Camryn Manheim.
Email comments or questions to:
unclebarky@verizon.net