One to watch: Smithsonian Channel's The Day Kennedy Died
11/13/13 02:38 PM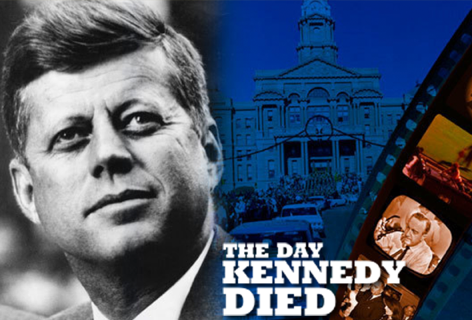 By ED BARK
@unclebarkycom on Twitter
At this point, 50th anniversary JFK assassination programming is pouring out faster than those chocolates on that old
I Love Lucy
conveyor belt.
One just can't keep up with all of them. However, your time would be well-spent watching this one. Smithsonian Channel's two-hour
The Day Kennedy Died
, narrated by Kevin Spacey, is a well-made, one-stop look at the cataclysmic events of Nov. 22, 1963. It premieres on
Sunday, Nov. 17th at 8 p.m. (central).
There's one caveat, though. Don't believe Spacey's opening declaration that four of the interviewees "have not spoken on camera before." Technically, that might be somewhat true of Parkland Hospital Dr. Robert McClelland, who's previously done radio interviews and videotaped presentations that are readily available on youtube.com.
The others, Clint Hill, Buell Frazier and Ruth Paine, are all veterans of previous TV interviews. Hill in particular has been readily available to talk about both his experiences and his lingering guilt as a Secret Service agent primarily assigned to protect Jacqueline Kennedy on that fateful day.
Other than that, British documentary filmmaker Leslie Woodhead (
The Hunt for Bin Laden
) has done a first-rate job of putting this all together again. Much of the video may be thoroughly familiar by now. Still, the information imparted -- both nuts-and-bolts and anecdotal -- is deftly meshed with the wealth of available images. Add the well-modulated play-by-play from Spacey, lately best known for playing duplicitous House Majority Leader Francis "Frank" Underwood on
Netflix's House of Cards
.
Your friendly content provider is old enough to have been in high school French class when news of the shooting first broke. But 50 years down the road, the majority of this film's potential audience hadn't yet been born when President John F. Kennedy was murdered in broad daylight while riding with his wife, Jacqueline, in a motorcade that had just reached Dealey Plaza.
Those who remain less than familiar with that day's chronology of events will find them very vividly re-told in
The Day Kennedy Died
. It's an apt companion piece for National Geographic Channel's previously aired
JFK: The Final Hours
, which revealingly looked at how the Kennedys spent their time in San Antonio, Houston and Fort Worth before Air Force One landed in Dallas. (
Final Hours
will next be repeated on
Friday, Nov. 15th at 5 p.m. central
)
The Nov. 24th murder of accused assassin Lee Harvey Oswald is also included in
The Day Kennedy Died
. Former homicide detective James Leavelle, who was escorting Oswald before Jack Ruby pulled the trigger, again makes it clear he had no use for the media who swarmed the Dallas police department in the two days after the assassination.
Leavelle also grilled Oswald, to whom he still seems more favorably disposed. Even though he lied about his activities, Oswald "wasn't argumentative, actually a very pleasant individual," Leavelle says.
Dallas Times Herald
photographer Bob Jackson, who took the signature picture of Oswald grimacing while Leavelle recoiled, says matter-of-factly, "He fired and I fired. I couldn't have planned it any better."
The film's final words are from Hill, who's also prominently featured in
JFK: The Final Hours
. "Things like that just didn't happen," he says. "But they did."
The Day Kennedy Died
brings it all home anew in ways that are both affecting and highly effective.
GRADE:
A-minus
Email comments or questions to:
unclebarky@verizon.net