Signed, Sealed, Delivered gets stamp of approval from Hallmark Channel
04/18/14 11:09 AM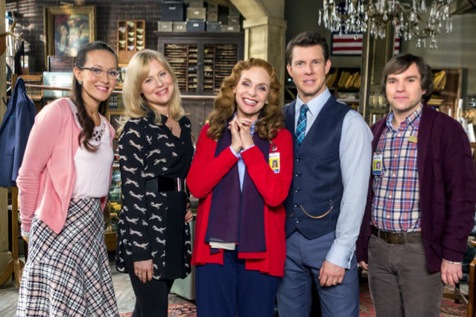 Guest star Valerie Harper and stars of Signed, Sealed, Delivered.
Hallmark photo
Premiering:
Sunday, April 20th at 7 p.m. (central) on Hallmark Channel
Starring:
Eric Mabius, Kristin Booth, Crystal Lowe, Geoff Gustafson
Produced by
Martha Williamson, Joel S. Rice, Scott Smith, Michael Prupas
By ED BARK
@unclebarkycom on Twitter
This stuff just wouldn't cut it anymore on a Big Four broadcast network, where
Touched By An Angel
gave CBS a squeezably soft hit series for nine seasons before its last of 212 episodes aired on April 27, 2003.
Its creator, Martha Williamson, has been in TV's wilderness ever since. But the Hallmark Channel welcomed her with open arms last October, when
Signed, Sealed, Delivered
arrived as a movie. Easter Sunday marks its debut as a 10-episode weekly series on the same night and at the same time where
Touch
prospered.
Hallmark has resisted any and all efforts to be edgy. It means well -- with a vengeance one might say. But syrupy, life-affirming TV isn't yet a crime, or even a misdemeanor. So we're going to try being reasonably kind and gentle toward
Signed, Sealed, Delivered
, a throwback hour of harmless, gooey entertainment for those who still prefer storybook endings to slaughterhouses, anti-heroes or
Salem
, a polar-opposite series premiering the same night on WGN America.
The first episode of
Signed, Sealed
, subtitled "Time to Start Livin'," spotlights guest star Valerie Harper as a lively postal supervisor named Theresa Capodiamonte. Harper continues to out-live a very dire diagnosis for leptomeningeal carcinomatosis, a cancer she's had for the past 13 months. She was supposed to b dead by now, with doctors marveling at her continued survival.
Harper's character will stick around for the first two episodes before fellow TV icon Dick Van Dyke replaces her as supervisor in the next two.
Signed, Sealed
also will feature Valerie Bertinelli, Marilu Henner and former
Touched
co-star Della Reese in guest roles before the series finale makes room for Carol Burnett.
The premise is at best rather preposterous. Working out of the U.S. mail's dead letter bureau, a quartet of "postal detectives" strive to ensure that every envelope and package reach their intended recipients. There's always much at stake, of course. In Sunday's premiere, a 10-year-old boy's undelivered letter to his grandma becomes a life or death proposition involving a nursing home and a drug ring.
Leading the amateur gumshoe contingent is Oliver O'Toole (Eric Mabius from
Ugly Betty
), a buttoned-down quoter of Shakespeare who resembles a young Tom Bergeron and so far is immune to the charms and veiled come-ons from perky Shane McInerney (Kristin Booth). Thoughtful nerd Norman Dorman (Geoff Gustafson) and bespectacled, excitable Rita Haywith (Crystal Lowe) round out the team.
"I have heard that you four have a way of thinking outside the mailbox," Harper's character says for starters. Oh my. Oliver calls her a "goddess in the postal acropolis." Aw cripes.
Everything is pretty much telegraphed during the course of an episode that ends with Harper getting a chance to sing after she's earlier spotted dancing. Her character also knew Oliver's grandfather, a kind, caring giant of the dead letter-reviving profession. This allows her to gently poke at his softer side.
Signed, Sealed
has found a perfect home on Hallmark Channel, which does a very able job of promoting its golly gee-rated lineup. The network isn't required to make any apologies or amends. It is what it is -- an aspirational network that's sticking to its guns while only rarely firing any. It's not for me, but it may be for you. There, I've been a good boy.
GRADE:
C
Email comments or questions to:
unclebarky@verizon.net