Finally making the team: Jimmy Johnson talks about surviving his favorite show after getting cut twice (in celebration, he even cut his hair)
09/09/10 04:34 PM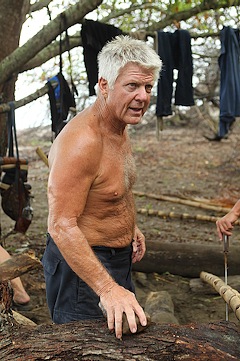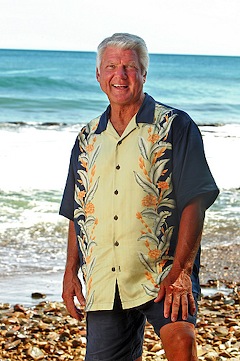 It looks like a tale of two Jimmys on Survivor: Nicaragua. CBS photos
By ED BARK
Once, twice, three times a
Survivor
applicant, former Dallas Cowboys coach Jimmy Johnson at last got what he wanted -- a chance to spend sleepless, shivering nights in the rain on a bamboo bed amid lush but primitive surroundings.
"I thought not having food would be one of the more difficult things," Johnson, says in an expansive teleconference tied to the Wednesday, Sept. 15th premiere of
Survivor: Nicaragua
(
7 p.m. central
). "I actually dealt with that OK. But the no sleep thing really got to me. You don't have any energy."
So why would a 67-year-old, two-time Super Bowl-winning coach take such a plunge? Purely for the "adventure," Johnson says repeatedly. "When I was a kid, I had these aspirations of someday going to the Amazon. In fact, I even tried to talk mommy and daddy into letting me have a Marmoset, a little monkey."
That didn't pan out. But the more he watched
Survivor
-- "I'm obsessed with it. I never miss a second of it" -- the more Johnson yearned to be a part of it.
He first tried out six years ago and "got turned down" for being too out of shape. "I did all the paperwork and my little video and everything," Johnson recalls.
Three years later he tried again and "was pretty much approved" until doctors discovered a 100 percent blockage in one of his arteries and a 75 percent blockage in another. He had a stent put in and then lost 30 pounds. "
Survivor
actually might have made me a survivor," he says. "It probably saved my life."
It also got him a spot on the pathfinding franchise's 21st edition. Only upon arrival in Nicaragua did he learn of the show's latest twist. Johnson will be the senior member of the Espada tribe, a group of 10 competitors over the age of 40 who will take on a La Flor tribe whose members are all 30 years of age or younger.
"Initially I was upset," he says. "I was upset because I wanted some of those young bucks to carry me."
In the end, though, "I think things were fair," he says. "And as the game goes on, I think you'll see why."
Johnson is sworn to secrecy on particulars. Even disclosing how much weight he lost would be a tip-off on how long he lasted as the game's marquee player.
"I lost a significant amount. I will say that," he says. "I have gained about half of it back" since
Survivor: Nicaragua
completed taping in mid-July.
Johnson also lost some of his famed, immovable hair -- intentionally. Vanity was never an issue, he says.
"I did have my hair (cut) shorter than it's been since I was in high school. I never combed it the whole time. When you're worried about getting something to eat and boiling some water and getting some sleep, the last thing on your mind is how you look."
He's said from the start that he has no realistic chance of winning the $1 million grand prize. After all, Johnson doesn't really need the money. Instead his game plan was to convince his fellow tribe members that "I want to help you win a million bucks." Not that everyone initially bought this.
"You sound like my other tribe mates," he tells a questioner who wonders if Johnson might really have been trying to get his rivals to "let their guard down."
Johnson says he came away being "very happy with my adventure" and also surprised at how much it took out of him.
"Anybody that's a skeptic of the show, they really don't know what they're talking about," he says. "It's as difficult as I thought it was going to be -- and more. And it's as beautiful as I thought it would be -- and more."
The game has changed over the years, he agrees. Texan Colby Donaldson, one of his all-time favorite competitors, stayed in the game by winning one immunity challenge after another on
Survivor: The Australian Outback
, Johnson notes. "In the early years . . . it was so important to win the challenges. Now it's become more of a social game and a conniving type game."
Johnson insists he "won't lie to people," though. "That's something I just don't do."
He expects to hear ample
Survivor
talk -- and see some excerpts as well -- during his weekly stints on Fox's NFL pre-game shows. But slap-happy colleague Terry Bradshaw might not want to make too much sport of him.
Bradshaw would last "about one minute" on
Survivor
, he says. "Terry is spoiled, I promise you. He's too accustomed to the good life."
Johnson doesn't contemplate any return engagements, though. One
Survivor
outing was enough for him, even if it all looks rosier in the rear view mirror.
"Unfortunately, I would have to decline," he says. "I think I've about pushed it to the limit."