History's Hatfields & McCoys takes its place among TV's best Westerns
05/24/12 02:35 PM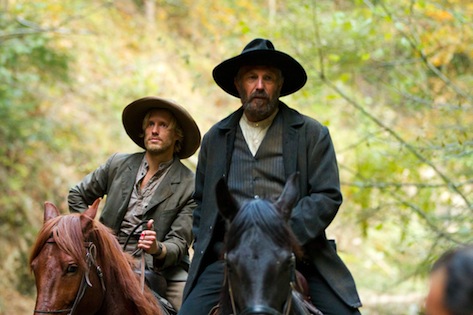 Matt Barr, Kevin Costner in Hatfields & McCoys. History photo
By ED BARK
@unclebarky
History's first original scripted miniseries had been earmarked for last spring until it belatedly got rejected as unfit for the network's "brand."
The Kennedys
went on to receive 10 Emmy nominations and won four after airing on the still obscure ReelzChannel.
Barring any really amazing last-second palpitations, the 6-hour
Hatfields & McCoys
presumably will be airing on History, beginning Memorial Day and continuing Tuesday and Wednesday at
8 p.m. (central) each night.
Spiked by Kevin Costner and Bill Paxton as the heads of their respective clans, this down-and-dirty epic doubles down on storied family intrigue while also emerging as the best made-for-TV western saga since AMC's 2006
Broken Trail
.
Costner, affixed with a deep-seated beard throughout, hits a firm stride as "Devil" Anse Hatfield, whose West Virginny kin were a mix of dirt bags and decent sorts.
Paxton and his even scragglier facial hair team up to play Randall McCoy, patriarch of a sprawling, brawling brood of Kentucky-bred offspring. Their families are separated by Tug Fork, which nominally divides these neighboring but not so neighborly states.
The two principals are first seen fighting for the same Rebel side in a vividly staged Civil War battle. Randall saves his comrade's life before Anse decides he's had enough of organized war.
"From here on out I fight only for my own," he declares before riding off to Randall's protests that "God hates deserters."
Randall is fated to suffer in a Union prison camp while his brother, Harmon, is killed back home at the hands of Anse's no-good Uncle Jim Vance (an almost unrecognizable Tom Berenger). Rumors to that effect spread while a dazed and weepy Randall makes his way back to Kentucky and his worn-out wife, Sally (the always good Mare Winningham).
"I'm prepared to do my duty as your wife," she tells the husband she thought was dead. "But I ask that you spill your seed outside of me. I could not bear another birth."
Hatfields & McCoys
is heavily populated without being too dense. Its characters become fairly easy to sort through, with temperaments ranging from Anse's goodly son Johnse (Matt Barr) to a mercenary Pinkerton detective turned bounty hunter known as "Bad Frank" Phillips (Andrew Howard).
As hostilities escalate, forbidden young love blooms between moonshine entrepreneur Johnse and Randall's "favorite" daughter, Roseanna (Lindsay Pulsipher). Their trials and tribulations are at the heart of this cautionary tale of warring families with nothing to lose but more young lives. Randall thumps his bible while stoic Anse will have none of it. Both men have a sense of justice that makes sense to them. It basically always gets down to an eye for an eye.
Powers Boothe cuts his own imposing figure as judge Walt Hatfield, older brother of Anse and more or less honorably bent on being fair and balanced. There's also conniving attorney Perry Cline (Ronan Vibert), who sides with the McCoys in the service of his own material interests.
Authentically grimy, solidly built and well-paced,
Hatfields & McCoys
is violent without being gratuitous. And the moral to this generation-spanning story continues to re-assert itself. In one such scene, the misery in mama Sally McCoy's eyes cuts through the screen during a last visitation with her three doomed sons.
Costner's performance is more effective than Paxton's. But in terms of sheer slovenly malevolence, it's Berenger who steals this yarn while spitting out perhaps a full jug of tobacco juice during the course of these six hours.
It's hard to believe that this legendary family feud officially endured all the way to 2003, the year in which "a symbolic peace treaty was signed by 60 descendants from both families," according to a printed postscript.
Alas, we now have the Republicans and the Democrats, whose seemingly irreconcilable and escalating differences can kill the spirit of a country. The Hatfields and McCoys only drew each others' blood. The Elephant and Donkey parties may end up inflicting much deeper wounds before they're done. And there's no truce in sight.
GRADE:
A-minus