Matched set: TV Land plays it again by pairing new Retired at 35 with returning Hot in Cleveland
01/18/11 04:24 PM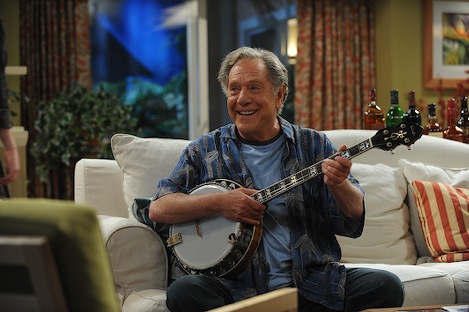 George Segal again is strummin' on his old banjo. TV Land photo
Premiering:
Wednesday, Jan. 19th at 9:30 p.m. (central) on TV Land
Starring:
George Segal, Jessica Walter, Johnathan McClain, Josh McDermitt, Ryan Michelle Bathe
Produced by:
Chris Case
By ED BARK
Throw another retro-fitted sitcom on the fire. Then sit back and smell the Glade-scented ratings.
TV Land soared over its highest expectations last year with the Betty White-fueled
Hot In Cleveland
, which also is aided and abetted by savvy sitcom vets Wendie Malick, Valerie Bertinelli and Jane Leeves. It ended up being cable's most-watched comedy series, and not just among viewers who get around with walkers and know who
Randolph Scott
is.
Cleveland
also was cable's No. 1 comedy among 25-to-54-year-olds while likewise topping the charts with 18-to-49-year-old women. So TV Land will strike again Wednesday night, with the Season 2 premiere of
Cleveland
(featuring a cameo by Mary Tyler Moore as a jailbird) followed by the launch of
Retired at 35
.
The title refers to the comparative kid of the piece. But the show's stalwarts are old pros George Segal and Jessica Walter as his Florida-esconced parents, Alan and Elaine Robbins.
Sporting an ample gut and finding myriad reasons to strum his trademark banjo, Segal regularly delivers his lines several decibel levels above optimal volume.
"You're gonna love it here! It's like college in slow motion!"
"Are you on facial book?!"
"Porn is like basketball to me. I like watching people do what I used to do."
The laugh track is beside itself -- and why not? In a sea of "smart" one-camera comedies (including NBC's entire re-shuffled Thursday night lineup),
Retired at 35
is unapologetically broad and bull-horned. Dialogue is served like Beef Wellington -- grandly with heavy sauce.
We begin with the Robbins' harried son, David (Johnathan McClain), arriving from New York while being pestered on his cell phone about unfinished business matters. "Will you stop with all the texturizing?! Dad exclaims. Yo ho ho and a bottle of Scotch, which Segal's character has in abundance.
Wednesday's premiere also includes David's carping younger sister, Amy (Casey Wilson), who's been written out of future episodes. As has her seemingly gay boyfriend, who's meant to sound and act like
Paul Lynde
.
Surviving through next Wednesday's Episode 2, though, are David's typically lunk-headed, beefy best friend Brandon (Josh McDermitt) and comely bartender Jessica Sanders (Ryan Michelle Bathe), on whom David had a crush in high school.
The title tells you that David will be sticking around a spell. It doesn't tell you about another key plot development that involves his parents and frees up Dad to be the recipient of "a toke and a poke" (a pal's shorthand description of medical marijuana and Cialis).
McClain's David Robbins does a fairly good job throughout of acting flustered and hectored. And evergreen guest star Christine Ebersole, who also pops in next week, remains capable of turning a head or two with both her acting and her looks.
Shelley Long of onetime
Cheers
fame in contrast has an embarrassingly brief walk-on next week. Down the road, Fred Willard of course will also make a guest appearance. It's written in the TV Constitution that no comedy shall go more than two seasons without his participation.
Whatever its excesses,
Retired at 35
isn't hurting anyone and likely won't lower many IQs to room temperature. It has its moments and is well-appointed with seasoned actors who know how to hit their marks. So if you like
Hot In Cleveland
, then by all means stick around. These two shows go together like peanut butter and jelly,
AARP Magazine
and bifocals, Cialis and medical marijuana . . .
GRADE:
C+