HBO's The Normal Heart revisits the onset of the AIDS epidemic via Larry Kramer's strong-worded play
05/22/14 05:21 PM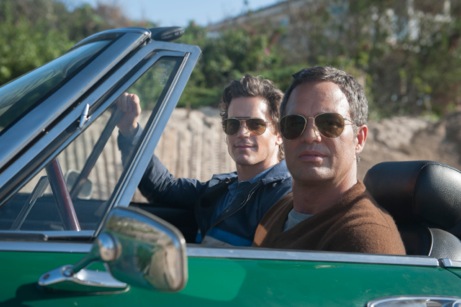 Mark Ruffalo and Matt Bomer star as gay lovers in The Normal Heart.
HBO photo
By ED BARK
@unclebarkycom on Twitter
Premiering over the Memorial Day weekend, HBO's
The Normal Heart
stands as its own memorial to the more than 36 million people worldwide who have died from HIV/AIDS since the epidemic began in 1981.
That particular postscript to the film has its own jarring afterlife. Thirty six million!!! In that context, the film's protagonist, Ned Weeks (Mark Ruffalo), has every right -- and then some -- to spew rage and invective throughout a good part of
The Normal Heart
. Adapted from Larry Kramer's same-named original 1985 off-Broadway production, it debuts on
Sunday, May 25th at 8 p.m. (central)
with a running time of just over two hours.
Weeks, founder of the New York-based Gay Men's Health Crisis advocacy group, is pretty much an autobiographical stand-in for Kramer himself. He's first seen on a 1981 boat excursion to Fire Island, where big gaggles of uninhibited gay men drink and party pretty furiously while also eagerly coupling with established partners or new acquaintances.
Although he's openly gay, this is not Weeks' style. An early scene finds him watching from afar as a single, loveless, lonely man.
But other gay men are starting to get very sick in a hurry, crowding the offices of wheelchair-bound, polio stricken Dr. Emma Brookner (a deglamorized Julia Roberts). As the death toll mounts, Brookner urges Weeks to speak out and "tell gay men to stop having sex" in hopes of curbing this mysterious attack on immune systems.
At a subsequent meeting, she encounters outrage from a large group of vocal naysayers who contend that the gay political movement was built on the freedom to love and make love openly.
"Doesn't common sense tell you you should cool it for a while?" Dr. Brookner asks. The answer is a resounding no.
Directed by Ryan Murphy (creator of
Glee
and
American Horror Story
), the film is unafraid to initially portray gay men as largely hedonistic pleasure-seekers. Screw everyone else; we're too busy screwing each other. But the nuanced characterizations begin to kick in when Weeks approaches gay
New York Times
reporter Felix Turner (Matt Bomer from USA's
White Collar
series), who covers gay artists without revealing their sexual orientation in print.
Turner is reluctant to write about the rampaging "gay cancer" afflicting and killing gay men. He is, however, willing to date Weeks. They're soon the loves of each other's lives while Weeks continues as a perceived loose cannon within the Gay Men's Health Crisis group. Its president, pretty boy Bruce Niles (Taylor Kitsch from
Friday Night Lights
, remains a closeted investment banker who lost his latest boyfriend to AIDS. There's also Tommy Boatwright (Jim Parsons reprising his 2011 Broadway revival role), who's openly gay, outwardly prissy but in many ways the backbone of the organization.
Alfred Molina likewise has a key role as Ben Meeks, Ned's older, straight and successful attorney brother.
"You guys have a dreadful image problem," Ben tells Ned in reference to the sexual promiscuity coursing through the gay community.
Still, the brothers have remained pretty close until Ned eventually blows up over Ben's refusal to "acknowledge me as your equal, your brother!"
Ned verbally explodes a lot. Roberts' Dr. Brookner also gets a chance to go ballistic in the face of continued under-funding of her work. And another advocacy group member, mayoral assistant Mickey Marcus (Joe Mantello), rages and weeps at length before Parsons' Tommy Boatwright quietly persuades him to leave the office.
Parsons doesn't have all that many scenes. But he has one of the more effective ones while delivering his latest church eulogy and adding the deceased's name to his growing pile of Rolodex cards.
"Why is no one helping us?" he asks, sobbing as his quiet anger mounts. "And here's the truth. Here's the answer. They just don't like us."
There's another quiet scene that also resonates. It's when Ned Weeks meets Dr. Brookner at her apartment and urges her to get out of her wheelchair for a little dance. "Don't scratch my Mathis," she says with perfect delivery as he puts Johnny Mathis' "Chances Are" on the turntable. But the tender moment passes after he describes himself as a "terrible leader" of the gay activist group before she instantly retorts, "And terrible dancer. Put me back."
The Normal Heart
grows in poignancy as characters we've come to know are affected or afflicted by AIDS. Ruffalo's Ben shoulders a good deal of the emotional pain while also becoming unbearable to his activist friends.
The film has uniformly strong performances but lacks the instant impact of NBC's trailblazing 1985 film
An Early Frost
or the more far-ranging depth of the 1993 HBO movie
And the Band Played On
, which also depicted the outset of the AIDS epidemic and the deaf ears turned to it.
The Normal Heart
adds to this catalogue without flinching or pulling punches. It's polemical to be sure, but why shouldn't it be? There's really no other side to a story about an epidemic that was ignored for far too long because the people it killed were deemed expendable by way too many among us.
GRADE:
A-minus
Email comments or questions to:
unclebarky@verizon.net