New fall season: It's pretty much bunny ha-ha in NBC's The Playboy Club
09/16/11 09:38 AM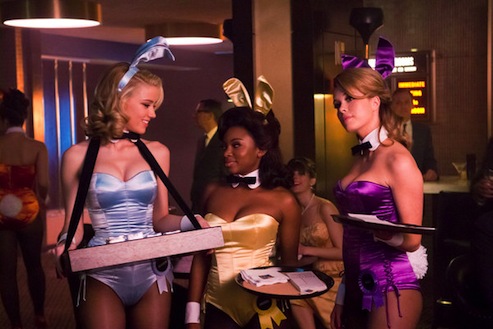 Three bunnies are all ears, among other things. NBC photo
Premiering:
Monday, Sept. 19th at 9 p.m. (central) on NBC
Starring:
Eddie Cibrian, Amber Heard, Laura Benanti, Jenna Dewan Tatum, David Krumholz, Naturi Naughton, Leah Renee, Jenifer Lewis, Wes Ramsey
Produced by:
Brian Grazer, Chad Hodge, Francie Calfo, Jason Burns, Dick Rosenzweig, Ian Biederman
By ED BARK
Thanks for getting this far. If you're seeing these words, you've at least briefly taken your eyes off the above Playboy bunnies and are now reading this for the article. And that's still why everyone pages through
Playboy
. Right? Even if the magazine's subscription base has taken a deep dive over the years.
In that respect, NBC's
The Playboy Club
potentially could breathe some life into a dying empire. Set in the early 1960s, it harkens to times when . . . well, let the series' mock Hugh Hefner explain it in his opening narrative while a bunny vocalist coos "Chicago."
"The scheming, corrupt, crime-filled Windy City may have been all those things," an unseen Hef impressionist tells viewers. "But I built a place in the toddlin' town where everything was perfect. Where life was magic. Where the rules were broken and fantasies became realities for everyone who walked through the doors. It wasn't the '50s anymore. Yes, it was a place where anything could happen to anybody. Or, any bunny."
The series itself is as hackneyed as Hef's come-on. But no one was expecting
Masterpiece Theatre
or even
Nash Bridges
. So perhaps the Peacock's easy-on-the-eyes ode to America's first full-figured bunny hatch will draw enough oglers to somehow survive a tough 9 p.m. (central) slot opposite ABC's
Castle
, CBS'
Hawaii Five-O
and ESPN's
Monday Night Football
.
Just in case, though, NBC has dumped a big vat of gangland intrigue onto these proceedings. New bunny Maureen (Amber Heard), fresh from Fort Wayne, quickly ends up on the receiving end of a drooling mobster's advances while she goes backstage at the club to replenish her cigarette case.
In the initial pilot, he was a "key player" who ended up dead with Maureen's stiletto heel in his ear. The revised version has a much more prolonged struggle, with both Maureen and suave playboy attorney Nick Dalton (Eddie Cibrian) trying to fight off the creep. She ends up kicking him in the neck and hitting him square in the jugular with the business end of a bunny shoe. And this time he's not just a key player. He's crime family head Bruno Bianchi. Uh-oh.
In either case, Maureen didn't mean to kill him. And Bruno ends up deposited in the Chicago River while Maureen and Nick try to engineer a cover-up. His previous mob ties complicate matters. As do his ambitions to run for state attorney, which he can't consummate without more than a little help from his unsavory friends.
Maybe NBC would have been better off just showing the bunnies off. Which it does to good effect in a scene where a mock Tina Turner encourages everyone to "shake a tail feather." Which they do. Woo-hoo.
But no.
Playboy Club
is pockmarked with dialogue that gives cliches a bad name. Such as Nick telling Maureen, "You have no idea what these people are capable of." And Maureen shooting back, "I've been on my own since the day I was born. And I've worked too hard to get here. And I'm not gonna let anyone stop me."
This particular discourse occurs in Nick's swank, two-story, impeccably furnished penthouse, where he's spent many a night with a veteran bunny and girlfriend named Carol-Lynne (Laura Benanti). She of course pops in unexpectedly while Maureen hides in the closet but leaves her discarded bunny outfit in plain sight.
"This isn't what you think," Nick protests.
"You don't know what I'm thinking," retorts Carol-Lynne, who later informs Nick that she's a "one-strike girl, baby. And I'm walkin' away."
Groan. Why couldn't the script have been deep-sixed along with big Bruno?
OK, let's meet the rest of the bunnies, who are given their daily marching orders by club manager Billy Rosen (a mis-cast David Krumholtz from
Numb3rs
).
Bunny Janie (Jenna Dewan Tatum) has been known to have sex with the bartender on company time. She also enjoys those delicious blueberry crepes with vanilla sauce after a long, long night of partying at Hef's nearby Mansion, where the bunnies all hole up. If she eats too many, Janie just sticks her finger down her throat and vomits as part of "this new diet I heard about."
The newly installed "bunny mother" -- that would be Carol-Lynne -- has nothing against crepes but quickly establishes some new rules that otherwise cramp Janie's style. No more sex with club employees or customers, she commands. And furthermore, "your tails are poofier and your corsets tighter."
Bunny Brenda (Naturi Naughton) is the self-described "chocolate" member of the crew. She aspires to be the first centerfold of color because "you can't discriminate against these babies." (Scroll to the above picture for proof, but then ya'll come back again, ya hear?)
Bunny Alice is "married," but shares a big secret with her "husband."
Add saucy Pearl (Jenifer Lewis) as the club seamstress and garnish with Hef, who will only be heard and occasionally seen from the back, according to the producers.
At an earlier interview session during the Television Critics Association "press tour," all concerned swore that
Playboy Club
is primarily a case study in the "empowerment" of young women who had few chances to better themselves in those times. Mock Hef sells this laughable notion near the end of Monday's premiere, saying of his bunnies: "Nobody ever knew their last names. It was the early '60s, and the bunnies were some of the only women in the world who could be anyone they wanted to be."
"So, c'mon in," he beckons. "You can be anyone you want to be. But like it says on the door, if you don't swing, don't bring."
That said, it's tempting to grade on the curves when it comes to
The Playboy Club
. Subtract its clunky dialogue, ludicrous plot devices and empowerment nonsense, and you're left with its heightened sense of pulchritude. Which may be more than enough of a drawing card. Because when she's in costume, "you can bounce a dime off her ass," club manager Billy says approvingly of Maureen.
A penny for your thoughts.
GRADE
(on a curve): C