DVD review: ABC's Elvis now back in the building
03/09/10 09:34 AM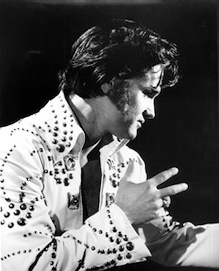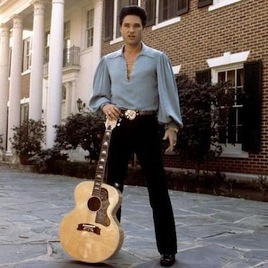 Kurt Russell as Elvis in landmark 1979 ABC film now on DVD.
By ED BARK
A whole lotta shakin' went on during the night of Feb. 11, 1979, and not just in the vicinity of Elvis Presley's pelvis.
Few gave The King a chance when ABC's made-for-TV
Elvis
squared off against two feature film blockbusters --
Gone with the Wind
on CBS and
One Flew Over the Cuckoo's Nest
on NBC.
The
real-life Presley
had died just 18 months earlier. But prognosticators viewed his reincarnation, in the form of former Disney child star Kurt Russell, as a virtually certain third place finisher on that night's Nielsen ratings scorecard.
Instead came a seismic shift. The three-hour
Elvis
, produced by Dick Clark and directed by young suspense-action film specialist John (
Halloween
) Carpenter, drew 43 million viewers and a 40 percent share of the TV viewing audience to beat both
Wind
and
Cuckoo's Nest
. Made-for-TV movies simultaneously became a much bigger business, with feature film premieres slowly losing their pre-sold luster.
More than three decades later, the longstanding broadcast networks have all but abandoned the made-for-TV movie/miniseries genre, which now primarily is the province of cable. But in 1979 alone, 150 of them aired on ABC, CBS and NBC. And none had the import of
Elvis
, newly
re-released in pristine, restored fashion by Shout Factory
at a very reasonable price of $16.63.
The three-hour film, presented at an oft-glacial pace by today's standards, is notable for re-creating full performances of many Presley standards. Russell does the hip-shakin' and lip-syncin' while longtime Elvis impressionist Ronnie McDowell supplies the dead-on vocals.
The "Suspicious Minds" re-do is especially impressive. Presley and his sideman gather in Bel Air (circa 1969) to birth it before a miffed Priscilla Presley (Russell's future wife, Season Hubley) catches them in the act and learns for the first time that Elvis is going back on tour after a near-decade absence.
"Man, I've been away too long," he tells her as prelude to their eventual split-up.
Elvis
aired in times when commercials were kept largely at bay. Remarkably, the actual running time of the three-hour film is two hours, 46 minutes, not including the closing credits. In today's TV, commercial breaks consume between 15 and 20 minutes of every programming hour. Were it airing under today's constraints,
Elvis
would have to leave at least an additional half-hour on the cutting room floor.
Elvis
also features Shelley Winters as his weepy, doting mother, Gladys, and Russell's real-life dad, Bing Russell, as a supportive, stalwart Vernon Presley. Veteran character actor Pat Hingle plays Presley's manager, Col. Tom Parker, who disappears in the closing hour with barely a hint of his manipulative ways. Ed Begley Jr. and Joe Mantegna have small parts as "Memphis Mafia" members D.J. Fontana and Joe Esposito.
Russell, who went on to play Snake Plissken for Carpenter in 1981's
Escape From New York
, established himself as a dead-serious actor with his bravura performance as Presley. He's got the voice and mannerisms down, pulling viewers into a nuanced characterization that takes Elvis from a virginal, picked-on high schooler to a darker, insecure commodity who shoots a hole in a Las Vegas hotel TV screen when a local news anchor speculates on whether he can still deliver the goods "after nearly 10 years in seclusion."
The film begins on July 26, 1969, with Presley and his entourage en route to Vegas' International Hotel for his comeback live concert performance
Elvis admits to being "kinda scared" after Priscilla pops in to give him some props. "Can I still sing? Can the voice still cut it? I ain't no Andy Williams, man."
We're soon flashing back to Tupelo, Mississippi, 1945, with young Elvis a little bummed about getting a guitar instead of a more expensive bicycle for Christmas. From there it's a leisurely, evocative journey back to the "present," with ample time for the formative music that made Presley an idolized, moneymaking machine whose wealth and generosity took Vernon and Gladys from the family's dumpy,
Honeymooners
-esque apartment in Memphis to the gaudy environs of Graceland.
Viewers also meet Elvis' high school sweetheart, Bonnie (Melody Anderson), whom he informs, "I gotta be me. I just ain't no gray suit type." She eventually succumbs to a "new beau" while Presley is on the road again. Creature comforts become abundant, though, with momma getting a new Pink Cadillac and expensive jewelry when her boy's salary soars to $2 grand a week.
Director Carpenter looks at the dark sides of fame and fortune, but doesn't dwell on them. Elvis smashes a lamp when producers screw up his songs. He impulsively fires his "Mafia" before immediately rehiring them. He resents making all those stupid movies and balks at the isolation that stardom has brought him. "I feel like a prisoner," Elvis tells longtime confidant/pal Red West (Robert Gray).
There also are scenes of Elvis talking to his dead-at-birth twin brother, Jesse Garon, who's depicted as a shadow on the wall. It's a little creepy, and only narrowly avoids being comical. But back then this was pushing the envelope, with director Carpenter briefly indulging his horror movie bent.
Elvis
is much more about the music, though, and many of its reprises are exhilarating. This even includes Elvis' impromptu, invigorating performance of "Tutti Frutti" at a German biergarten during his Colonel Parker-imposed Army days.
Russell throws himself into each and every performance, whether poignantly singing "Sweet Caroline" at the piano to his little daughter, Lisa Marie, or gyrating through "Blue Moon of Kentucky" at a Grand Ole Opry audition that leaves the proprietor cold and Presley in a guitar-smashing rage.
Re-watching
Elvis
brings home what a really good movie it was and still is. It retains a wow factor while still standing tall over the many made-for-TV Presley projects that emerged in its wake. You won't regret buying yourself a copy and getting re-shook up.
GRADE:
A-minus