CBS' The McCarthys agreeably plays it loud (laugh track included, of course)
10/28/14 02:07 PM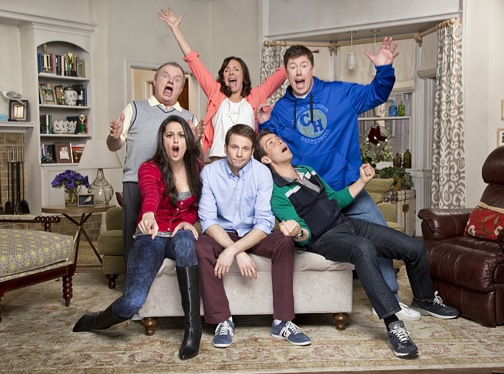 Mom, dad and their four Boston-baked McCarthy kids. CBS photo
Premiering:
Thursday, Oct. 30th at 8:30 p.m. (central) on CBS
Starring:
Tyler Ritter, Laurie Metcalf, Joey McIntyre, Jimmy Dunn, Kelen Coleman, Jack McGee
Produced by:
Mike Sikowitz, Will Gluck, Richard Schwartz, Brian Gallivan, Andy Ackerman
By ED BARK
@unclebarkycom on Twitter
CBS' last new fall series of the season comes at you after the first four --
Scorpion, Stalker, Madam Secretary, NCIS: New Orleans
-- already have been picked up for full first-year runs.
TV critics didn't rave, but viewers have spoken via the weekly Nielsen ratings. And
The McCarthys
, also likely to receive mixed reviews at best, is a pretty good bet to join CBS' ongoing parade of success stories that fit "the brand" by swimming in the mainstream.
In the comedy realm, that means another broadly rendered "multi-camera" outing filmed before a studio audience and sweetened when needed by an accompanying laugh track.
The McCarthys
originally went against this grain before CBS entertainment chairman Nina Tassler shifted it from a "single-cam" comedy (made without an audience or laugh track) to what historically has worked for CBS.
"A lot of people are very seduced by the romance of a single-camera comedy," Tassler said when your
friendly content provider questioned her
at last summer's Television Critics Association "press tour." "But when we looked at the rhythms of
The McCarthys
, it was much better served in a multi-camera format. Ultimately, for our network and for our audience, they resonate."
The rhythms are boisterous in
The McCarthys
, a Boston Irish family stocked with assertive, "traditional" but loving parents, twin sons who look nothing alike, a semi-slutty daughter and -- yo ho ho -- gay Ronny. They typically interact via rat-a-tat punchlines. As when Ronny (Tyler Ritter) suddenly announces he plans to accept a job as guidance counselor at a Providence, Rhode Island private school. At age 29, he's also ready to "meet someone" after years of close proximity to the intrusive McCarthy clan.
But really -- Rhode Island? "That's not a real state," carps beefy twin Sean (Jimmy Dunn).
"It's a great job and a fun, new city with a vibrant gay community," Ronny retorts.
"Aren't all gay communities vibrant?" thin twin Gerard (Joey McIntyre) cracks.
"Ronny! You're still gay?!" mama Marjorie (Laurie Metcalf) exclaims.
Each of these lines has a studio audience/laugh-track spacer, the old-line sitcom equivalent of mortar between bricks. CBS' companion Thursday night comedies --
The Big Bang Theory, Mom, Two and a Half Men
-- and the network's Monday night entries --
2 Broke Girls, The Millers
-- are all outfitted with the same delivery system. CBS strayed from this path last fall with the unadorned
The Crazy Ones
. It failed despite a high-powered cast led by the late Robin Williams and Sarah Michelle Gellar. OK, enough of that nonsense. Back to what works for a network that basically birthed the multi-cam form with the hugely successful
I Love Lucy
.
Patriarch Arthur McCarthy (Jack McGee) is a high school basketball coach and diehard Boston Celtics fan whose assistant, "Fatty" McFadden, dies off-camera of a heart attack in Thursday's early going.
The family agrees to continue watching basketball and order pizza in Fatty's memory before Dad gets down to basics: "Now I need a new assistant coach to replace that fat bastard." (Small point: The "Fatty" in the open casket, with a basketball glued to his hands, does not look fat at all. But whatever.)
Meanwhile, it's already been well-established in promos and CBS publicity materials that Dad shockingly will offer the job to Ronny, who will decline because he's pretty much at sea when it comes to hoops. But another surprise development helps to pull him back in.
The McCarthys
also drips like a name-dropping faucet, with multiple references to
The Good Wife
, Kyra Sedgwick and Annette Bening among others. And as long as the accomplished Metcalf is in the cast, they might as well work in a few wink-wink references to
Roseanne
down the road. Boy, the audience/laugh track would roar.
Whatever its traditional trappings,
The McCarthys
is buoyed by Metcalf's always solid work and Ritter's boyish appeal amid a capable, energetic ensemble. Some of the lines are amusing and even the clinkers don't land too hard. So in basketball terms, this is a decent role player who picks up a few fouls, contributes a few points, plays solid defense and knows the basics of the game. Those kinds of players stick in the NBA. These kinds of shows stay on CBS.
GRADE:
B-minus
Email comments or questions to:
unclebarky@verizon.net