Fox's Coupled is the latest to get its dating game on
05/13/16 10:27 AM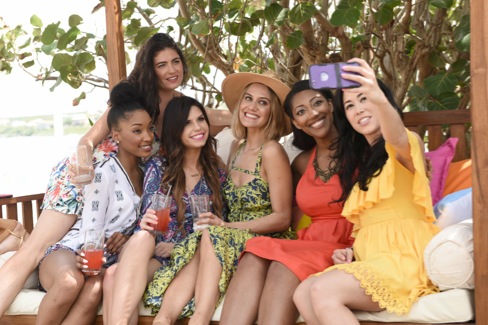 Some of the very, very excitable ladies of Coupled. Fox photo
Premiering:
Tuesday, May 17th at 8 p.m. (central) on Fox
Hosted by:
Terrence "J" Jenkins
Starring:
Babes and Hunks
Produced by:
Mark Burnett
By ED BARK
@unclebarkycom on Twitter
Both the niceness and sound barrier-breaking "Whoooos!" are off the charts in Tuesday's premiere episode of Fox's
Coupled
.
It's another very much concocted "reality" romance show from the network that previously presented the appreciably seedier (so far)
Temptation Island, Paradise Hotel
and
Forever Eden
.
But
Coupled
also is from Mark Burnett, who has more money than Fort Knox after striking it rich time and again with
Survivor, The Apprentice, Shark Tank, The Voice
and
Are You Smarter Than A Fifth Grader?
. Betting against this guy is a risky proposition, although 2010's failed
Sarah Palin's Alaska
showed that he's not infallible.
In this one, a dozen super-thrilled women are deposited amid dream beachfront surroundings in Anguilla. During an exceedingly long buildup by host Terrence "J" Jenkins, viewers are informed that "meeting someone special in today's world -- it's not easy. You make split-second decisions about love based on photos and a flick of the wrist."
Therefore, in an effort to help,
Coupled
will unleash a "constant stream of accomplished, eligible guys looking for love." And just so you know, the women who just can't wait to meet them are "not here to stay single. They're here to get -- coupled."
The force-fed, claws-coming-out "drama" is entirely absent in Tuesday's opening hour. Talyah, Dominique, Alicia, Alyssa, Alex, Brittany, Kristin, Lindsey and the others all seem reasonably stable throughout the premiere episode. Dominique, a statuesque, 29-year-old attorney, boasts that "I am
THE
catch of 2016." But she says so charmingly and then laughs disarmingly. So it's not nearly in the same off-putting league as thrice-married Cary Deuber of
Real Housewives of Dallas
, who says in each week's introductions, "I'm not a trophy wife. I'm a lifetime achievement award."
None of these women are teenagers and some are in their 30s. Nonetheless, they're repeatedly referred to as "girls" by both host Jenkins and the first hunk to debark, a 26-year-old musician named Alex. It's an antiquated, beauty pageant-ish, Donald Trump way of looking at things on a show produced by the guy who made him a reality show kingpin. But boys will be boys.
Otherwise here's how the thing works. Each dude spends literally a few seconds with each of the women. They then decide to take a left turn back to the bungalow area or a right turn to the Tiki bar. The latter direction indicates interest in proceeding further. Alex, who prototypically frets about all of the women rejecting him ("I'm freakin' out inside") instead finds seven of them at the bar. Then he quickly gets a text message from the host: "Yo, Alex! Choose 2 by sunset." Yo, he does.
While Alex and his chosen pair strive to get to a "deeper level" on the beach, the remaining women go kinda nuts by the pool, where they whoop, jump up and down and drink without any vixens readily evident. Not that some can't be aggravating, particularly hyper-bubbly 23-year-old Alex, a "radio personality" from Louisville. She knows what she wants, though: "I want a conservative husband. I want to live in the South. I want to have guns in my house."
The other Alex soon chooses one of his two finalists and takes her to the "Couples Villa." Meanwhile,
Coupled
replenishes the stock with 29-year-old Amari, a digital ad executive instructed by host Jenkins to be "Denzel Washington for the rest of the day." The bar-or-bungalow process repeats itself.
A tease for Episode 2 indicates that some of the women might start playing dirty. Which would be kind of a shame. Because in the early stages,
Couples
manages to dodge all of that and perhaps even establish a rooting interest in the happiness of these unattached beauties. There already are far more than enough posers and she-devils populating TV's dating/mating genre.
Oh hell, what am I talking about? I won't be watching future episodes of
Coupled
anyway. Those who succumb, though, could do worse than this.. Such as
Conveyor Belt of Love, Chains of Love, Who Wants to Marry My Dad?, Dating in the Dark, Room Raiders, The Littlest Groom
and
My Big Fat Obnoxious Fiance
. Faint praise to be sure. But
Coupled
rises above them all to take its rightful place as -- at the very best -- a guilty summertime pleasure.
GRADE:
C-minus
Email comments or questions to:
unclebarky@verizon.net