Fox states his case for optimism in worthy ABC special
05/07/09 11:01 AM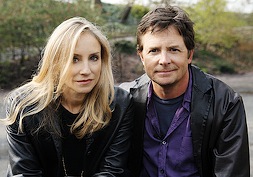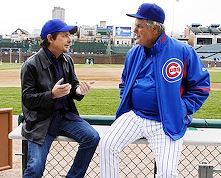 Michael J. Fox with wife Tracy Pollan and Cubs manager Lou Piniella
By ED BARK
In sickness and in health, no one has ever thought ill of Michael J. Fox. OK, with the exception of
Rush Limbaugh
.
He's always been a likable guy -- both on-camera and off-. So it hit hard when the former star of
Family Ties, Spin City
and the
Back to the Future
movies disclosed in 1998 that he's afflicted with the so far incurable Parkinson's Disease.
Actually he's had it for 20 years, Fox notes in Thursday's ABC special
Michael J. Fox: Adventures of an Incurable Optimist
(9 p.m. central). "It's slowed me down a bit, but it hasn't stopped me," he says.
His first words in tonight's special -- "Oh what a great day" -- underscore Fox's approach to living with a disease that has waylaid a full-time acting career and birthed The Michael J. Fox Foundation. Thanks to him, it's become the world's largest funder of Parkinson's research.
Incurable Optimist
, a video companion to his new book,
Always Looking Up
, is a free-form search for what makes optimism tick. Its centerpiece is his visit to secluded Bhutan, whose government regularly measures the Himalayan nation's Gross National Happiness.
While in Bhutan, "my symptoms have been really diminished," Fox discovers. "It's really a remarkable thing. It gives me a hopeful feeling."
He also visits cancer survivor Lance Armstrong; attends Barack Obama's inauguration with his oldest son, Sam; tries to learn golf in the company of Bill Murray; and commiserates with long-suffering Chicago Cubs fans and players. There's a trip to a dairy farm, too, where optimism reigns despite increasing difficulties in making ends meet.
Fox's wife, Tracy Pollan, whom he met on the set of
Family Ties
, is also a supporting/supportive player. But his overall good cheer "can get a little irritating at times," she tells him good-naturedly.
This is an altogether uplifting and inspiring hour. It won't cure cancer -- or Parkinson's Disease. But it's good for the soul and great to see Fox still out and about. He's 47 now, but you'd never know it. Being in good spirits is Fox's Fountain of Youth, keeping the kid in him alive while he keeps living life to the fullest he can.
GRADE:
B+