ABC's new Resurrection intentionally plays dead
03/06/14 11:13 AM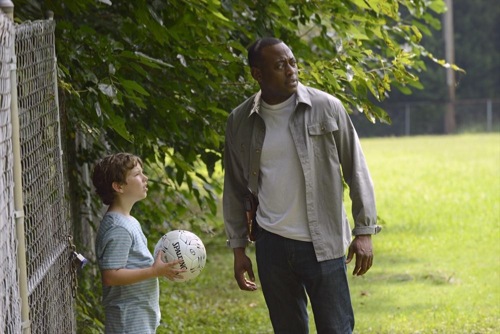 New lease on life: Landon Gimenez, Omar Epps star in Resurrection.
ABC photo
Premiering:
Sunday, March 9th at 8 p.m. (central) on ABC
Starring:
Omar Epps, Frances Fisher, Kurtwood Smith, Matt Craven, Landon Gimenez, Devin Kelley, Samaire Armstrong, Sam Hazeldine
Produced by:
Aaron Zelman, Michele Fazekas, Tara Butters, JoAnn Alfano, Dan Attias
By ED BARK
@unclebarkycom on Twitter
Not to be confused with the earlier series
The Returned
-- although it will be -- ABC's
Resurrection
is based on
The Returned
, a 2013 book by Jason Mott.
Let's clarify further. The acclaimed French language series
The Returned
, which recently aired with subtitles on SundanceTV, was adapted from the 2004 film
They Came Back
. Season 2 currently is in production.
In both cases, deceased humans miraculously return to the living while looking the same way they did when they died. Call them the walking dead if you'd like. But they're not decaying, staggering, bloodthirsty zombies.
The central returnee in
The Returned
is 15-year-old Camille, who died four years ago in a bus accident. In
Resurrection
(which will push
Revenge
back an hour on Sunday nights), eight-year-old Jacob Langston (Landon Gimenez) supposedly drowned 32 years ago. The series begins with little Jacob awakening and hyperventilating amid crops in rural China. From there he makes his way back to little Arcadia, Missouri with help from Immigration and Customs Enforcement agent Martin Bellamy (Omar Epps from
House
).
Jacob's now elderly parents, Lucille and Henry (Frances Fisher, Kurtwood Smith), are pretty surprised to see him. Although not as surprised as they should be, really. No one faints or anything, and Henry remains ornery.
Featured townies also include Henry's brother, Fred (Matt Craven), who's the clenched-up Arcadia sheriff. His doctor daughter, Maggie (Devin Kelley), is more open-minded while pastor Tom Hale (Mark Hildreth) tries to make spiritual sense of it all. As a kid he was Jacob's best friend.
A creepy-looking bearded guy in a hoodie also lurks through the premiere episode before his identity and the circumstances of his "death" are fully revealed in Episode 2. Through it all, agent Bellamy earnestly tries to put together puzzle pieces while sheriff Fred brands him a "glorified desk jockey" with a problematic past that's yet to be detailed.
The network has ordered just eight episodes of
Resurrection
, which so far comes up short of
The Returned
in atmosphere, acting, mood music and goose bumps. But it's of a higher caliber than ABC's recent rash of freshman drama flops, which include
Killer Women, The Assets, Mind Games, Betrayal, Lucky 7
and
Once Upon a Time in Wonderland
.
There may be enough going on in
Resurrection
to develop at least a decent-sized core group of devoted fans. The first two episodes flex a fair amount of pulling power, even though nothing really jumps off the page. The series could use a more galvanizing, take-charge sleuth than Epps portrays. It also would do well to spare viewers the constant onset of string music or piano tinkles whenever something is deemed important or poignant.
Episode 2 does pack a punch with its closing scene, though, in which a key character attacks someone while yelling, "Tell me it's all gone!" I'd like to see what that's all about.
GRADE:
B-minus
Email comments or questions to:
unclebarky@verizon.net