Costner gets his Eastwood on in Paramount's Yellowstone
06/18/18 10:54 AM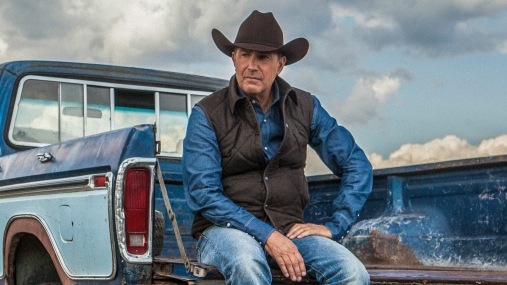 Kevin Costner sternly presides over Yellowstone. Paramount photo
Premiering:
Wednesday, June 20th at 8 p.m. (central) on Paramount Network
Starring:
Kevin Costner, Wes Bentley, Kelly Reilly, Luke Grimes, Cole Hauser, Kelsey Asbille, Dave Annable, Gil Birmingham, Jefferson White, Brecken Merrill, Danny Huston
Produced by:
Taylor Sheridan, John Linson, Art Linson, Kevin Costner, David Glasser
By ED BARK
@unclebarkycom on Twitter
Still wearing well at age 63, Kevin Costner is comfortably taking on the kinds of roles that Clint Eastwood used to fall into.
Flinty and unyielding, he rides astride the Paramount Network's biggest undertaking to date, the contemporary horse opera
Yellowstone
. Costner plays ranch baron John Dutton, a widower whose sprawling Yellowstone spread is Montana's largest. During the course of the first three episodes made available for review (including a two-hour launch on Wednesday, June 20th), Dutton spits out lines such as, "You want to build subdivisions, you move to Dallas. I won't have 'em here."
Furthermore, "Everyone's forgotten who runs this valley." Ya get his drift?
Paramount, which re-branded from Spike TV in January, has ordered up 10 episodes for
Yellowstone's
first season. It's also purged the series of any association with The Weinstein Company, which initially was involved in production. The creator, writer and director is Taylor Sheridan, former co-star of FX's
Sons of Anarchy
.
Costner, who won an Emmy for his performance as Devil Anse Hatfield in the 2012 History Channel miniseries
Hatfields & McCoys
, is taking on his first role in what's envisioned as a multi-season TV series. He hasn't become grizzled yet, but is now playing rough-edged patriarchs with adult and unruly offspring. Those
Sizzle Beach, U.S.A
days are well behind him.
In Wednesday's premiere, Costner's John Dutton is first seen bleeding from the head following an unseen car wreck that has left his van-drawn horse badly wounded. He talks softly to him before pulling the trigger. While the cops arrive, he gazes upon some of his cattle stock roaming just a small patch of the Yellowstone Dutton Ranch. "The things we do to keep you fed," John murmurs.
There are four other Duttons, two of them vividly played. Youngest son Kayce (Luke Grimes from the
Fifty Shades
movies) is a former Navy SEAL and combat veteran who lives on the Broken Rock Indian Reservation with his Native American wife, Monica (Kelsey Asbille), and their seven-year-old son, Tate (Brecken Merrill). Kayce doesn't much like his father for a variety of reasons. "You've always asked too much," he tells him. Such as? You'll see.
Only daughter Beth (Kelly Reilly), who hard-heartedly represents dad's business interests, otherwise is promiscuous, profane and a heavy drinker. She remains haunted by a life-changing incident from her childhood that's revealed in Episode 3. Grimes and Reilly both bring some needed punch to these pivotal roles.
The other Duttons are approval-seeking Jamie (Wes Bentley), who's a lawyer, and oldest son, Lee (David Annable), long content to ride the range with his dad while never moving out of the house.
The two-hour opener could use some giddy-up. It tends to plod along during the course of bouncing among John Dutton's brood while also introducing foes that include Broken Rock chief Thomas Rainwater (Gil Birmingham) and developer Dan Jenkins (Danny Huston).
Costner is the glue, and makes his presence felt throughout
Yellowstone
. His affecting scene near the end of Episode 1 shows that John Dutton can be more than a tight-lipped taskmaster. But he also gets saddled with some groaners, such as, "I've seen too much bad in my life to believe God exists," And of course, when John thinks he's got a wild horse "settled now," it's time for him to get bucked off again.
Sheridan's script also has its moments. During a bull-riding competition at a rodeo, John tells an old pal that he kept his sons from competing in this event because "the only reason to ride a bull is to meet a nurse."
Through its first three episodes,
Yellowstone
is big and broad and a little too full of misfires. But it's never as determinedly over the top as
Dallas
or Dynasty, both of which can be seen as ancestors. These days, though, f-bombs are increasingly commonplace on advertiser-supported cable networks. So expect more than a few of 'em, plus some rear view nudity during one of Beth Dutton's show-and-tells.
During a more parched summer season than usual,
Yellowstone
likely will draw some rousing ratings after a heavy promotional push by Paramount. First you have to find the network and rope it in. After that, expect to see a money-on-the-screen tale that appears to be finding itself after too much meandering and/or downright confusion in the early going.
When you boil it down, though, it's all about John Dutton's iron grip on his land and those who want to loosen it for their own monetary and face-saving gains. A couple of decades earlier, it could have been a patriarchal, set-in-his-ways Clint Eastwood sneering at a developer before calling him a 10-letter profanity. This is now in Kevin Costner's wheelhouse. Happy trails.
GRADE:
C+
Email comments or questions to:
unclebarky@verizon.net