Russell and Rotolo -- two late women, two lasting images
03/01/11 12:23 PM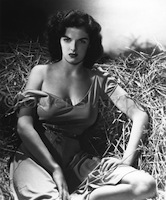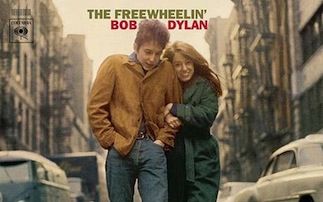 A sultry Jane Russell in Outlaw; a happy Suze Rotolo with Dylan.
By ED BARK
Two estimable women, each of whose lives were defined by a single still photograph, have left this image-making world for another.
The obituaries of Jane Russell and Suze Rotolo ran side-by-side, and at considerable length, in Tuesday's edition of
The New York Times
. Perhaps they would have enjoyed the symmetry.
Russell became notorious for the above provocative pose in the 1943 Howard Hughes film
The Outlaw
. She died at age 89.
Rotolo, the woman clinging to Bob Dylan's arm in his landmark early album
The Freewheelin' Bob Dylan
, is better known by that cover art than by name. She died at age 67.
Censors went nuts over the Russell poster for
The Outlaw
. It didn't get a national release until seven years after its nine-week run in San Francisco, according to
the Times obit
. In later years Russell resurfaced in TV ads for Playtex bras, touting their ability to contain full-figured women like herself.
Rotolo and Dylan lived together during his formative song-writing years in New York City. Their album art was shot in February 1963, says
the Times obit
. He soon went his way and she went hers, marrying film editor Enzo Bartoccioli in 1967. He survives her.
We all make our own histories, usually in relative obscurity. The deaths of Russell and Rotolo remind us that a photo, rather than a youtube video, can still be the very best way to be in the right place at the right time.
I'm sure that both women wrestled with these particular images before embracing them in their later years. Rotolo eventually wrote a book titled
A Freewheelin' Time
. And Russell pushed those bras.
Picturing them the way they were is now left to the rest of us.