NBC's One Big Happy may have just enough merriment
03/16/15 05:41 PM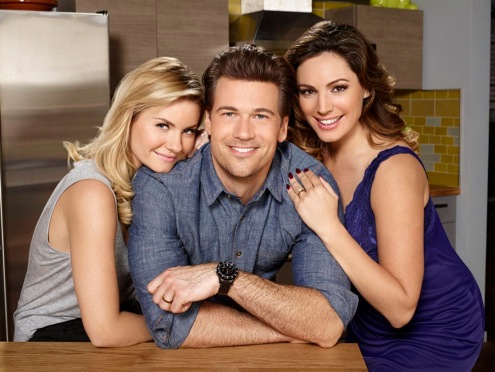 Three's Company revisited? Sort of. Except this time one of them really is gay. Elisha Cuthbert, Nick Zano, Kelly Brook star. NBC photo
Premiering:
Tuesday, March 17th at 8:30 p.m. (central) on NBC
Starring:
Elisha Cuthbert, Nick Zano, Kelly Brook, Rebecca Corry, Chris Williams, Brandon Mychal
Produced by:
Liz Feldman, Ellen DeGeneres, Jeff Kleeman, Scott Ellis
By ED BARK
@unclebarkycom on Twitter
And now for a little lesbian humor. Wait, who are we kidding? Make that lots and lots of it.
NBC's
One Big Happy
, co-produced by Ellen DeGeneres, isn't about to go straight. Nor is its lead character, Lizzy (Elisha Cuthbert), a 30-something single gay woman whose roommate, Luke (Nick Zano), doesn't play for that team but has been equally unsuccessful at finding a wife.
After all these years, though, why not raise a family together? So Lizzy is striving to get pregnant via artificial insemination with Luke's semen. Meanwhile, he has a chance meeting at a bar with the notably buxom Prudence (Kelly Brook), a Britisher facing imminent deportation as an "illegal." Presto, he impulsively marries her, enabling Prudence to stay ashore. But double surprise, Lizzy has finally gotten pregnant.
"We'll figure it out. We'll be one big happy," says Luke. Ergo the title of this very energetically acted, laugh track-laced sitcom in which the three main players all exhibit solid timing with both their lines and their double-takes.
Six episodes were made available for review. The signature visual in Tuesday's premiere is a pixillated Prudence happily strutting naked in the kitchen before feeling compelled to give Lizzy a hug.
"Wow, vagina right on my leg," Lizzy deadpans.
"I'm starting to think you're not a very good lesbian," Prudence replies.
In ABC's long-running
Three's Company
, Jack Ritter (John Ritter) feigned being gay in order to get away with having two sexy female roommates. In
One Big Happy
, there's no judgmental landlord to muck things up and no doubts about Lizzy's sexuality. "Yecch, straight people," she says twice in Episode 2 while watching Luke and Prudence lock lips. Flip that line -- "Yecch, gay people" -- and you could well be facing an organized protest. But in
One Big Happy
, it's all in good fun, and in fact comes off that way.
The show also returns regularly to the subject of Prudence's prodigious bazooms. In a later episode, she notes that "I was accused of smuggling melons" while at a Thailand farmers' market. Pause, one-two, while both Lizzy and Luke milk their double takes.
Prudence's cleavage basically is a supporting player/players. The other more conventional members of the ensemble are Lizzy's sour sister, Leisha (Rebecca Corry), whose husband, Roy (Chris Williams), is black and terminally dull in her view. There's also Marcus (Brandon Mychal), a hipper black dude who works at The Bowl Hole bowling alley owned by Luke after his father left it to him.
Don't look for rarefied humor. Prudence happily embraces "my granny's cock" when her possessions from back home arrive in a multitude of cardboard boxes. Lizzy's ex-lover is deemed the "Lucifer of lesbians" and Prudence's lout of an ex-husband is a veritable fount of double entendre sex references a few weeks down the road.
There also are some intriguing twists as these beats go on.
One Big Happy
may be entirely sitcom-y but it's not thoroughly predictable.
Cuthbert has come quite a way since playing Jack Bauer's constantly imperiled daughter, Kim, in early seasons of Fox's
24
. She began blossoming comedically in ABC's
Happy Endings
and now has reached full bloom. So although broad and sometimes forced,
One Big Happy
also can be bitingly amusing, with its three principals meshing well while clashing often.
NBC Entertainment chairman Bob Greenblatt has longed to resuscitate the traditional multi-cam, live-before-a-studio audience sitcom format that gave his network mega-hits such as
Seinfeld, Friends
and
Frasier
. This newest outing, being paired with the returning
Undateable
, gives the Peacock two birds of the same feather that just might be able to fly together.
GRADE:
B-minus
Email comments or questions to:
unclebarky@verizon.net