Bag of Bones is return to respectability for A&E, return to TV for Pierce Brosnan
12/08/11 12:52 PM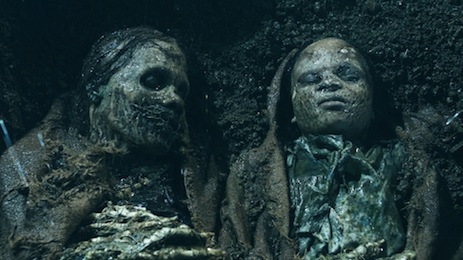 Merry Christmas from your friends at Bag of Bones. A&E photo
By ED BARK
Home for the holidays? It'd be best not to be home alone while watching
Stephen King's Bag of Bones
.
Premiering
Sunday, Dec. 11th at 8 p.m. (central) on A&E
and concluding Monday at the same hour, it's a genuinely chilling four-hour adaptation of the tireless horror-meister's 1998 bestseller.
Bag of Bones
also is A&E's handsomest effort in years, not only with its first-rate production values but in the personage of Pierce Brosnan. He returns to television in a big way by appearing in virtually every scene, a majority of them by himself. And Brosnan gives his all, whether grieving, dream-scaping or being scared senseless.
The drama's principal venue is Dark Score Lake, where Brosnan's character, novelist Mike Noonan, holes himself up in an effort to churn out a new book on a sudden rapid-fire deadline. He's had writer's bloc ever since his beloved wife, Jo (Annabeth Gish), took a direct hit from a Manhattan bus while Mike signed copies of his latest tome.
Jo, he had learned, was pregnant. And low sperm count Mike wonders just how that happened. Might she have been secretly seeing someone at the Noonan's summer home in Dark Score, where she regularly went to paint? While striving to write in an isolated setting, Mike also can play a detective in search of answers.
Much has been changed from the book, although not to the overall detriment of the A&E presentation. Not everything holds entirely together, but most of Mike's visions are made clear in the end. They include repeated trips back to the 1939 Dark Score Lake Fair, where a sultry jazz-blues singer named Sara Tidwell (Anika Noni Rose) is performing on an outdoor stage. What does she have to do with anything? And is Jo helping Mike piece things together with her messages from the grave, some of which appear via rearranged plastic letters on a refrigerator door?
Creepy houses play central characters in many of King's novels. And Brosnan spends lots of time in solitary, searching about the summer home for clues while also fighting off demons. He's quite good in these scenes, reacting believably to all the unreal occurrences within.
Bag of Bones
also puts Brosnan's Noonan in the company of nubile blonde Mattie Devore (Melissa George). She's the mother of a young daughter named Kyra (Caitlin Carmichael), whose sinister, wheelchair-bound grandfather, Max (William Schallert), very much wants custody of her. But why?
There also are small parts for TV familiars Jason Priestley (as Mike's book agent) and Matt Frewer (as his brother, Sid).
Veteran Director Mick Garris (
Hocus Pocus
) takes his time putting all the puzzle pieces together.
Bag of Bones
doesn't unduly dawdle, though. You can expect to shiver every 10 minutes or so -- and doubly so down the stretch.
Adaptations of King novels used to be an ABC specialty, with multiple ratings sweeps periods housing the likes of
The Stand, The Tommyknockers, Storm of the Century, The Langoliers, It, Rose Red
and a post-feature film take on
The Shining
.
ABC and rival broadcast networks now are mostly out of the made-for-TV movies and miniseries business. So it's a pleasant surprise to see A&E pick up the baton by spending a little money rather than continuing to cheap-skate it with "reality" series ranging from
Dog the Bounty Hunter
to
Hoarders
to
Gene Simmons' Family Jewels
.
Bag of Bones
in contrast is an Emmy caliber presentation with a fairly major star spurring the action. You won't be disappointed. You
will
want company.
GRADE:
A-minus