Pulling through with Oprah Winfrey in HBO's The Immortal Life of Henrietta Lacks
04/20/17 12:20 PM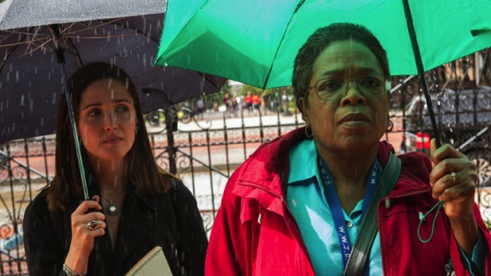 Rose Byrne & Oprah Winfrey share ample ups, downs & screen time Saturday night in The Immortal Life of Henrietta Lacks. HBO photo
By ED BARK
@unclebarkycom on Twitter
Henrietta Lacks, a young black woman who died of cervical cancer in 1951, had been unheard of and unheralded for decades until a writer named Rebecca Skloot became "obsessed" with her game-changing cells.
A resultant 2010 book,
The Immortal Life of Henrietta Lacks
, became a
New York Times
bestseller that got an extra boost from Oprah Winfrey and her
O
magazine. She's now the co-producer, co-star and best thing about HBO's same-named movie, which premieres on
Saturday, April 22nd at 7 p.m. (central)
.
This is by no means a "sexy" film or an easy sale. Ninety minutes on the origins of the so-called HeLa cell line sound about as dramatically inviting as a teeth-cleaning. But Winfrey's performance, as Henrietta's tormented youngest daughter, Deborah, is jump-off-the-screen terrific. So after Oscar and Golden Globes nominations, but no wins for her role in
The Color Purple
, Winfrey seems certain to nab her first Emmy nod in a performance category. This time the trophy may finally go home with her.
Hobbling around on a cane and hit with enormous mood swings born from being molested as a girl, Winfrey's character shares much of her screen time with Rose Byrne as the intrepid and oft-giggly Skloot. The young writer repeatedly runs into road blocks while diligently striving to document the Lacks' family history and also bring recognition to Henrietta. Cells from her cancerous cervical tumor were collected without consent (which was typical of those times) by researchers at Baltimore's storied Johns Hopkins Hospital. Unlike most cells, they proved to be "immortal" and capable of reproducing themselves indefinitely. The Lacks family had no knowledge of this until the mid-1970s.
The HeLa cell line is credited with numerous breakthroughs and medical advances, including Jonas Salk's landmark polio vaccine. Literally tons of Henrietta's cells remain viable and in use to this day.
OK, on to the more graspable drama of
Immortal Life
, which bounces among many Lacks family members while Deborah serves as an alternately enthusiastic and reluctant tour guide. Her brother, Zakariyya (Reg E. Cathey), is the crankiest of all -- but also has his reasons. And Leslie Uggams drops in briefly as Henrietta's cousin, Sadie, who initially declares, "We don't believe in tellin' stories on the dead." She then immediately loosens up.
There's also a charlatan named Sir Lord Keenan Kester Cofield, (played by Courtney B. Vance in a manner reminiscent of his showy Johnnie Cochran in FX's much-lauded
The People v. O. J. Simpson: American Crime Story
). The character could have just as easily been excised. Original music by Branford Marsalis is oftentimes a stand alone jazz drumbeat that doesn't always fit.
Director George C. Wolfe (
Nights In Rodanthe
) has a tough story to tie together -- and at times ties himself in knots before a goodly young British doctor provides something of a Christmas bow by very generously allowing Deborah and her brother to see Henrietta in all her ever-living glory.
Whatever your cell composition, dry eyes aren't likely to be an option during Deborah's cathartic reunion with the mother she never truly knew. For this particular scene -- and for Winfrey's sterling performance --
Immortal Life
ends up being worth 90 minutes of yours.
GRADE:
B
Email comments or questions to:
unclebarky@verizon.net