New fall season: The CW's H8R just might leave you giddy with guilty pleasure
09/13/11 02:58 PM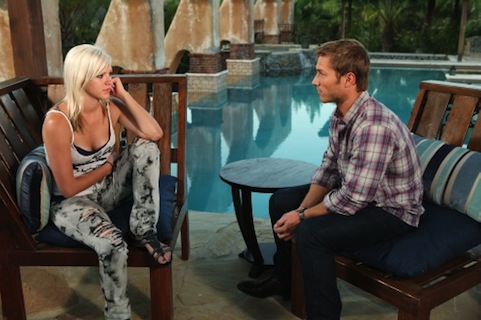 Jake Pavelka gets "real" with hater Danielle. CW photo
Premiering:
Wednesday, Sept. 14th at 8 p.m. (central) on The CW
Starring:
So-called celebrities and their so-called "haters," with host Mario Lopez
Produced by:
Mike Fleiss, Lisa Gregorisch-Dempsey, Maria Lopez, Jeremy Spiegel
By ED BARK
Most pseudo-celebrities just can't get enough of themselves. Marching straight to the head of that class is Dallas-born Jake Pavelka, the pilot turned "fame whore" in the words of fellow fame whore Vienna Girardi.
Their made-for-TV love story on ABC's
The Bachelor
led to an acidic, tabloid-trumpeted breakup shortly after Pavelka got voted off the network's
Dancing with the Stars
. A staged one-on-one confrontation during a subsequent ABC special then led to Girardi leaving in tears after Pavelka sort of yelled at her.
He recently segued to ABC's
The Bachelor Pad
, where Girardi and her new made-for-TV love, callow Kasey Kahl, roundly denounced him as a phony, lying poser. Pavelka tried to play a gallant apologetic Sir Galahad before his fellow contestants knocked him off the show.
Now comes The CW's new
H8R
(short for "Hater"), where Wednesday's opening episode finds -- pause, one-two -- the ubiquitous Pavelka and fellow "reality" show creation Nicole "Snooki" Polizzi confronting commoners who think they're garbage.
H8R
aims to convert these heretofore anonymous cheap-shotters into at least semi-fans of their targets. It's
Celebrity Rehab
in open spaces with drinking allowed. And during an extremely weak moment, your friendly content provider is going to admit that this steaming pile turns out to be guilty pleasure-approved, even if it's almost assuredly all an act on the part of everyone. That includes a genial and sometimes giddy Mario Lopez. He's the host, slumming from
Extra
. Or is it vice-versa?
Snooki is first at bat. Her hater, a pudgy guy named Nick, supposedly thought he was auditioning for a new "pop culture" TV show. So he feels free to denounce Snooki as a "drunken donkey" among other things while the "pint-size powder keg" of
Jersey Shore
watches from a secret control room.
She later bursts into a bar where a supposedly shocked Nick is playing pool with a pal. "You are a bully. You are a (bleeping) bully," Snooki informs him after he initially stammers about.
"Clearly you were not expecting this," Lopez later tells Nick, who probably was but had signed a contract to play along. Anyhoo, they end up going grocery shopping for a big sit-down dinner with Nick's family. Snooki says she'll be making chicken cutlets for the whole bunch of 'em, just like she does with her mom on Sunday nights. During the course of this little adventure, Snooki introduces Nick to the pleasures of a big pickle. "You have to suck on it," she instructs him before demonstrating. It could not be determined whether the pickle had been circumcised.
Let's just say that Snooki wins out in the end, and there's some fun to be had in getting to this point. But Pavelka is a ridiculous spectacle throughout, whether he's more or less addressing rumors that he's gay or lamenting to Lopez, "Story of my life. People passing judgment and they don't even
know
me." The host then bills him as "one of the most hated men in America" before introducing him to his designated H8R, a young blonde named Danielle.
Performing like a trained seal, a topless Pavelka follows Lopez's instructions to first portray himself as a vain jerk while Danielle sits poolside.
"Your job is to go out there and act like the Jake Pavelka that she hates," Lopez tells him. It's a bit hard imagining John Barrymore or even Joey Lawrence acquiescing to something like this. But one gets the feeling that Pavelka will do just about anything at this point to keep himself in front of a camera. Or hear anything, too. Because Danielle repeatedly calls him a "douche" (as well as a "creep" and a "pervert") while
H8R
's supposedly hidden cameras capture all the action and play it back to Pavelka.
"Some of the stuff I've read, I wouldn't like me either," he says lamely. "And she deserves to know the truth."
Not to give everything away -- oh hell, why not? -- but Pavelka takes all of this guff and comes back for more. He also takes Danielle on a plane ride, escorts her to the real
Bachelor
mansion and claims he had a troubled relationship with his father in hopes of turning her into an admirer of his. But all he gets is this in the end: "He's arrogant. He obviously thinks his (bleep) don't stink. And it does."
H8R
hardly smells like a rose. Still, there's a good solid traffic wreck of a show here, with Snooki actually managing to renovate herself just a bit while Pavelka sinks deeper into his role as America's sad sack punching bag.
Future episodes promise to involve the likes of a few celebrities with actual accomplishments -- Eva Longoria. Charles Barkley, Maksim Chmerkovskiy -- while also revisiting the reality heap to put haters in close proximity to Kim Kardashian and that dope from
The Hills
.
Damned if the dumb thing isn't going to be on my DVR.
GRADE:
C