The Olympian hair of Bob Costas: a seminar
02/22/10 12:03 PM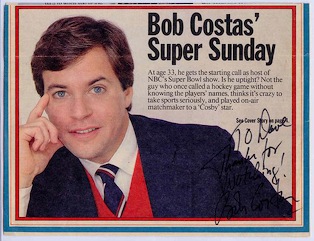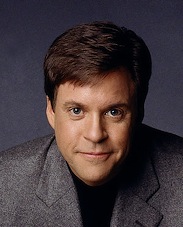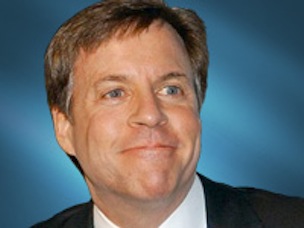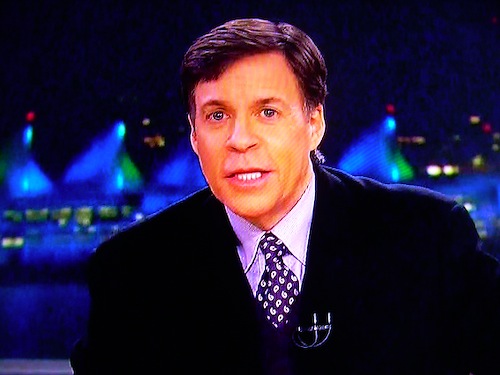 Costas chronologically -- and currently on NBC from Vancouver.
By ED BARK
First let's re-state the obvious: Bob Costas is one of the best sportscasters ever, perhaps the greatest of all time.
He's literate, versatile, quick with a quip and a precise interviewer and chronicler.
Now to the hair, which armchair color analysts have wondered about for years.
Costas, who will turn 58 on March 22nd, still has the full-bodied coif and shadings of a Rice Krispie Elf. It's varied over the years, veering from orangish to brownish to jet blackish. In other words, Costas either has achieved the impossible dream of defying virtually all gray areas or he's deep into dye-nial.
For the Vancouver Olympics, Costas' coif usually looks blacker than browner, with a small drizzle of gray in his short-ish sideburns. That could be called a new wrinkle, except that Costas otherwise doesn't have any.
Several Olympics ago, the oddly orange-ish color of Costas' hair came up at a Television Critics Association interview session. NBC officials blamed the in-studio lighting while Costas himself didn't think the subject was worthy of discourse.
There's also speculation that Costas long has worn a toupee, which seems more plausible in recent years. Otherwise, how is his hair seemingly getting thicker with age?
Appearances obviously are important when you're holding forth before millions of viewers each night. But Costas is at the point of crossing the Rubicon and looking ever more ridiculous while the passage of time works against him. I'd hate to see him start resembling
Wink Martindale
someday. Ooh scary.
Bob Barker
had the fortitude to renounce his hair dye bottle during the height of his fame as host of CBS'
The Price Is Right
. After a slight adjustment on the part of viewers, his natural snow white hair seemed to make him all the more appealing. CNN's
Anderson Cooper
has gone prematurely gray/white at a much younger age than Barker or Costas. Unlike Costas, he's simply let it go to his head.
Shucking a toupee -- if that's the way Costas rolls -- is a dicier proposition.
Marv Albert
still hasn't given up the ghost. But former
Hill Street Blues
star
Michael Warren
took the plunge, as did
Newsweek
's
Jonathan Alter
, a frequent guest on TV's innumerable political roundtables.
One more thing. Women seem to get a lot more vexed than men about Costas' refusal to give Father Time an inch. My wife for one.
Um, female dye jobs long have been a part of this great country of ours. So maybe this is a bit like the pot calling the kettle black -- or burnt orange. But most women also seem to know when enough is enough. They've had far more experience in this realm, while men perhaps are still on a Just For Men learning curve.
Still, Costas should know better. Shouldn't he? As a further cautionary note to him, we close with two pictures of longtime CBS sportscaster Dick Stockton, now 67. The one on the left is from 2007 and the one on the right is from last year. Enough said.