More retro: Arsenio Hall hopes to re-emerge as night light
06/19/12 09:44 AM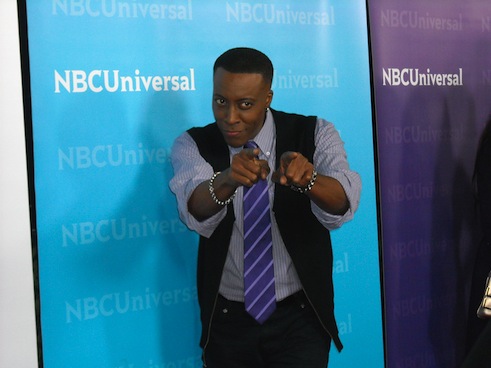 Arsenio Hall on display during January TV "press tour." Photo: Ed Bark
By ED BARK
@unclebarkycom
Dallas
came back, so why not Arsenio, too?
Retro thinking will be hitting homes again in September 2013 when the former host of
The Arsenio Hall Show
returns to late night on a mix of Tribune-owned and CBS stations where "duopolies" exist. The carrier in D-FW, at 10 p.m. weeknights, will be CW33, one of 17 TV stations run by Tribune. Tribune is partnering with CBS Television Distribution in producing the show.
Hall will have far more company this time. When his original show premiered in January 1989, he faced off against NBC's
The Tonight Show
in Johnny Carson's waning years and the short-lived
Pat Sajak Show
on CBS. In the 10 to 11 p.m. slot, he'll now be competing with talk/comedy shows hosted by Jay Leno, David Letterman, Conan O'Brien, Jon Stewart, Stephen Colbert and Chelsea Handler.
Hall's original syndicated show, which ran until May 1994, had a party atmosphere and a wealth of minority guests who mostly hadn't been part of the late night mix. But his most famous show, in June 1992, featured then presidential candidate Bill Clinton showcasing his sax appeal by playing "Heartbreak Hotel" with the house band.
"It's nice to see a Democrat blow something besides the election," Hall joked. The appearance was credited with bolstering Clinton's standing with minority and younger voters in his successful campaign to unseat President George H.W. Bush.
"It's an amazing thing to be going home to my old friends and colleagues and firing up our 'Night Thing,' " Hall said in a publicity release. "Let's get busy -- again!"
Hall, 56, won't have the same appeal he once had with younger viewers. But CBS Television Distribution president John Nogawski figures that Hall's 18-to-34-year-old fans are "now right in the middle of the late-night core audience of 35-54. Years ago, he transcended time periods and attracted a cross-over audience while bringing a fresh perspective to late night. That same need in the market exists today as when we originally launched. We are looking forward to the same success with Arsenio's seasoned expertise and appeal in this genre."
Hall recently had a big dose of prime-time exposure, going the distance to win this year's edition of NBC's
Celebrity Apprentice
. From 2003-'04 he hosted a new version of
Star Search
on CBS. It was produced by 2929 Entertainment, a venture of Dallas Mavericks owner Mark Cuban and his business partner, Todd Wagner.
Asked about returning to TV as a host during a panel at last summer's Television Critics Association "press tour," Hall said, "I would love to. It's pretty crowded out there. I'm not sure if it's too crowded for a (then) 55-year-old guy to re-emerge. But if they give me a little daylight, I'm going to slide into it."
And so he will.