CBS cleans up and shares the wealth with arsenal of hits in last hour of prime-time
10/15/09 05:19 PM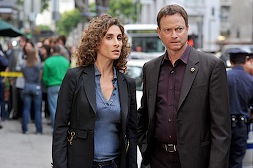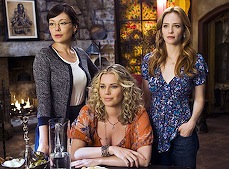 9 p.m. hit and miss: CBS' CSI: NY and ABC's Eastwick
By ED BARK
Some networks know how to take care of both their owned and affiliated stations.
Actually only one does -- CBS.
We're talking specifically about late night local newscasts, and a network's ability to help make or break them with the popularity of its 9 p.m. (central) programming.
Deliver hits at that hour and you're likely to see some dividends when the locals take over with their marquee newscasts of the day. Keep flopping and you risk sabotaging the well-being of stations that carry your programming.
Now more than ever, CBS is nurturing its partners while ABC and NBC feed them gruel in the form of struggling series or
The Jay Leno Show
.
Through the first three weeks of the 2009-'10 TV season, here are the average total viewers for 9 p.m. programming on Mondays through Fridays. They're based on national results tabulated by Nielsen Media Research. I think you'll see a pattern.
MONDAY
CSI: Miami (CBS) -- 14.5 million
Castle (ABC) -- 9.7 million
The Jay Leno Show (NBC) -- 8.9 million
TUESDAY
The Good Wife (CBS) -- 14.3 million
The Forgotten (ABC) -- 8.6 million
The Jay Leno Show (NBC) -- 7.9 million
WEDNESDAY
CSI: NY (CBS) -- 14.0 million
The Jay Leno Show (NBC) -- 8.1 million
Eastwick (ABC) -- 7.1 million
THURSDAY
The Mentalist (CBS) -- 16.2 million
Private Practice (ABC) -- 10.6 million
The Jay Leno Show (NBC) -- 6.1 million
FRIDAY
Numb3rs (CBS) -- 8.3 million
20/20 (ABC) - 6.3 million
The Jay Leno Show (NBC) -- 6.2 million
NBC may be saving money on Leno, which costs roughly half as much to produce as a one-hour scripted drama series. But that's cold comfort to local stations, whose late night newscasts are dying on the vine from lousy lead-ins.
ABC hasn't been much help to its stations either. Its most-watched 9 p.m. attraction,
Private Practice
, still trails CBS'
The Mentalist
by an average of 5.6 million viewers per week.
CBS didn't get into this position by accident. It's long programmed its prime-time schedule with an eye toward success at 9 p.m. Helping the locals is a priority at CBS. For rival networks, it seems like an afterthought. Now more than ever.