The leads have it in TNT's King & Maxwell
06/07/13 10:29 AM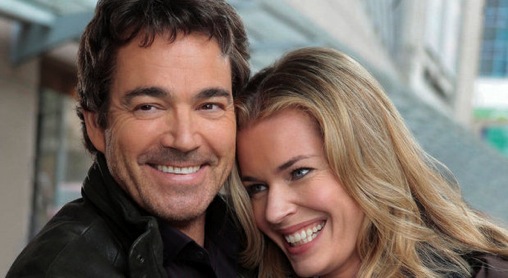 Jon Tenney & Rebecca Romijn take a break from bantering. TNT photo
Premiering:
Monday, June 10th at 9 p.m. (central) on TNT
Starring:
Rebecca Romijn, Jon Tenney, Michael O'Keefe, Chris Butler
Produced by:
Shane Brennan, Grant Anderson, Chris Downey
By ED BARK
@unclebarkycom
Ampersands have been good business for TNT.
Its reigning most popular drama,
Rizzoli & Isles
, returns for Season 4 on June 25th. Season 3 of the sturdy
Franklin & Bash
launches on June 19th.
So the third time around doesn't even have to be a charm because these two ampersand-centric series already have proven themselves.
King & Maxwell
, premiering Monday in tandem with TNT's second season of
Major Crimes
, looks like another easily absorbed summertime breeze.
Its stars, Jon Tenny from
The Closer
and the still lustrous Rebecca Romijn, seem to be equipped with the requisite chemistry. Telegenic to a T, they spar and kid when not springing into action. Having each other's backs doesn't mean you can't throw an occasional rabbit punch. It's a formula that's been used far more often than -- ampersands -- on both big screens and small.
OK, but just what do Sean King and Michelle Maxwell do? On the face of it,
Rizzoli & Isles
sounded like more like an Olive Garden pasta entree than a cop series. And
Franklin & Bash
could've been two professional wrestlers but instead is a comedy-heavy legal hour.
TNT publicity materials say this latest pair "aren't your typical investigators." This is because their previous gigs as Secret Service agents give them "a leg up on conventional law enforcement."
Believe that if you will, but it doesn't really matter.
King & Maxwell
fires up Monday with a vigorous, expertly shot action sequence in which Maxwell chases a runaway tour bus driven by a man in a beaver suit. The bus careens through the streets of D.C., leaving a demolition derby collection of disabled vehicles before finally flipping over. None of this has anything to do with the central crime of the week. It's simply an effective way to immediately command a viewer's attention before Maxwell and King come together for the first time to bicker over the proper way of reading Miranda rights.
Tenney affects a disheveled look throughout, with wrinkled shirts, untended whiskers and semi-wayward hair. Romijn in contrast is polished and well-dressed, solidifying her credentials as one of the greatest-looking 40-year-old women on the planet.
She's also grown as an actress, although
King & Maxwell
doesn't require any heavy lifting on the part of either principal. Their principal antagonist is gruff FBI agent Frank Rigby (Michael O'Keefe), who huffs and carps along with partner Darius Carter (Chris Butler).
"I don't like private investigators," Rigby says. "You're usually cashed-out cops or enthusiastic amateurs." Arf, that's one of the lamer lines in a series adapted from the series of books by David Baldacci.
King & Maxwell
soon gets down to the business of solving the murder of King's attorney friend, Ted Burgin, who had been representing an accused serial killer before being offed by a drive-by shooter. He really wants to nab this particular offender. Because when King was spiraling downward -- a presidential candidate got killed on his watch -- Burgin got him sobered up and on the road to recovery.
The case turns out to have many more layers, none of them particularly believable. And the script and circumstances really labor down the stretch. Still, Tenney and Romijn make for a pretty nifty pair, whether quipping on cue or subduing some henchmen with their feet and fists.
The overall production values are first-rate. TNT's dramas invariably look good, as do their stars. All of that other stuff -- headlined by plausibility -- might well be beside the point in terms of overall enjoyment. Tenney and Romijn are easy on the eyes and equally easy to take as crook-catchers whose badinage might end up in bed with them someday. For now, they pass the all-important likability test with bright, flying colors.
GRADE:
B-minus
Email comments or questions to:
unclebarky@verizon.net