Top of the Lake: China Girl further elevates Moss above her old Mad Men crowd
09/06/17 01:05 PM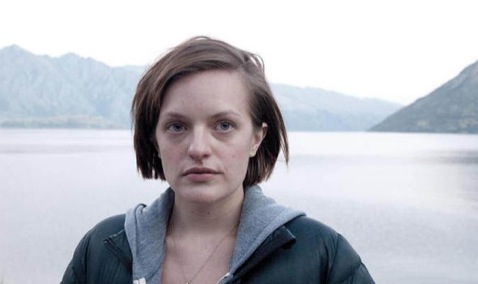 Elisabeth Moss continues her TV career of the year with Top of the Lake sequel, in which she leads the way as detective Robin Griffin.
Sundance TV photo
Premiering:
Sunday, Sept. 10th at 8 p.m. (central), with two-hour chapters continuing through Tuesday, Sept. 12th on Sundance TV
Starring:
Elisabeth Moss, Nicole Kidman, Gwendoline Christie, David Dencik, Ewen Leslie, Alice Englert, Clayton Jacobson, Thien Huong Thi Nguyen
Produced by:
Jane Campion, Emile Sherman, Iain Canning, Jamie Laurenson
By ED BARK
@unclebarkycom on Twitter
As post-
Mad Men
careers go, Jon Hamm seemed like the prohibitive favorite to burst from the pack and stay out front. He hasn't been hurting for work, but can't keep up with Elisabeth Moss. Few if any can lately, whatever their recent pasts.
Earlier this year, Moss took on the starring role of "Offred" in Hulu's acclaimed and Emmy-nominated adaptation of
The Handmaid's Tale
. Less than three months after Season One ended, she's back for another go as angst-ridden detective Robin Griffin in
Top of the Lake: China Girl
, sequel to the 2013 original that won Moss a Golden Globe.
Sundance TV is home to the U.S. premiere and will air its six chapters on three successive nights, starting on Sunday, Sept. 10th. The BBC had first dibs, ending its
China Girl
run on Aug. 31st.
Moss had Oscar-winner Holly Hunter (
The Piano
) to play off in the first
Top of the Lake
. The sequel enlists two other prominent women, Nicole Kidman (her Oscar was for
The Hours
) and Gwendoline Christie, best known for playing towering warrior Brienne of Tarth in HBO's
Game of Thrones
.
Mildly put, Moss's Robin has been to hell and back of late and earlier in her life. At the close of
Top of the Lake
, which was set in New Zealand, she seriously wounded Queenstown-based detective sergeant Al Parker (David Wenham) during their struggle for a handgun. His shocking conduct merited far worse for Parker, who's survived while Robin battles both post traumatic stress disorder and the indignity of another setback disclosed during a "Four Weeks Earlier" flashback at the start of Episode 2. Those who have seen the first
Top of the Lake
also know that Robin was gang-raped as a 15-year-old.
"Yeah, I've been burnt. Deep-fried," she matter-of-factly notes during Episode 3.
Otherwise there's a new case to puzzle out when Griffin uneasily rejoins the Sydney police force. A metal suitcase packed with a corpse eventually washes up on Bondi Beach after being submerged by the proprietors of a legalized brothel known as Silk. Who might this Asian girl be? What was the motive? And will Griffin ever manage to get along with her new and still green partner, Miranda Hilmarson (Christie), who has secrets of her own?
As for Kidman, she's adoptive mother Julia Edwards, who's left her husband, Pyke (Ewen Leslie), to fire up a live-in relationship with a female teacher from their daughter Mary's school. It gets thicker. Seventeen-year-old Mary's (Alice Englert) birth mother is Robin, who gave her up for adoption and hasn't seen her in person since. Their reunion is very much complicated by the fact that Mary thinks she loves and intends to marry a haughtily philosophic 42-year-old German named Alexander "Puss" Braun (David Dencik). His residence inn of choice is the Silk brothel, where Mary hopes to join the work force after turning 18, which is soon. (Note: Englert is the real-life daughter of the series co-creator/writer/director, Jane Campion.)
Not everything entirely adds up during the very winding course of
China Girl
's six hours. In fact, Episode 3 veers recklessly -- story-wise at least -- into an almost out of body, life-threatening situation involving Robin and one of the drama's bounteous supply of scummy men.
The performances, however, are uniformly on target. Kidman, part of the recent ensemble in HBO's Emmy-nominated
Big Little Lies
, is even more impressive here as the possessive, high-strung Julia while Dencik completely inhabits the role of thoroughly oily "Puss."
Moss again is impressively nuanced as the unsteady Robin, whose flaws and needs are palpable. As in the first
Top of the Lake
, she also absorbs physical punishment while demonstrating close to miraculous healing powers.
China Girl
ends up solving its central whodunit while also opening a door to future installments with a climatic knock on the door. Moss, now prepping for Season 2 of
Handmaid's Tale,
, has two franchise TV roles to carry her career through at least the next several years. Both Offred and Robin Griffin have been badly scarred and scared by the men in their turbulent lives.
So perhaps Moss could use a comedy at some point in the not too distant future. For now, though, she has a thoroughly flourishing, albeit somber career that might well find the likes of Hamm's Don Draper begging to work with her. Barely two years removed from the
Mad Men
finale, Moss no longer needs any advertisements for herself.
GRADE:
A-minus
Email comments or questions to:
unclebarky@verizon.net