FX's Legit is crudely mined comedy gold
01/16/13 03:32 PM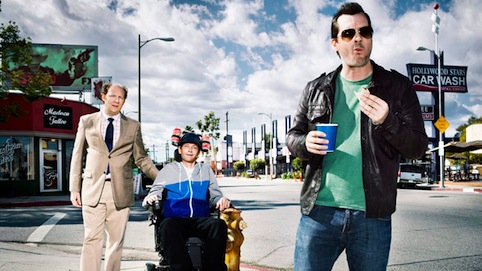 The three oddly in sync amigos of Legit. FX photo
Premiering:
Thursday, Jan. 17th at 9:30 p.m. (central) on FX
Starring:
Jim Jefferies, Dan Bakkedahl, DJ Qualls, Mindy Sterling, Sonya Eddy, Nick Daley, John Ratzenberger
Produced by:
Peter O'Fallon, Richard Cleveland, Lisa Blum
By ED BARK
@unclebarkycom
After making its mark with anti-hero intensive dramas --
The Shield, Nip/Tuck, Rescue Me
-- FX lately is hitting the comedy genre hard and effectively.
In fact, the Thursday night premiere of
Legit
makes it 10 to 4 in favor of funny business. And one of those scripted dramas,
The Americans
, won't be a reality until Jan. 30th.
Set in L.A. and starring Australian comic Jim Jefferies,
Legit
has a chance to rival FX's
Louie
in terms of bald-faced boldness and swervy, uniquely individual takes on being a semi-sad sack male.
Both Jefferies and Louis CK are stand-ups in real life playing same-named stand-ups in their pseudo-autobiographical comedy series. But while
Louie
incorporates his profession into every episode,
Legit
shoves it off to the side in the three half-hours sent for review.
The emphasis instead is on the triangular relationship among Jim, his best friend/roomie Steve Nugent (Dan Bakkedahl) and brother Billy Nugent (DJ Qualls). The big difference maker: Billy is wheelchair-bound and in the throes of advanced stage Muscular Dystrophy. He's been wasting away in a long-term care facility until pulling Jefferies aside and telling him, "I'm 32 years old and I've never been laid."
Jim is just the man to remedy that situation. He's a ne'er-do-well do-gooder in his own abject way. So it's off to a brothel for the three of them, with Billy's mom Janice (Mindy Sterling), apoplectic and dad Walter (a so far scantly used John Ratzenberger) hoping to blank it all out.
The trip turns out to be a winner, with Jim also hoping to cash in down the road with Billy as his ultimate, sympathy-engendering wing man. But there's also a good deal of untapped compassion in his bones. And
Legit
turns out to be coarsely and crudely endearing in its depiction of Billy's new lease on life as Jim and Steve's add-on roommate. There's also Billy's former care facility buddy Rodney (Nick Daley), a mentally slow dwarf who's also used to surprisingly good effect in tightrope walks between political correctness and whatever its polar opposite might be.
FX remains aggressively adult in both its comedies and dramas. No advertiser-supported cable network is less beholden to restraints on language, sex and violence, although full nudity and f-bombs are still out of bounds. A dog can happily lick his balls, though. And Jim can explore new vistas in lending Billy a helping hand in an Episode 3 built around the latter's first blossoming Skype relationship.
This particular episode has a happy ending in more ways than one. It's also one of the best closers I've ever seen in either the comedy or drama genre.
Absent any club performances so far, Jim dispenses some of his stand-up material in scenes with Billy and/or Steve. He occasionally slips into " '50s dad" mode for neanderthal riffs on what women want and how to satisfy them. From this perspective, "women date men on death row because they know where they are -- every minute of the day. And that makes them feel secure."
Legit
shows immense promise in these opening episodes. It's coarse and sometimes dirty to the touch, but pretty damned hilarious at crunch times. FX just might have the standout new comedy series of this season. Pretty it's not. But its beauty marks are more than initially meet the eye.
GRADE:
A-minus
unclebarky@verizon.net