Brace yourselves: FX's Louie can be very dangerously funny
06/29/10 10:08 AM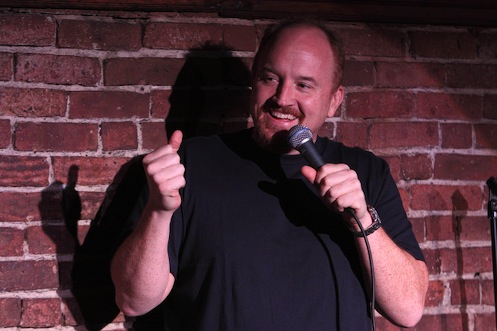 Louis C.K. stands up for himself in his favorite lair. FX photo
Premiering:
Tuesday, June 29th at 10 p.m. (central) with back-to-back episodes on FX
Starring:
Louis C.K.
Produced by:
Louis C.K., Dave Becky, M. Blair Breard, Pamela Adlon
By ED BARK
The popular conception about standup comics is that they're seriously screwed up on a multitude of levels. Bitter, angry, insecure, incapable of sustaining relationships and functioning best onstage or among fellow comedians, where misery loves company.
Louis C.K. fits right in, ending the second episode of Tuesday night's double-barreled premiere of FX's
Louie
with a riff on how he'd love to be intimate with animals, particularly monkeys.
"The only reason I don't have sex with animals," he tells a laughing/groaning Comedy Cellar audience, "is because I'm not supposed to, and someone told it to me."
Don't be unduly put off. After a relatively tame opening episode,
Louie
hits its jaw-dropping stride with a half-hour titled "Poker/Divorce." Airing opposite the relatively cuddly late night offerings of David Letterman, Jay Leno and Stephen Colbert, it begins with an incredibly graphic discussion of gay sex at a poker game populated by comics.
One of them is gay, and his explanations of "City Jerks" and the origin of the term "faggot" obviously are not for everyone. But his discourse -- and I'm groping for words here -- is not without both depth and meaning. In fact, this is an all together stunning segment -- offensive, instructive and funny for those willing to listen and learn. FX has dutifully affixed the TV-MA tag, which virtually all of its series carry. But TV-XXX would be more fitting in this case.
Louis C.K. (his birth surname is Szekely) has waited a while for his second starring role in a weekly TV series. HBO took a chance in 2006's
Lucky Louie
, a profane, hit-over-the-head sitcom that was modeled after
The Honeymooners
and marked the network's first and so far last show taped before a studio audience. It was canceled after one season, and Louis C.K.'s only prime-time series work since then has been a recurring role on NBC's
Parks & Recreation
.
FX initially had scheduled
Louie
for a March premiere, but instead opted for a late June launch in tandem with Season 6 of
Rescue Me
, which precedes it Tuesday night. The pilot episode was filmed when Louie was 41. In the second episode he states his age as 42. Time flies when you're waiting for a series pickup. For the record, FX has ordered 13 episodes.
Whatever his current age -- he'll be 43 in mid-September -- Louis C.K. plays himself. This includes frequent references to his 2008 divorce and his shared custody of the two young daughters they previously raised together.
Episodes divide their time between Louis C.K.'s standup act at Manhattan's Comedy Cellar and two short films that further telescope his travails. Tuesday's opener has a moderately amusing depiction of a school field trip gone awry and a funnier look at a date that also becomes a disaster.
The second episode is the game-changer, though. Following the aforementioned poker game is a longer film about his finalized divorce and latter day reunion with Tammy Wickilinis. She's a tough-talking grade school looker who kept ordering him to "whip it out" when they were classmates. This one has a happier ending, even if Louie C.K. remains pretty pathetic.
There are no other regular characters in
Louie
, which also is produced, written, directed and edited by its namesake. So it's all on him. And in Tuesday's second episode, he's all in when it comes to no doubt repulsing some viewers while at the same time converting others.
As one who despised his HBO sitcom, I'm a convert so far with
Louie
. This is crazily daring TV with a point of view and a dysfunctional mess of a comedian at its core. In some ways at least, it doesn't get any better than that.
GRADE:
B+