Haggard twangs his magic twanger in exemplary American Masters film
07/21/10 10:02 AM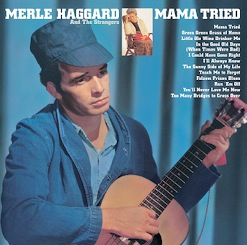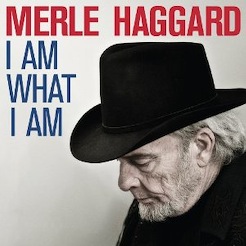 Merle Haggard: early travails, new CD and now an American Master.
By ED BARK
His surname fits him better than ever. At age 73, though, the well-worn and still troubled Merle Haggard still has the pipes and wherewithal to sing his timeless autobiographical songs in venues ranging from Nashville's esteemed Ryman Auditorium to Durant, Oklahoma's less legendary Choctaw Casino & Resort.
"His legend casts a long shadow over himself," country pal Marty Stuart says in the early minutes of
Merle Haggard: Learning to Live with Myself
, another first-rate entry in PBS'
American Masters
series. It premieres on Wednesday, July 21st (
9 p.m. in D-FW on KERA/Ch. 13
).
Oft-imprisoned as a youth after losing his beloved daddy at age 9, Haggard has spent most of his life in various degrees of melancholy. His fourth wife, Theresa Haggard, tellingly bookends this 90-minute film when she's asked if her husband in fact has gotten any better at learning to live with himself.
After a pause, she says, "No," smiling through misty eyes.
They've been together for 24 years and married for the last 17, though, more than the sum total of Haggard's previous three marriages. And his exes seem to bear him no ill will. Wife No. 2, the late Bonnie Owens (she earlier had married Buck Owens), was a bridesmaid in Haggard's wedding to Leona Williams. Their nine-year marriage "wasn't long, but it was long enough," Leona says good-naturedly.
Learning to Live with Myself
nicely meshes archival footage with current-day interviews in telling the story of a revered twanger who was in the audience for three of Johnny Cash's famed San Quentin concerts. Cash made a big impact on him, Haggard recalls. But he didn't resolve to go straight until he got drunk, fell in a San Quentin latrine and was sent to "The Hole" for seven days.
Haggard says he decided then and there that "I didn't want to be in that field."
Most of his incarcerations were for running away and dodging school as a youth. Haggard also was involved in a burglary after admittedly falling in with the wrong crowd. His sister, Lillian Rae Hoge, says bitingly, "He was a constant problem to mother, and she was constantly having to retrieve him from some distance."
Says Haggard himself: "My mother couldn't do anything. She was a little old woman and I was the rottenest kid."
His innate musical ability finally won out. And in 1969, Haggard became a poster boy for Richard Nixon's "Silent Majority" and the scourge of anti-establishment "hippies" with the release of "Okie From Muskogee." Many of its lyrics are still ingrained, including, "We don't smoke marijuana in Muskogee. We don't take our trips on LSD. We don't burn our draft cards down on Main Street. 'Cause we like livin' right and bein' free."
Haggard actually wasn't from Oklahoma, but his parents were. They migrated to California during The Great Depression, with Merle born in Oildale, near Bakersfield. The family lived in a boxcar that James Haggard converted into their home. Merle and wife, Theresa, revisit what's left of it while he drives in the vicinity of Merle Haggard Drive.
"Isn't that somethin,' " he says, sniffling a bit.
Haggard still sings "Okie From Muskogee at his concerts -- how could he not? -- while contending that he really didn't mean for it to be a right-wing anthem. Like many of his songs, it was aimed directly at the heart of the working class, although Haggard does admit that "it pissed me off" when he saw protestors in the streets "bitchin' about things" while their countrymen were dying in Vietnam.
Fans of Haggard interviewed during the film include Keith Richards, Robert Duvall, Kris Kristofferson, Billy Gibbons, Buck Owens, Alison Krauss, John Fogerty, Dwight Yoakam and Tanya Tucker, who has the most telling observation.
It's unfortunately true, she says, that "when he's not feeling pain, it's hard for him to feel anything else."
One also gets the impression that Haggard can be a Capital A a-hole much of the time. His comfort zones are a cramped touring bus that reminds him of his various prison cells and the stage that transforms him into the center of attention.
Young German filmmaker
Gandulf Hennig
(
Gram Parsons: Fallen Angel
) followed Haggard for three years during the course of putting together
Learning to Live with Myself
. Haggard recently returned to the concert stage after undergoing major lung surgery. He perseveres as one of the last remaining of bygone country pathfinders such as Lefty Frizzell, Jimmie Rodgers and
Bob Wills and His Texas Playboys
, which whom Haggard is seen performing very early in his career.
Haggard also clings to other remnants of his past, including the wrist tattoo he received as an identifying mark during his time at the punishing Preston School of Industry.
"I probably ought to have a good tattoo done over that," he remarks. "But I never will."
GRADE:
A
Footnote:
Here's Haggard's splendid performance of "Footlights," complete with tasty guitar licks and a voice that's still a marvel: