The CW's All American trades on both racial tensions and student bodies
10/09/18 12:57 PM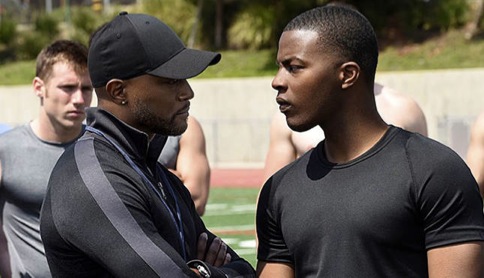 A coach and his star recruit clash in All American. CW photo
Premiering:
Wednesday, Oct. 10th at 8 p.m. (central) on The CW
Starring:
Daniel Ezra, Taye Diggs, Samantha Logan, Bre-Z, Greta Onieogou, Monet Mazur, Michael Evans Behling, Cody Christian, Karimah Westbrook, Jalyn Hall
Produced by:
April Blair, Greg Berlanti, Sarah Schechter, Rob Hardy
By ED BARK
@unclebarkycom on Twitter
Racial dynamics are a big part of The CW's new
All American
.
But so are abs, pecs and high school football players aggressively sporting them during what the network hopes will be must-see workouts at Zuma Beach. Sculpted males as take-your-shirts-off sex objects? On television at least, that's still no more of a no-no than your basic bumbling dad.
"Inspired by a true story,"
All American
is the saga of a star receiver from the poor side of town who's coveted by a coach from a rich enclave. African-American males as leads had been basically non-existent on The CW until
Black Lightning
premiered last season. But Greg Berlanti is not. He's a co-executive producer of both series while also helming The CW's
Arrow, The Flash, Supergirl, Legends of Tomorrow
and
Riverdale
. The guy's busy. And with Berlanti, you generally get a polished and entertaining product, which
All American
for the most part is.
Spencer James (Daniel Ezra) is first seen making big, flashy plays for South Crenshaw High. But after the game, gunfire is heard outside the stadium.
"Another day in the neighborhood," Spencer matter-of-factly tells predatory coach Billy Baker (Taye Diggs), who replies, "I can get you a way out, man."
The resultant tug-of-war of course will be won by the Beverly Hills Eagles coach, with an assist from Spencer's mom, Grace (Karimah Westbrook). Both have ulterior motives. Coach Baker wants to save his imperiled job while also enhancing his reputation as a groomer of hot college prospects. Grace wants something better for her son, but has additional reasons that slowly will play out in the three episode made available for review.
It also just so happens that coach Baker's son, Jordan (Michael Evans Behling), is the Beverly Hills high quarterback (he feels unappreciated) while his daughter, Olivia (Samantha Logan), is newly out of rehab after taking the rap for someone else. (She also feels unappreciated.) Their white mom, Laura (Monet Mazuer), is more attentive to both children.
Olivia is quickly enamored of Spencer, who's initially entranced by all-that Leila Faisal (Greta Onieogou), the very popular "Stu Co" (student council) president. Her father is a rich record producer who supposedly spends Thanksgivings with the Obamas. Rumor also has it, says Olivia, that Leila "even smoked pot with Malia (the Obamas' oldest daughter) last year." That's not a capital crime, of course, but it does seem like a cheap, gratuitous reference.
The football team's resident first-string pass-catcher, a guy named Asher (Cody Christian), is white, entitled and the son of a racist school booster who's introduced in Episode 2. "Crips or Bloods?" Asher asks upon first meeting Spencer, who's understandably repulsed.
Spencer eventually moves in with the Bakers to establish residency while still returning to South Crenshaw on weekends to be with his mom and younger brother Dillon (a winning Jalyn Hall). The series' most nuanced character, and Spencer's old neighborhood confidante, is Tiana "Coop" Cooper (Bre-Z). She's a blunt-spoken gay girl who's both falling into the wrong crowd and reluctant to disclose her sexuality to a very religious mother. Bre-Z excels in every scene she's in. The writers need to keep finding ways to keep her character from becoming more than peripheral.
All American
also has some pat scenes in its efforts to create both racial and sexual(ity) conflict. In Episode 3, for instance, the coach's son is roughed up by white Crenshaw cops after he and Spencer are stopped for no reason while driving back to the Hills in Jordan's flashy red convertible.
Jordan should have been taught to simply cooperate rather than protest this indignity, Spencer tells Coach Baker. His response sounds too much like a tract: "I honestly thought that I had bought Jordan just a little more time before he had to face the ugly side of being a black man in America."
This is also the episode where Coop learns just where her mom stands after she becomes suspicious of the same-sex company her daughter is keeping. Once again, the scene is both affecting and a little too prototypical. But the writers need to keep trying to get it just right.
All-American
has overtones of NBC's exemplary
Friday Night Lights
, but so far is not in its class.
FNL
had one of the best parent-student ensembles in TV history. The CW's first high school football series literally is better built in terms of strutting its stuff in the locker room and at the beach. Perhaps the drama will also flex harder in time.
GRADE:
B-minus
Email comments or questions to:
unclebarky@verizon.net