ABC's Quantico puts NYC on the receiving end of more terrorist devastation
09/25/15 10:35 AM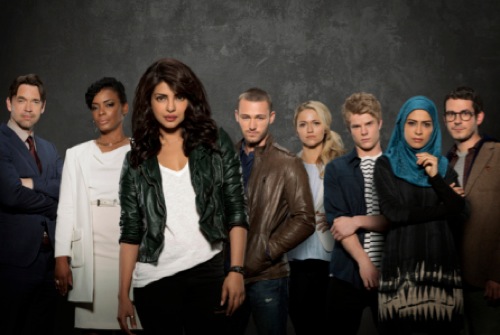 Cast of Quantico is headed by Priyanka Chopra (forefront). ABC photo
Premiering:
Sunday, Sept. 27th at 9 p.m. (central) on ABC
Starring:
Priyanka Chopra, Aunjanue Ellis, Jake McLaughlin, Josh Hopkins, Yasmine Al Massri, Johanna Braddy, Tate Ellington, Graham Rogers
Produced by:
Josh Safran, Mark Gordon, Nick Pepper
By ED BARK
@unclebarkycom on Twitter
What the real-life world really doesn't need right now is another devastating terrorist attack on New York City or grossly incompetent screening of would-be FBI agents at the Quantico Academy.
You'll get both in ABC's
Quantico
, a flash back and forward whodunit starring the beauteous Priyanka Chopra as a recruit who's later suspected of being behind the bombing of NYC's Grand Central Terminal. What a not so great way to unwind in Sunday's final prime-time hour before another work week beckons.
Chopra is Alex Parrish, who early in Sunday's opener has strictly noncommittal sex in a car with a guy who turns out to be a fellow FBI recruit. They're among the latest new batch of trainees at a place that prides itself on its attention to detail but can't seem to get anybody's background straight, including Alex's. ABC and the show's producers have seen to it that her standard issue grey training top is unbuttoned a button lower than any other woman's. The better to see one of her primary assets.
Running the place is hard-nosed Miranda Shaw (Aunjanue Ellis), whose initial speech to the recruits renders her a "sexless, heartless, pontificating robot" in the view of snippy Shelby Wyatt (Johanna Braddy).
"Worked for Hillary," cracks another trainee. Boom!
Sunday's premiere episode toggles between the immediate aftermath of the NYC bombing and the gathering of new recruits nine months earlier. One of them apparently is a terrorist. And the pre-arrival activities of Nimah Anwar (Yasmine Al Massri) in a gas station restroom sure do look suspicious. This probably means she's not the one, even if something even more suspicious later occurs within Academy walls.
The recruits also include openly gay and sensitive Simon Asher (Tate Ellington), hunky Ryan Booth (Jake McLaughlin) and jerky Caleb Haas (Graham Rogers), who's poised to reveal a deep secret about Mormon elder Eric (Brian J. Smith) during an exercise in which recruits are required to pair up and investigate each other's pasts.
Dougray Scott also can be seen in the first episode as FBI special agent and Quantico instructor Liam O'Connor. But in subsequent episodes he'll be replaced by actor Josh Smith.
Quantico
moves along briskly without nailing down an overall believability. A bigger overriding question is whether enough viewers will want to subject themselves to the whys and wherefores of a current-day terrorist strike on the homeland that initially leaves Alex dusty and dazed amid the rubble. Things haven't gotten any better for her by the end of the opening episode. Nor has the overall credulity of a series that eventually finds its designated heroine dazed and confused in a different way.
At the summer Television Critics Association "press tour," co-executive producer Mark Gordon (who also orchestrates Showtime's
Homeland
) fell back on an oft-used industry term to defend some of
Quantico
's rather far-fetched storytelling.
"I think the great thing about most entertainment, whether it's film or television, is that it's 'heightened reality,' " Gordon said. He then quoted a deceased writing teacher who "had this great, great quote (of) which I remind people I'm working with all the time. Which is 'Real life is no excuse for bad drama.' "
So swallow
Quantico
whole if you'd like. From this perspective, though, there's just won't be enough of an appetite.
GRADE:
C+
Email comments or questions to:
unclebarky@verizon.net