CBS' We Are Men comes off as Monday night non-starter
09/30/13 04:28 PM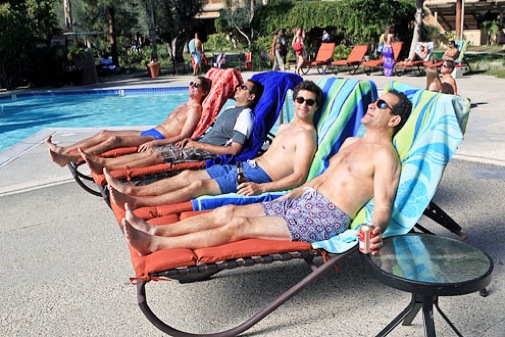 The four marriage-allergic principals of We Are Men. CBS photo
Premiering:
Monday, Sept. 30th at 7:30 p.m. (central) on CBS
Starring:
Tony Shalhoub, Jerry O'Connell, Kal Penn, Chris Smith, Rebecca Breeds
Produced by:
Rob Greenberg, Eric Tannenbaum, Kim Tannenbaum, Bob Daily
By ED BARK
@unclebarkycom on Twitter
The title of CBS' latest new Monday night comedy can be taken as either a warning or a threat, but certainly not a reason to watch.
We Are Men
throws a total of seven failed marriages into its mix, adds a new recruit left at the altar and emerges both half-baked and overdone.
Its best-known cast member, Tony Shalhoub, won multiple Emmy awards as the star of
Monk
. For some reason he's decided to get back into series TV as clothing manufacturer Frank Russo, a four-time loser at the marriage game and ringleader of a "Band of Brothers" holed up at a singles complex with a pool. As career choices go, this is like sinking your life savings into the marketing of rutabaga-flavored cotton candy.
Frank's initial running mates are OB/GYN Stuart Weber (Jerry O'Connell), a cocksure but rudderless two-time divorcee, and small businessman Gil Bartis (Kal Penn), who didn't even get to first base with his "affair" before wifey caught him in the sack. Their ranks are further bolstered by Carter (Chris Smith), who for some reason doesn't get to have a last name. Left dangling
Graduate
-style in the middle of his marriage ceremony, he serves as both narrator and wide-eyed tenderfoot.
O'Connell's character also craves going bare-chested whenever the mood strikes him, which is often. This is supposed to be a funny running gag, and O'Connell at least has kept himself pretty chiseled. But you can only go to this well so often, particularly in a desperate situation of a sitcom.
The male gender has taken a whipping in the past two seasons with mirthless lame-brainers such as
Man Up!, Guys with Kids, Partners, The Family Tools
and
Work It
, all of which sustained quick knockouts.
We Are Men
likewise flails about on its opening night, with Shalhoub's Frank repeatedly hitting on Asian women while declaring his daughter, Abby (Rebecca Breeds), to be completely off-limits as a dating option.
Carter is supposed to be the sensible fourth Musketeer. But he easily succumbs to the joys of getting blasted and inhaling junk food with his new comrades before being talked out of a second attempt at marriage to a joy-sapping ball-buster.
We Are Men
at least doesn't have a laugh track, which in effect would be malpractice. Its first half-hour comes and goes without providing any further reason to hang out with these guys.
GRADE:
D
Email comments or questions to:
unclebarky@verizon.net