New fall season: ABC's Revenge seems fated to plot 'n' plod along
09/20/11 01:01 PM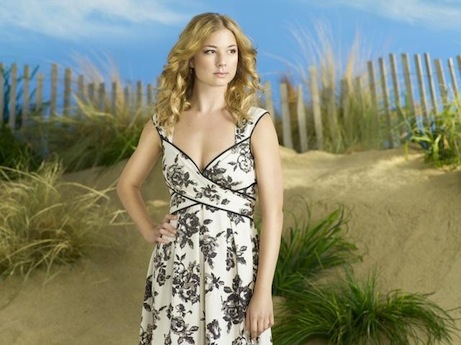 See that steely look? This girl wants plenty o' Revenge. ABC photo
Premiering:
Wednesday, Sept. 21st at 9 p.m. (central) on ABC
Starring:
Emily VanCamp, Madeleine Stowe, Gabriel Mann, Henry Czerny, Josh Bowman, Nick Wechsler, Christa B. Allen, Ashley Madekwe, Connor Paolo
Produced by:
Mike Kelley, Marty Bowen, Wyck Godfrey
By ED BARK
Confucius doesn't get referenced much on network TV these days. After all, the very ancient Chinese philosopher skews way past the desired 18-to-49-year-old network demographic. Even most college kids likely are more familiar with the musings of a Kardashian.
But there he is, setting the table for ABC's new
Revenge
serial drama with a little printed advice right up top. "Before you embark on a journey of revenge, dig two graves," he supposedly advised long before even Larry King could book him as a guest.
Then comes the rather lengthy narrative of the very wronged Emily Thorne (Emily Van Camp), a coming-of-age masquerader with an unbending agenda to thoroughly eviscerate a filthy rich Hamptons family .
"For the truly wronged," she says in part, "real satisfaction can be found in only one of two places -- absolute forgiveness or mortal vindication. This is not a story about forgiveness."
OK, OK, got it. But
Revenge
keeps redundantly driving this point home throughout Wednesday's frequently heavy-handed premiere. It also often looks and sounds like a CW series, with a willowy young blonde beauty at its center and irksome pop music vocals never far away.
ABC has strong-willed women at the throttles of all four of its new fall season dramas while men are on doofus patrol in the new sitcoms
Last Man Standing
and
Man Up
. In
Revenge
, the plots are driven by both avenging Emily and haughty "Queen Victoria" Grayson (Madeleine Stowe), who specializes in sense-of-entitlement charity functions when she's not screwing underlings into submission.
The new season is heavy on flashbacks, and
Revenge
certainly has its share. There's an apparent murder in the opening minutes, with Emily seemingly the orchestrator while also attending a lavish nighttime engagement party at which she's the fiancee.
Then it's back to three months earlier, with Emily moving into a sprawling beach house located next door to the Graysons' high-priced spread. By the way, Emily's not her real name. And she's come to avenge the framing of her beloved, recently deceased father, with whom she's seen as a very happy little girl via those aforementioned looks at her past.
The Grayson home, not an altogether happy one, is also populated by unfaithful hubby Conrad (Henry Czerny), vacuous teen daughter Charlotte (Christa B. Allen) and her reasonably serious-minded older brother, Daniel (Josh Bowman), who's just returned home for the summer after another semester at an expensive college.
There's also indulgent Nolan Ross (Gabriel Mann), who wears twitty pants and knows of Emily's past. Add well-ground, boat-owning young Jack Porter (Nick Wechsler), who also has a past association with Emily but doesn't yet know it.
The story gets fairly intriguing after awhile, with the ring-wise Stowe crafting a formidable villainess. But Van Camp's Emily tends to be too much a purveyor of intense stares and redundant vows to cross everyone off her list. And she keeps this up right until the end.
"They say vengeance is a dish best served cold," Emily says with a solemnity that by now has gotten rather laughable. "But sometimes it's as warm as a bowl of soup." In other words, she's just doctored a sap's bisque in the interests of making him pay.
I'm not sure this is sustainable, particularly in a time slot opposite two long-running close-ended dramas. NBC is still in there punching with
Law & Order: Special Victims Unit
and CBS has transfered
CSI: Crime Scene Investigation
to Wednesdays at 9 p.m. (central), where it very well could be rejuvenated with redoubtable Ted Danson in the cast.
Revenge
, on the other hand, is a dish that might leave you kind of cold. Sometimes you just want a single serving, with the table cleared by episode's end. This one keeps passing its spinning plates while re-stating the obvious.
"Like I said," Emily concludes. This is not a story about forgiveness."
Then please stop saying it.
GRADE:
C+