All aboard: ABC's Last Resort a seaworthy military mystery tour
09/24/12 03:52 PM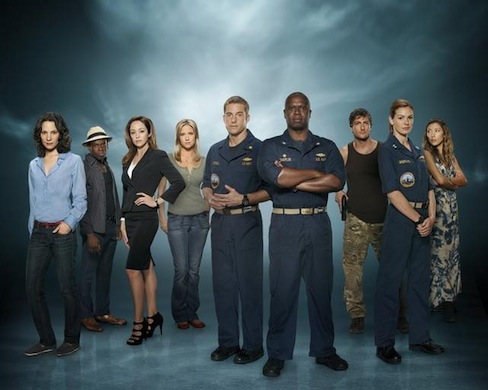 Andre Braugher strikes alpha dog pose by firmly crossing arms. He's the tough-minded submarine captain of Last Resort. ABC photo
Premiering:
Thursday, Sept. 27th at 7 p.m. (central) on ABC
Starring:
Andre Braugher, Scott Speedman, Daisy Betts, Dichen Lachman, Daniel Lissing, Robert Patrick, Sahr Ngaujah, Camille de Pazzis, Autumn Reeser, Jessy Schram, Bruce Davison
Produced by:
Shawn Ryan, Karl Gajdusek, Marney Hochman
By ED BARK
@unclebarkycom
ABC clearly is very, very high on
Last Resort
.
So much so that it took the unusual step of using the U.S. mails to send an actual DVD (and a nice color brochure) to TV writers rather than making them watch the series on ABC's password-protected media website. That, of course, shrinks the big picture, although ABC seems to have worked out most of the transmission bugs at this point.
Rival Big Four broadcast networks continue to pay for hand-held delivery, which ABC for the most part hasn't used in several years. But
Last Resort
is getting extra-special treatment, and deservedly so.
Premiering Thursday (Sept. 27th) as the prime-time leadoff hitter, this is a deftly woven military yarn from the man behind
The Shield
, Shawn Ryan. Whether it's a long-term sustainable premise very much remains to be seen. But the first two hours are sit-up-and-take-notice TV. And both have terrific climactic one-on-one scenes featuring submarine captain Marcus Chaplin (the ever-great Andre Braugher) and his second-in-command, XO Sam Kendal (Scott Speedman).
Ryan also created
The Unit
, whose men in uniform were more in league with
Last Resort
. We begin aboard the USS Colorado, a state of the art submarine equipped with enough nuclear missiles to wipe out the world as we know it and a few other planets as well.
Chaplin and his crew are first seen rescuing a motor-powered raft full of Navy SEALS, one of them seriously wounded. Their mission remains a secret and all of these guys are pretty surly.
Meanwhile, the Colorado's televisions are awash in heavy duty news out of Washington, where an "Impeachment Vote Looms." But there's not much these seamen can do about that. So when the Colorado crosses the Equator, Chaplin cues the traditional "La Bamba" music. Everyone's making merry when a communique immediately prompts the captain to order "Battle stations!" while even rough-hewn "Chief of the Boat" (COB) Joseph Prosser (Robert Patrick of
The Terminator
fame) can't help but blurt, "Sweet mother of God."
Basically, the Colorado has been ordered to fire nuclear weapons on Pakistan. But the order comes from a secondary channel that's only supposed to be used when the primary one is disabled. So Chaplin balks and seeks clarification. And that's when the premiere episode really starts firing on all cylinders.
ABC's on-air promos have revealed that the Colorado is itself fired upon in retaliation, leaving it damaged but still capable of making a run for nearby Sainte Marina, where a NATO early warning station is located. There's also a fetching bartender named Tani Tumrenjack (Dichen Lachman), who supplies disaffected Navy SEAL James King (Daniel Lissing) with the hard liquor he craves to drink away what happened on a recently aborted mission to Pakistan.
But King is also sober enough to convincingly waylay a group of island thugs led by crooked, self-appointed mayor Julian Serrat (Sahr Ngaujah). His pointed detailing of how he'd kill them all makes for a scene to be savored -- and replayed.
Last Resort
is well-appointed with multiple "back stories," duplicitous motives and other seemingly solid characters ranging from Lieutenant/chief navigator Grace Shepard (Daisy Betts) to Kylie Sinclair (Autumn Reeser), the well-heeled, conniving "golden child" of a high level defense contractor.
Sinclair operates out of Washington, where XO Kendal's devoted wife, Christine (Jessy Schram), also resides. But what hasn't he told her? And why?
The considerable tricks here will be to keep both the palpable jeopardy in play and Sainte Marie from becoming another of ABC's never-never lands. How long can the crew believably hole up there? And can Chaplin keep holding off attackers with threats to use any or all of his 17 remaining nuclear missiles if necessary?
"Test us, and we all burn together," he vows near the close of Episode 1. "You've been warned."
Braugher, whose character is dubbed a "Nuclear Mad Man" by Episode 2, is the rock, the hard place and the principal reason to stay with
Last Resort
. He's compassionate as well, with his emotions laid bare during a not-to-be missed closing scene that makes one wish there were three or four more hours to watch without further delay.
ABC by far has more scripted serial dramas than any other broadcast network. It consistently opts for string-along storytelling rather than weekly buzzer-ending crime-solving. But the dramas we talk about generally are of this ilk, whether it's
Breaking Bad, Mad Men
or
Sons of Anarchy
on cable networks or ABC's
Revenge, Once Upon A Time
or
Lost
for those who either endured or embraced its wobbly course.
The first two hours of
Last Resort
are bracingly strong on pulling power. In the end, though, will the whole thing just capsize? Or could cancellation intervene before anything close to closure?
If only we knew. And there's the rub.
GRADE:
A-minus