84th Oscars banking on Crystal after platinum ratings for Grammys
02/23/12 11:46 AM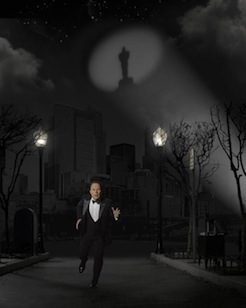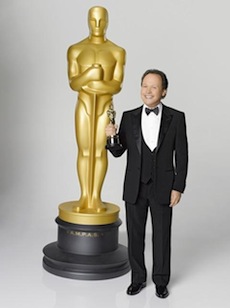 Billy Crystal will be hosting for the 9th time. ABC photos
By ED BARK
Can Billy Crystal revive the Oscars in his ninth go-around as host?
Can Sunday night's ceremony on ABC even beat the Grammys?
The second question unexpectedly came into play when Whitney Houston's death on the eve of the Feb. 12th Grammy Awards served as jet fuel for the show's ratings. The 39.9 million viewers were the most since 1984, when an all-time record 51.7 million viewers (according to Nielsen Media Research's official chart) watched a height-of-his-powers Michael Jackson collect eight Grammys for
Thriller
.
The 1984 Academy Awards ceremony, the last hosted by Johnny Carson, drew 42 million viewers, marking the only time the Oscars have fallen short of the Grammys in a calendar year. A generation later, there are many more televised awards shows, almost infinitely more viewer choices and another shortage of blockbusters among this year's nine Oscar nominees for Best Picture.
Despite Crystal's presence, for the first time since 2004, the Oscars also are increasingly vulnerable on another front. In recent years, the Grammys and other music awards shows have reduced the actual trophy handouts to a bare minimum. These instead have become performance spectaculars, with the Grammys dominated not by Adele really, but by various Houston tributes, a Beach Boys reunion, two Paul McCartney appearances, Rihanna, Nicki Minaj, etc., etc.
The Oscars, comparatively top-heavy in awards-giving, have no answer for that. Few if any viewers really want to see performances of the increasingly lame batch of nominated songs. Clips from nominated films get old in a hurry. And the hosts pretty much make their big splashes in the opening half-hour before basically becoming traffic cops for the remainder of the marathon show.
Presenter pairings can be fun. And at least a few of the acceptance speeches reverberate beyond the telecast. But the scripted banter can be woefully forced as well. And the majority of winners are more inclined to leave viewers on the receiving ends of less than scintillating "thank you" litanies.
Crystal undoubtedly will bring more to the annual party than preceding hosts Anne Hathaway and James Franco, who were hired to "youthify" the telecast. Hathaway tried hard, but Franco seemed increasingly indifferent. Crystal, no longer a Billy the kid at age 63, will throw himself into the proceedings while trying to keep them humming with banter and ad libs. This was standard operating procedure when Carson and Bob Hope hosted. Crystal, who first presided in 1990, is now as "Old Hollywood" as they ever were.
Last year's Oscar telecast drew 37.9 million viewers, down from the previous year's 41.7 million with hosts Steve Martin and Alec Baldwin. Oscar's smallest audience ever came in 2008, when just 32 million viewers watched host Jon Stewart try to navigate his way through a
No Country For Old Men
win as Best Picture. Worthy or not, it was hardly a smash at the box office.
This stuff matters. Oscar's all-time largest viewing audience -- 55.2 million in 1998 -- came in the year when
Titanic
dominated the ceremony. The 2010 Academy Awards, which were the most-watched since 2005, featured a marquee battle for Best Picture between
Avatar
and
The Hurt Locker
.
Among this year's nine nominees, only
The Help
has made more than the magic $100 million at the box office.
The Artist
, which seems to be the favorite to win both Best Picture and Best Actor, has earned $28 million to date. It's in black-and-white, and for the most part isn't even a talkie. But Crystal at least should have fun with that.
This year's Oscar producers, Don Mischer and Brian Grazer, have lined up another glittering list of presenters. The tux and ball gown brigade includes Tom Cruise, Meryl Streep, Tom Hanks, Jennifer Lopez, Michael Douglas, Halle Berry, Will Ferrell and Angelina Jolie. But none of them will be performing beyond the parameters of their prepared remarks. And that's where the Grammys and just about any country music awards concoction have a decided edge.
My prediction: Sunday night's Oscars will exceed last February's total of 37.9 million viewers but fall short of 2010's total of 41.7 million. That would put them smack in the vicinity of the Grammys' 39.9 million haul. For appearances sake, The Academy of Motion Picture Arts & Sciences very much wants to at least hit the 40 million mark.
But I'm thinking they won't unless -- heaven forbid -- a really big Hollywood star unexpectedly calls it "The End" between now and then.