Movie review -- Oprah Winfrey Presents: Mitch Albom's For One More Day
12/07/07 12:17 PM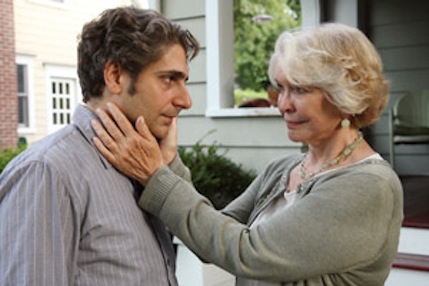 That's my boy: Ellen Burstyn tries to buck up Michael Imperioli.
By ED BARK
First off, there haven't been this many egos in a TV title since Cher managed to mention herself twice in a 1998 tribute to her late ex-husband, Sonny Bono. It went by the name of
Sonny & Me: Cher Remembers
.
ABC's
Oprah Winfrey Presents: Mitch Albom's For One More Day
is a collaboration of a best-selling author and someone who makes best-selling authors with her periodic "Book Club" pronouncements. Winfrey's enthusiastic endorsement of Barack Obama also could make her a kingmaker in the Democratic presidential race. But that book hasn't been written yet.
One More Day
-- we'll go to shorthand now -- is another of Albom's heart-tugging looks at the human condition. Premiering Sunday, Dec. 9th at 8 p.m. (central), it's also the weakest ABC adaptation of Alborn's three publishing triumphs.
The network's
Tuesdays with Morrie
, which starred the late Jack Lemmon, deservedly won an Emmy in 2000 as the season's best made-for-TV movie.
The Five People You Meet In Heaven
, with Jon Voight, premiered in 2004 to less acclaim. But it was still a worthy, inspiring film.
Michael Imperioli, who also co-starred in
Five People
, is center-stage this time as an alcohol-addled, suicidal former major league baseball player.
Chick Benetto (Imperioli), busily swirling down the drain, is first seen buying a six-pack on a stormy night. Despondent at not being invited to his daughter's wedding, he drives none-too-steadily to small-town Pepperville's little league baseball field. A car wreck impedes his progress, but a bloodied Chick makes it to the ballyard and puts a gun to his head before sighting his long-dead momma, Posey (Ellen Burstyn), wandering near the outfield grass.
This cues a relentless series of time travels to Chick's formative years, with Imperioli's son, Vadim, making his film acting debut as Chick-adee. The kid's hard-driving dad, Len (Scott Cohen), is determined to turn Chick into a star baseball player.
"You can be a momma's boy or you can be a daddy's boy," the old man lectures. "But ya can't be both. Ya got that?"
This leaves Chick pretty clenched up throughout a life that takes him all the way to the 1973 World Series as a backup catcher for the New York Mets. But a knee injury ends his ballplaying career while Chick's wayward dad slides in and out of the picture.
He's also disappointed his devoted mom (played as a younger woman by Samantha Mathis), who had wanted Chick to finish college rather than drop out to play ball. Their strained relationship gradually thaws to a breakthough, courtesy of mom's magical appearance just when Chick is at his lowest.
"What happened to you?" she asks, as if she didn't know. "Are you in any pain?"
"I haven't been so good, ma," he concedes.
Preachments abound down the homestretch of a film that means well but doesn't wear particularly well. Its ending is too abrupt, and it's no surprise at all to learn that ______ actually is ________.
The older Imperioli and Burstyn give it a good try in their scenes together. But it's not enough to redeem this transparent blend of
A Christmas Carol
and
It's A Wonderful Life
.
Instead the syrup rises to the top, making
One More Day
the gooiest and least satisfying of Albom's three sentimental journeys.
Grade:
B-minus