NBC's Merlin gets olde in a hurry
06/18/09 10:10 AM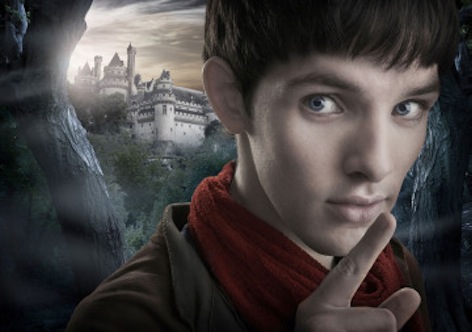 Colin Morgan stars as an apprentice Merlin in new NBC series.
Premiering:
Sunday, June 21st at 7 p.m. (central) on NBC
Starring:
Colin Morgan, Bradley James, Anthony Head, Richard Wilson, Katie McGrath, Angel Coulby, John Hurt
Produced by:
Julian Murphy, Johnny Capps,Jake Michie, Julian Jones
By ED BARK
It's been 11 hardly magical years between NBC's two
Merlins
.
The lavishly mounted 1998 miniseries received 15 Emmy nominations, won four of them, starred Sam Neill in the title role and featured John Gielgud, Helena Bonham Carter, James Earl Jones, Miranda Richardson, Martin Short, Isabella Rossellini and Rutger Hauer.
In succeeding seasons, NBC has tumbled from first to fourth in the prime-time ratings and lost much of its luster via attractions such as
Fear Factor, The Biggest Loser, Deal or No Deal, Celebrity Apprentice
and the ongoing
I'm A Celebrity . . . Get Me Out of Here
.
Into this cesspool steps NBC's second
Merlin
, a 13-episode scripted series originally scheduled to premiere last winter but now relegated to the hot summertime. Launching Sunday with back-to-back one-hour episodes, it stars newcomer Colin Morgan as a wide-eyed kid sorcerer who resembles an early Beatle. He also could be a formative Mr. Spock if his prominent ears were pointier.
Young Merlin arrives in Camelot just in time to witness a beheading ordered by nasty King Uther Pendragon (Anthony Head), who has banned all magic from his realm after bad things happened in earlier times.
This makes Merlin pretty blue.
"If I can't use magic, what have I got?" he asks his wizened mentor Gaius (Richard Wilson). "I'm just a nobody, and always will be."
We pause for this brief commercial message regarding "product placement," which is all the rage at NBC in particular. But
Merlin
would appear to offer few if any opportunities in this arena. Medieval times weren't known for brand names, or even indoor toilets. And even in a "re-imagined" tale such as this, it might be unseemly for Merlin to tout the virtues of "ye olde Big Mac."
Back to our review and a further introduction of characters. A cocky Prince Arthur (Bradley James) initially delights in bullying the nerdish Merlin while plucky Guinevere (Angel Coulby) -- "But most people call me Gwen" -- decides to befriend him.
Merlin also has an ally in The Great Dragon (voiced by John Hurt), who's been chained in a cave by Uther as an "example" that the old ways no longer will be tolerated. The Dragon tends to talk in mysterious ways, but makes it clear that Arthur cannot succeed as the eventual King without Merlin by his side. By the end of Episode 1 -- as in NBC's earlier series
Kings
-- Merlin gains a position in the royal palace after saving the life of the future king with a major assist from his magical powers.
Sunday's second episode, built around a sword-fighting tournament, plods along with utmost predictability after introducing a villain who blows into town with poisonous snakes embedded in his shield. Can Merlin save Arthur again? And in the process will he typically be ordered to "get out of my sight?" You'll quickly get the drift.
Merlin
is touted in NBC publicity materials as "an imaginative and enthralling new twist on a legend that is as old as time." In truth, it's at best a moderately entertaining little talkie that lacks majesty but beats watching a shirtless, slobbified Stephen Baldwin on
I'm a Celebrity
.
That's pretty much what it's come to on NBC, which in the years between
Merlins
has gradually been upstaged by NBC Universal's most-watched cable property, the USA network. Its summertime fare includes new seasons of
Burn Notice and In Plain Sight plus a fun, breezy newcomer in Royal Pains.

The Peacock's broadcast arm can't say nearly as much of late. Even Merlin isn't capable of waving a magic wand and making it all better. He's just a magician, after all, not a miracle worker.

GRADE: C