ABC's Secrets and Lies: a murder mystery without a strong enough pulse
02/26/15 08:27 AM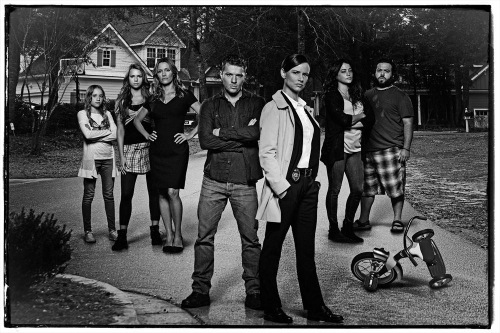 The misery index is off the charts in Secrets and Lies. ABC photo
Premiering:
Sunday, Feb. March 1st at 8 p.m. (central) with back-to-back episodes
Starring:
Ryan Phillippe, Juliette Lewis, KaDee Strickland, Natalie Martinez, Dan Fogler, Indiana Evans, Belle Shouse
Produced by:
Barbie Kligman, Aaron Kaplan, Tracey Robertson, Nathan Mayfield, Timothy Busfield
By ED BARK
@unclebarkycom on Twitter
The media hounds are omnipresent in the first two episodes of ABC's
Secrets and Lies
.
Not the "Social Media" ones, but the traditional pack of salivating, question-shouting curs. They bedevil "person of interest" Ben Crawford (Ryan Phillippe) while also making his little daughter, Abby (Belle Shouse), cry. It's the Christmas season but this is no hallelujah choir.
Ben's guilt or innocence is very suddenly in question after he finds the dead body of a 5-year-old neighborhood boy whom his snippy teen daughter, Natalie (Indiana Evans), used to babysit. But quick justice for the not-so-stereotypical media mob would be a lightning bolt or two from on high. No one would question that verdict after watching the early stages of this determinedly dreary murder mystery.
Suburban Ben, a married man whose wife has grown weary of him after 17 years of marriage, is also bedeviled by detective Andrea Cornell (Juliette Lewis). She wears her hair in a tight bun and has a demeanor that begins and ends with dour. Lewis plays this role in a manner that gradually makes the character almost laughable. She lurks, she badgers and she assures Ben that "I don't stop." If only she'd take a long vacation to Siberia and turn the case over to a detective with a semblance of wily charm.
Adapted from a same-named Australian series and scheduled to run for 10 episodes,
Secrets and Lies
is billed in ABC publicity materials as a "thrilling who-done-it" in which the accused "peels back the layers of these suburbanites' lives in their quiet cul de sac, revealing their dirty little deceptions and all-too-crowded closets overflowing with skeletons." But
Desperate Housewives
had a lot more fun doing this -- at least in its early seasons.
Ben, of course, has a skeleton or two in his own closet. But his wife, Christy (KaDee Strickland), is ready to toss him out even before the biggest one is divulged at the end of Episode 1. "You're the same person. I'm not," she tells him. In the physique department that's very true. Ben, in the person of Phillippe, certainly hasn't let himself go. He's still a hunk and a half who runs daily and finds the dead body during one of his jaunts through the woods.
Secrets and Lies
also co-stars Dan Fogler as a shlubby, bearded buddy to end all shlubby, bearded buddies. As Dave Lindsey, he's been Ben's best friend since high school. Now he's a layabout, too, crashing at the Crawfords' house and literally never seen without a beer grafted to his hand during Sunday's back-to-back hours. Ben and Dave went out drinking -- heavily -- on the night of the murder. And Ben, who had again been spurned by his wife, got so blasted that he can't quite remember all that happened thereafter.
Meanwhile, Ben's neighbors turn on him in lightning quick fashion while little Abby yearns to put up the Christmas decorations. "I know you didn't do it, Daddy," she says. It's a nice moment in a series that so far is brimming with ominous music and an abundance of trips to the cop shop for more questioning.
This is supposed to be a spellbinding page-turner, but the pages tend to get stuck together. The original Australian series ran for just six episodes, which no doubt made for a better pace. ABC's elongated version loads up on angst and redundancy, tending to plod along at a pace that would fall well short of providing a decent cardio workout for jogging Ben.
An arresting performance or two would enliven matters. But Phillippe and Lewis as the two principal characters are not potent enough to get the juices flowing in an unfolding crime tale that's neither terrible nor scintillating.
GRADE:
C+
Email comments or questions to:
unclebarky@verizon.net