Tower deftly animates a University of Texas tragedy
02/14/17 09:50 AM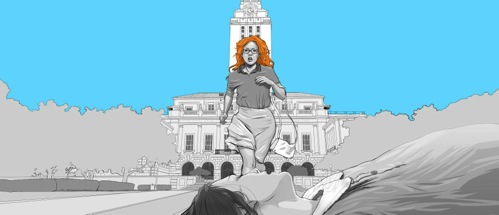 A Good Samaritan rushes to the aide of a wounded pregnant woman in Tower. The documentary film mixes animation and actual footage.
PBS photo
By ED BARK
@unclebarkycom on Twitter
Valentine's Day isn't an optimum spot for the TV premiere of a very different look at the University of Texas Tower shooting, in which 16 people ended up dead, including the assailant's mother and wife.
Activating your preferred recording device might be a better approach. Because
Tower
is a film well worth seeing, both for its novel blend of animation and real-life footage and the eyewitness stories recounted 50-and-a-half years after the Aug. 1, 1966 mass murders.
Running for just under one hour, 20 minutes and airing under the Independent Lens banner,
Tower
premieres at
9 p.m. central on (KERA13 in D-FW).
The director is Keith Maitland, who financed the film via the Indiegogo crowdsourcing website before receiving $70,000 in matching funds from University of Texas alumni.
Maitland deploys what's called "rotoscopic" animation to depict
Tower
's main characters. But the end result is neither cartoonish nor laughable. Archival news footage is also used fairly extensively. And in the closing portion,
Tower
has current-day interviews with some of the surviving key participants.
Going unseen is the Tower shooter, 25-year-old ex-Marine Charles Whitman. The only exception is a magazine picture of him as a three-year-old balancing himself with rifles held in both hands while standing next to a dog. It's shown near film's end as a bridge to forgiveness from Claire Wilson James, who was pregnant on that day and lost both her baby and her boyfriend to Whitman's bullets. "How can I hate somebody like that?" she asks in reference to his innocence lost.
The telescoped focus is on the victims, survivors and those who worked their way to the tower's 28th floor to kill Whitman. Roughly 10 minutes of
Tower
have been cut from its premiere at last year's South by Southwest film festival in Austin. Whatever edits were made, there's no Whitman "back story" in the television version. Could it use one? Yes, although just a few minutes would suffice. His killing spree is billed as "the nation's first mass school shooting." So even a very cursory look at Whitman's formative years would help to put that very grim day into context. Otherwise, there's always
Wikipedia
.
Tower
takes a minute-by-minute approach to Aug. 1, 1966, with KTBC-TV/radio reporter Neal Spelce quickly setting the scene by sounding the alarm to stay away from the UT campus in live dispatches from his Red Rover station wagon. Claire Wilson James soon enters the picture. "I just felt this huge jolt," she says of the gunfire that seriously wounded her. The James' story is woven throughout
Tower
. Will she be rescued? Can she hold on? At one point, "I thought it felt like an invasion from outer space," James says of battling not to lose consciousness while helpless and flat on her back. The film gets a little carried away with the accompanying space invasion animation.
Police officer Ramiro Martinez was off duty that day. But he volunteered to help in any way he could, and was soon on the scene. Martinez and the late Houston McCoy were the two officers who eventually took Whitman out with an assist from the now deceased Allen Crum, a bookstore employee who asked to be deputized after obtaining a rifle from a Texas Department of Public Safety trooper. Yes, it's quite a story. (It also can be quite an unseemly distraction when the finished product includes periodic PBS tags, most egregiously "Follow us on Facebook and Twitter.")
James finally was aided by a redheaded woman named Rita, who laid down beside her and tried to buoy her spirits. "It was a beautiful, selfless act," James recollects.
The iGood Samaritan's identity eventually is revealed, and the emotional impact won't be spoiled here. Two young men also were pivotal in rescuing James. In this instance, actual footage is available of their courageous decision to risk their lives in carrying her out of further harm's way. "I've never been more scared," says one of the rescuers, still emotional all these years later.
The film ends with CBS anchor Walter Cronkite deploring the escalating violence in the country and "the caveman's philosophy -- that might makes right."
"It seems likely that Charles Joseph Whitman's crime was society's crime," he says before signing off.
Tower
is a vivid snapshot of derangement, heroism, endurance and sometimes admitted cowardice on what remains the most traumatic day in University of Texas history. Using animation to in large part tell the story is a risk that ends up working to the film's advantage, given filmmaker Maitland's certainty that UT officials would never allow any "live action" reenactments on campus.
The techniques used in
Tower
now stand as a tableau for future possibilities with the documentary form. But you have to get it right, and
Tower
for the most part certainly does.
GRADE:
A-minus