Friday Night Lights closes out Season 3, suits up for two more
04/09/09 07:47 PM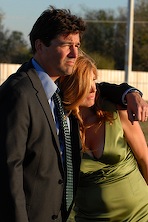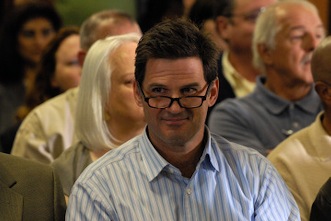 The Taylors vs. a McCoy: Friday Night Lights turns up the heat.
By ED BARK
Separation anxieties and a strong sense of reinvention fuel Friday's third season finale of
Friday Night Lights
.
But there's peace in the valley, too. Fans of NBC's best drama series can savor the moments -- if they haven't already on DirecTV -- with the comforting knowledge that at least two more 13-episode seasons are
already on order
. That's a welcome first for a series that had been left hanging at the close of its freshman and sophomore years.
Friday's "Tomorrow Blues" (
8 p.m. central
) episode closes out the senior years of Dillon High students Matt Saracen (Zach Gilford); Tim Riggins (Taylor Kitsch); Tyra Collette (Adrianne Palicki); and Lyla Garrity (Minka Kelly). It's five months after the Panthers' heartbreaking championship game loss, but those are old wounds when uncertain futures are at stake. Who's going to college and where? What relationships will endure and how?
Football coach Eric Taylor (Kyle Chandler) and his wife, Tami (Connie Britton), who's also the high school principal, are thrown for the biggest losses. A power play by wealthy Joe McCoy (D.W. Moffat), father of hotshot quarterback J.D. McCoy (Jeremy Sumpter), is designed to put Taylor out of a job and into what seems like a no-win situation at cash-poor East Dillon High, home of the toothless Lions.
Friday Night Lights
, filmed entirely on location in Austin, has not made the mistake of keeping its actors in high school to the point where they look old enough to be returning for a 10th year reunion.
Earlier this season, star running back Brian "Smash" Williams (Gaius Charles) and wheelchair-bound former quarterback Jason Street (Scott Porter) left small-town Dillon's confines to begin new lives. They're always free to drop in for a guest appearance on
FNL
. But the show otherwise goes on without them. And that goes double for next season, which almost assuredly will be stocked with a big batch of new young characters with something to prove.
FNL
has been ratings-challenged from the start. So a cast upheaval probably can't hurt too much, provided that at least a few of the high school age reinforcements hit the ground running. Their forebears are leaving some deep imprints.
Meanwhile, the principal adult characters play on. And that pretty much boils down to the Taylors, the McCoys and car dealer Buddy Garrity (Brad Leland), a Texas Bubba for all seasons who'd be sorely missed if he ever blows town.
Eric and Tami Taylor continue to have the most interesting and endearing relationship of any prime-time married couple. And
FNL
likewise has put Texas on the TV map as something other than a home on the range for broadly drawn, deep-drawling weasels and buffoons.
This is a series that has always treated Texas like an adult, even if the majority of its cast members aren't yet legal or barely so. We can now look ahead to at least two more seasons of football-infused, deeply human drama, with Coach Taylor re-gathering his resolve and then taking it to 'em.