CW's Melrose Place kicks off fall season with nicely done do-over
09/08/09 10:07 AM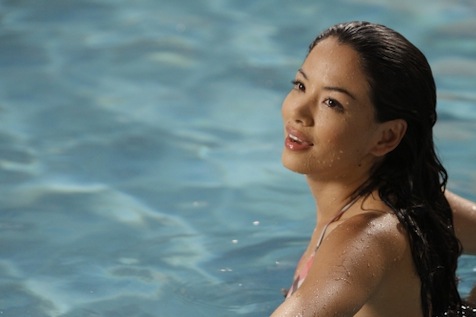 Pool your resources: Stephanie Jacobson as med studt. Lauren Yung.
Premiering:
Tuesday, Sept. 8th at 8 p.m. (central) on The CW
Starring:
Katie Cassidy, Michael Rady, Colin Egglesfield, Stephanie Jacobsen, Jessica Lucas, Shaun Sipos, Thomas Calabro, Ashlee Simpson-Wentz, Laura Leighton
Produced by:
Todd Slavkin, Darren Swimmer, Davis Guggenheim
By ED BARK
It's been a decade -- only that long? -- since Fox dropped
Melrose Place
from its prime-time address book.
The CW didn't exist back then. And the younger elements of its 12-to-34-year-old target audience weren't yet old enough to appreciate the assets Heather Locklear brought to the ongoing party.
Locklear so far isn't a part of The CW's do-over. But original cast member Laura Leighton is back in the fold, although mostly posthumously, as conniving Sydney Andrews. This time she's the 40-year-old landlord, but it doesn't take long for tenants to find her floating face-down in a pool of blood after someone took a stab at her. She'll live on in flashbacks, though, threatening, cajoling and giving just about everybody a motive to murder her.
Melrose Place
was never more than a guilty pleasure, and this second coming also fills that bill. It's nicely shot and paced, adequately acted and amply stocked with nice bods and bod-ettes.
Principal among them is blonde bitch Ella Simms (Katie Cassidy), a hard-charging publicist who has the signature line in Tuesday's premiere (preceded by the Season 2 launch of The CW's
90210
).
"Hey, I love love," she informs budding filmmaker Jonah Miller (Michael Rady). "I just hate monogamy."
Jonah, still something of a geek, has a five-year, live-in relationship with Riley Richmond (Jessica Lucas), to whom he proposes in the early minutes. Her hesitation initially bums him out.
Meanwhile, hunky but rebellious David Breck (Shaun Sipos) is the initial suspect in Sydney's death. He'd been sleeping with the still frisky old huntress, as had his father, Michael Mancini (Thomas Calabro of the original
MP
), from whom David is estranged.
Also in this mix are recovering alcoholic Auggie Kirkpatrick (Colin Egglesfield), now a successful
sous
chef; medical student Lauren Yung (Stephanie Jacobsen); and sweetie two shoes Violet Foster (Ashlee Simpson-Wentz, who's also Jessica Simpson's sister).
Lauren's plans to be a doctor are threatened by her father's layoff and his sudden inability to pay her now overdue tuition bills. She's tempted into iniquity by a blackmailing suitor with a pay-for-play offer. As is Jonah by a millionaire producer caught in a compromising position at his daughter's 18th birthday party. Whoops, Jonah caught him in the frame while dutifully filming the kid's gift spread.
The goings-on at 4616 Melrose Place will get ever more complicated, of course, as this second generation frolic bubbles to repeated boils. Tuesday's opener is a suitably tasty appetizer as well as a toast to the departed Sydney, whose past misdeeds will keep rerunning.
She "was never boring" is the best her tenants can muster. CW's
Melrose Place
so far can also say as much.
GRADE:
B