Just what the doctor ordered? Miami Medical continues CBS' search for a long-running hospital hit
04/01/10 02:20 PM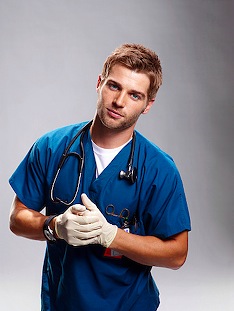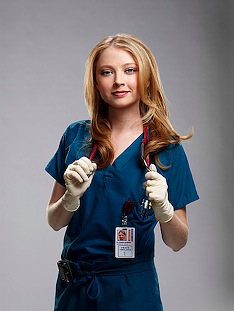 Young guns with scalpels. Mike Vogel and Elisabeth Harnois are among the stars of CBS' Miami Medical, premiering Friday. CBS photos
Premiering:
Friday, April 2nd at 9 p.m. (central) on CBS
Starring:
Jeremy Northam, Mike Vogel, Lana Parrilla, Elisabeth Harnois, Omar Gooding
Produced by:
Jerry Bruckheimer
By ED BARK
CBS is still after that elusive hit hospital drama. Will its latest attempt,
Miami Medical
, have enough punch to prosper in a relatively weak-kneed Friday night slot?
Produced by crime-meister Jerry Bruckheimer (the three
CSI
s,
Cold Case
),
MM
will be the only 9 p.m. (central) series on CBS that has nothing to do with whodunit and why. It supplants
Numb3rs
, which may well be headed to the cancellation bin if this fast-paced blend of "rock star" docs and near-death patients gives off enough sparks.
CBS hasn't had a contemporary Top 20 horsepistol series since
Medical Center
, which made that grade thrice in the early 1970s. Its other long distance runner of note,
Chicago Hope
, had the misfortune to originally air on the same night and at the same time as NBC's blockbuster
ER
.
Hope
got as high as No. 23 in the prime-time ratings while
ER
had a remarkable run of 10 straight seasons in the top 10 before finally leaving NBC last year.
Dr. Quinn, Medicine Woman
gave CBS a Saturday night mainstay in the 1990s. But it was set in frontier times, and never quite made the top 20 before being discharged in 1998.
Meanwhile, ABC and Fox also have needled CBS with hit medical dramas that are still prospering --
Grey's Anatomy
and
House
. CBS' failed efforts have included
L. A. Doctors, City of Angels, 3 lbs
and this season's limp
Three Rivers
.
Miami Medical
is very much in in the here and now, although it so far lacks either a snarly doc or a steamy romance. Its signature line, also used in CBS' promos, comes from lippy but dedicated charge nurse Tuck Brody (Omar Gooding), who assures the husband of an endangered pregnant woman that she's in good hands with this all state team.
"Look, I'm partial," he says. "Trauma docs, best and the brightest. The rock stars of medicine. The ones here at Miami Trauma One, they're the Rolling Stones."
Producer Bruckheimer is noted for high production values, impressive pyrotechnics and characters that walk a fine line between broadly drawn and believably textured. So he blows up an ice cream shop in the early minutes, leaving the sweets-craving pregnant woman and her husband traumatized but only slightly worse for wear until a truck rear-ends their convertible.
"I need a doctor!" he exclaims at the end of an impressive bit of staging. Need he say more?
The redoubtable and always welcome Andre Braugher, on furlough from his co-starring role in TNT's
Men of a Certain Age
, drops in briefly to play a trauma head who's suddenly -- traumatized. This paves the way for cocksure but likeable Dr. Matthew Proctor (Jeremy Northam), a Persian Gulf War veteran who's otherwise something of a mystery man. By Episode 2, however, viewers will learn what that big scar bisecting his chest is all about.
Miami Trauma One's other top guns are Dr. Chris "C" Deleo (Mike Vogel), also known as "Cowboy," and Dr. Eva Zambrano (Lana Parrilla), not known as timid. There's also the inevitable first-year resident, Dr. Serena Warren (Elisabeth Harnois). She's baby-faced and able to penetrate Proctor's emotional armor. Zambrano and Deleo (sounds like a circus act) seem more likely to penetrate in other ways, but so far she only musters a playful "Oh bite me, Cowboy" while the docs gang-drink shots at a trendy looking bar.
Miami Medical
, originally titled
Miami Trauma
, is filmed in L.A., as is
CSI: Miami
. But there are enough requisite establishing shots to make it all seem like Miami. Printed watchwords precede each of the first two episodes. Just so you know: "The first moments after a critical injury are known as 'Golden Hour.' Your best chance of survival are the trauma surgeons who can pull you back from the brink."
It's all pretty gripping, with docs you can count on and characters that seem worth investing in. Another crisis is always around the corner, of course. Bruckheimer doesn't like to dink around. Never has, never will.
GRADE:
B