Stewart, Colbert join late night returnees; Celebrity Apprentice makes another date -- again
12/20/07 11:11 PM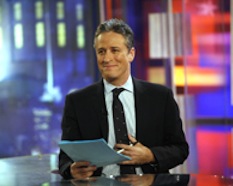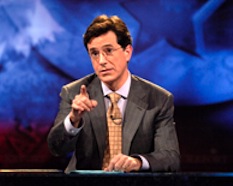 By ED BARK
Too late for the Jan. 3rd Iowa caucuses but better late than never, both
The Daily Show
and
The Colbert Report
will resume production on Jan. 7th without their writing staffs.
"We continue to hold out hope for a swift resolution to the current stalemate that will enable the shows to be complete again," Comedy Central said in a statement.
Hosts Jon Stewart and Stephen Colbert of course were cheekier about it.
"We would like to return to work with our writers," they said jointly. "If we cannot we would like to express our ambivalence, but without our writers we are unable to express something as nuanced as ambivalence."
NBC's
Tonight Show with Jay Leno
and
Late Night with Conan O'Brien
earlier announced Jan. 2nd returns, as did ABC's
Jimmy Kimmel Live
. There's still no official word on whether CBS'
Late Show with David Letterman
will be joining them on that night.
Meanwhile, NBC's
Celebrity Apprentice
continues to play chicken with TV listings editors.
On Wednesday, the Peacock announced that Donald Trump's once consequential competition would premiere on Jan. 10th instead of the originally announced Jan. 3rd.
On Thursday, NBC announced that the Jan. 10th date is inoperative, and
Celebrity Apprentice
in fact will premiere on Jan. 3rd after all.
Maybe on Friday the network can announce, "We've got a bunch of idiots running this network, but you've probably already figured that out."