Best to try something other than CBS' Friends With Better Lives
03/27/14 01:36 PM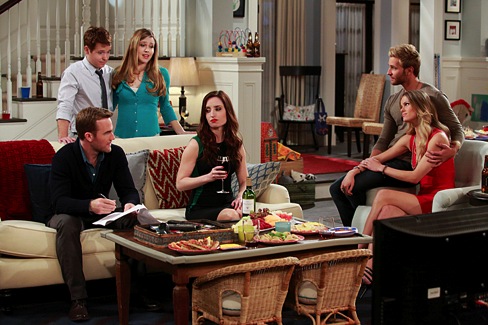 The vexed sextet of Friends with Better Lives. CBS photo
Premiering:
Monday, March 31st 8 p.m. (central) on CBS before moving to regular Monday, 7:30 p.m. slot on April 14th.
Starring:
Kevin Connolly, Majandra Delfino, James Van Der Beek, Zoe Lister-Jones, Brooklyn Decker, Rick Donald
Produced by:
Dana Klein, Dave Hemingson, Aaron Kaplan
By ED BARK
@unclebarkycom on Twitter
From NBC's
Friends
to the same network's
Friends With Benefits
to CBS' new
Friends With Better Lives
.
Elongating the title does not make for a better sitcom. But here we go with another sextet of youngish pals in various states of unrest.
Entourage
emigre Kevin Connolly and Majandra Delfino play Bobby and Andi, whose seven-year marriage is getting bogged down with a toddler in the house and another baby comin' 'round the bend. It's the second new mid-season sitcom in which the kid-plagued parents at first appear to at long last be having sex but instead are merely catching up on
Homeland
episodes. The other is NBC's
About A Boy
.
James Van Der Beek, the one-time philosopher teen of
Dawson's Creek
, is the outwardly jaunty Will, who's cryin' on the inside after his wife dumped him. He's also a doctor, as is Bobby.
Zoe Lister-Jones plays Kate, a terminally unsatisfied sour ball single whose signature flashback line is, "God, his wiener smelled weird."
Jules and Lowell (Brooklyn Decker, Rick Donald) are the newly minted lovebirds. She's more than a little vacuous and he's more than a little hard to take as a prettily perfect Prince Charming.
Put them all together, add a way too giggly laff track and you have a show that's easily stolen by Lister-Jones' caustic Kate. Unfortunately it's mostly petty theft.
Monday nights are already readily "adult" on CBS, with
2 Broke Girls
leading the
double entendre
charge while
Mom
and
Mike & Molly
also contribute their share of off-color jokes. Besides the smelly wiener riff,
Friends With Better Lives
has a double shot of breast pump jokes ("What's up with lefty?"), an extended exchange on "nut cheese," a "pap smear" reference, several oral sex ba-da-booms and Kate's recollection of what it was like to date a guy with one testicle. "It was right in the middle," she says. "Comin' at me like the boulder in
Raiders of the Lost Ark
." The laff track goes positively nuts.
Previewing on Monday after the special one-hour episode of
How I Met Your Mother
, the newbie will tuck itself into its regular 7:30 p.m. slot on April 14th, following
2 Broke Girls
as the night's new lead-off hitter.
Maybe
Friends With Better Lives
can somehow mature into something quite a bit more than what goes down during its first outing. For now it's pretty much something you wouldn't wish on your best friends. Saucy, grumpy Kate is in there slugging away, though. So if this doesn't work out, she might be perfect for an arc on
Two and a Half Men
or maybe even as the star of ABC's next edition of
The Bachelorette
. "Lex, I'd really like to give you a rose, but that smelly wiener is a real turn-off. So I can't."
Gold.
GRADE:
C-minus
Email comments or questions to:
unclebarky@verizon.net