Imperfectly Frank: HBO's Sinatra: All Or Nothing At All
03/27/15 01:43 PM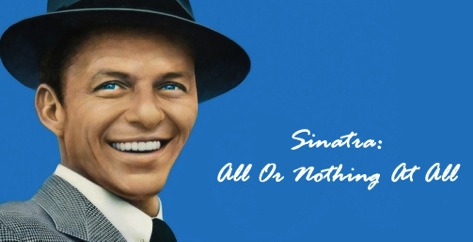 By ED BARK
@unclebarkycom on Twitter
Documentary filmmaker Alex Gibney is in the zone on HBO.
His exemplary
Going Clear: Scientology and the Prison of Belief
premiered on Sunday, March 29th. Take a brief breath and here he is
back in the race
with
Sinatra: All Or Nothing At All
, a four-hour retrospective that begins on
Sunday, April 5th at 7 p.m. (central) and continues on Monday at the same hour
.
This one doesn't measure up to
Going Clear
in terms of jaw-dropping revelations or impact. But Frank Sinatra's life, times and indelible music still pack a big punch during the year in which he would have turned 100 had he not died in 1998 at the age of 82.
New and previous reminiscences are interwoven with archival footage to present an affectionate although not unsparing portrait of the man whom many consider to be the greatest crooner of all time. As in his
Mr. Dynamite: The Rise of James Brown
, Gibney mostly concentrates on the glory years, which in fact were quite bleak for a while until Sinatra made his big comeback as the Oscar-winning co-star of 1953's
From Here to Eternity
.
The launch point of
All Or Nothing At All
, is Sinatra's so-called June 13, 1971 "Retirement Concert" in Los Angeles. He performed 11 songs after being introduced by a broken-voiced Rosalind Russell. The film takes its cue from those selections, which were meant to encapsulate Sinatra's life. So back and forth we go, from "Nancy with the Laughing Face" to "I'll Never Smile Again;" from "I've Got You Under My Skin" to "The Lady Is A Tramp;" from "That's Life" to "My Way." Ring-a-ding-ding, it's quite a trip.
Sinatra's three children, Frank Jr., Nancy and Tina, all contribute off-camera reflections, as does his first wife, Nancy, who's now 97. The HBO review DVD at times comes up short on identifications, but this presumably will be rectified with the finished product. It's also unclear whether those are the real voices of ex-wives Ava Gardner and Mia Farrow -- or whether others are standing in for them and reading their words. Most likely the latter.
Sinatra's input is via old interviews, including a vintage black-and-white sit-down with Walter Cronkite during the singer's Farrow period. Cronkite asks Sinatra if he's going to marry her after first making it clear he's uncomfortable in the fleeting role of gossip instead of journalist. Sinatra demurs anyway. But imagine any of today's network news luminaries being even remotely reticent about asking such a question.
Farrow recalls how Sinatra later sent divorce papers to the set of
Rosemary's Baby
after she declined to cut her work on the film short and join him exactly as scheduled to play opposite her husband in
The Detective
. Gardner resented his possessive temperament, "but he was good in the feathers." When they split up, "I became an out and out drunk," says Sinatra. "I mean, I was bombed all the time."
The film also touches on Sinatra's humanitarian gestures, his early stands against bigotry and his political swerve from supporting John F. Kennedy to embracing Richard Nixon and then Ronald Reagan.
"It was a huge loss when Sinatra went to the other side," says Harry Belafonte. "And we've never recovered from it, really."
Sinatra was a man capable of both belittling Sammy Davis Jr. with borderline racist humor during The Rat Pack years and of singing from his heart during a concert for mostly black prison inmates.
All Or Nothing At All
has footage of both extremes.
Among the many musical high points are Sinatra singing an incredible version of "Old Man River" at Carnegie Hall with the Rev. Martin Luther King Jr. in attendance. And if not quite high points, it's considerable fun watching Sinatra do a "Love Me Tender/Witchcraft" duet with Elvis Presley and later donning a garish, spangled costume to perform with The Fifth Dimension. The man who once termed rock 'n' roll "phony and dirty" was persuaded in later years to fill out his self-starting Reprise records roster with the likes of The Kinks, Jimi Hendrix and even Frank Zappa and the Mothers of Invention.
Sinatra surely would agree that there'll never be another quite like him. Not even close, he might add.
All Or Nothing At All
is further vivid proof of that. And it leaves many of us wanting still more.
GRADE:
B+
Email comments or questions to:
unclebarky@verizon.net