New series review: National Bingo Night (ABC)
05/18/07 08:18 AM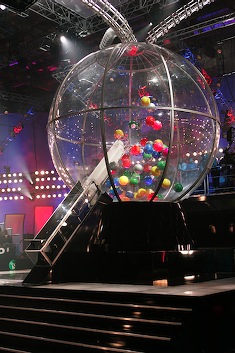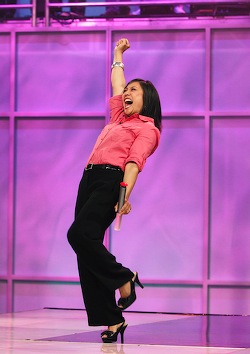 Someone had the balls to win big on ABC's National Bingo Night.
By ED BARK
Mindless entertainment sometimes can be a stroke of genius.
Gilligan's Island. WWE Smackdown!
NBC5's 10 p.m. newscasts.
The road to high ratings may not run through ABC's
National Bingo Night
. Still, don't be surprised if this super-juiced version of the venerable parlor game draws an appreciable and may even appreciative crowd. Shouting out "Bingo!" may not be the next best thing to sex. But it's right up there with pulling warm, sweet-clean apparel out of the dryer. Customer satisfaction guaranteed.
Premiering Friday, May 18, at 8 p.m. (central),
Bingo
is hosted by the none-too-subdued Ed Sanders from ABC's
Extreme Makeover: Home Edition
. There's also "NBN Commissioner" Sunil Narkaar, whose sole duty is to stand in the studio audience and cheerily say, "No Bingo."
This requires some explaining.
The show's Bingo Plex arena is dominated by a two-and-a-half story Bingo Sphere containing the conventional 75 numbered balls. Everyone in the studio audience has a Bingo card and viewers can play along at home by downloading their own game pieces at
ABC.com
. As of Thursday, the network says that more than three million "Bingo grids" (pages with three cards apiece) are in the hands of potential players.
"While not everyone will be a winner, thousands will cash in each week," ABC promises.
And what can we win, Bob!?
Most at-home players will be able to claim a $5 Kmart gift card (for the Red Card game) or a Rascal Flatts'
Me and My Gang
CD (for the White Card game). You'll also be eligible for grand prize drawings of a $10,000 Kmart gift card or a 7-night Royal Caribbean Cruise.
Sound good? You bet it does. But the climactic Blue Card game allows winners to enter grand prize drawings for a "VIP Fantasy Experience" to the 91st Indy 500, a trip to New York to visit the set of
The View
or a $50,000 cash jackpot.
OK, calm down. The weird thing about
National Bingo Night
is that the featured, onstage contestant doesn't want anyone in the studio audience to shout "Bingo!" That's because there are two opposing games going on.
As a preview DVD demonstrated, contestants are playing a "Bingo 500" game in which they have to achieve a distance of 500 miles before anyone in the Bingo Plex gets Bingo.
Let's say that the sphere spits out 0-66. That would get the contestant off to a nice, fast start. Then the contestant has to guess whether the next ball will be over or under that number. Guess correctly and that "mileage" is added on. If you're wrong you're stalled until at least the next guess. Meanwhile the studio audience Bingo players keep filling up their cards. And if anyone shouts it out, the contestant's cooked and the game's over -- both on TV and at home.
All right, maybe all of this is going to fall flatter than a souffle in an earthquake. But the sneaking suspicion here is that
National Bingo Night
will have a pretty strong opening against Fox's
Bones
repeat,
Dateline NBC
and a stupid Dr. Phil special on CBS.
Whatever happens, struggling KMart will greatly appreciate any increased store traffic. It'll be like a shot of vitamin B-12. Bingo!!!