Dick Wolf at the door again: this time he's spun Chicago P.D. from Chicago Fire
01/07/14 04:32 PM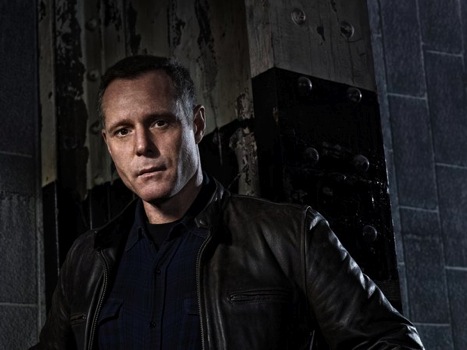 Gruff and ready: Jason Beghe stars in new Chicago P.D.
NBC photo
Premiering:
Wednesday, Jan. 8th at 9 p.m. (central) on NBC
Starring:
Jason Beghe, Jon Seda, Sophia Bush, Jesse Lee Soffer, Elias Koteas, Patrick John Flueger, LaRoyce Hawkins, Marina Squerciati, Archie Kao
Produced by:
Dick Wolf, Matt Olmstead, Peter Jankowski, Michael Brandt, Derek Haas, Daniel Gelber, Mark Tinker
By ED BARK
@unclebarkycom on Twitter
Producer Dick Wolf seemed to be on life support when NBC axed both
Law & Order
and
Law & Order: Criminal Intent
a few seasons back.
That left only the likewise long-in-the-tooth
Law & Order: Special Victims Unit
, which joined the Peacock's prime-time schedule in fall 1999. How long would it take for the last domino to fall?
But Wolf, 67, has proven to be a roaring lion in winter rather than a bleating lamb led to slaughter. His
Chicago Fire
became the surprise drama success of the 2012-'13 TV season. And how here he is adding a spin-off fronted by a bad/good cop who was introduced on
Chicago Fire
and now has his own Intelligence Unit.
NBC's
Chicago P.D.
, being paired with
Law & Order: SVU
on Wednesday nights, stars Jason Beghe as rough, tough, rule-breaking, raspy-voiced Sgt. Hank Voight. In case you don't get the picture, Hank economically brutalizes a drug dealer in
Chicago P.D.
's opening scene, vowing to deposit him "at the bottom of the river" if he ever sees him soiling his city again. Viewers are welcome to draw comparisons to "Dirty Harry" Callahan or
The Shield
's Vic Mackey. After all, those two guys both had quite a run.
Hank, who had a string of "dirty cop" episodes in
Chicago Fire
, is being joined by fellow alum Jon Seda reprising his role as Detective Antonio Dawson. The rest of the unit is made up of newbies, with Hank encouraging one and all, "You tell the truth so I can lie for you."
Beghe commands attention, ramming his lead character home with a voice that sounds as though he's just swallowed a shot glass -- after first munching on it. If he doesn't get your attention, then the ear-splitting, drum-thumping music will whenever the team is on the prowl or closing in. Bite it, Blue Man Group.
Wednesday's opener ushers in a two-parter, with the kidnapping of Antonio's eight-year-old son, Diego, serving as bait for next week's all hands on deck pursuit. Seda does some decent emoting here while also prototypically walking the line between using Hank's hammer and tong "techniques" or asking an arrestee to please spill the beans or you won't get desert with your jailhouse meat loaf.
Hank hasn't yet gotten around to authorizing beheadings, which Chicago's influx of Columbian drug pushers are using to show they mean business. But in Episode 2, he not-so-gently encourages Antonio to "cut his eye out! Do it!"
Hank's softer side is evidenced by detective Erin Lindsay (Sophia Bush), a troubled street teen whom he previously took in. The tough guy cop also comes to the aid of an abused and terrified young black kid caught in the midst of his brother's thug life. So he has a creamier nougat of a heart than Vic Mackey -- in part because the broadcast networks still aren't willing to go as far out on the anti-hero limb as their basic cable brethren.
Chicago P.D.
looks as though it's going to walk its beat for a while. Producer/creator Wolf has shown he's still a master at melding ensemble casts, putting them in urgent inner city surroundings and dumping anyone who asks for too much money too fast.
He's done it before and damned if he isn't showing every sign of doing it again.
Chicago D.A.
anybody?
GRADE:
B-minus
Email comments or questions to:
unclebarky@verizon.net