Obama's big night: A tale of two networks
08/29/08 08:21 AM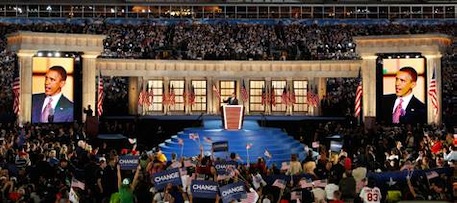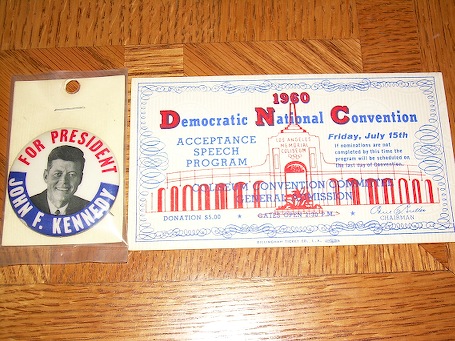 The big night in Denver and an authentic ticket to John F. Kennedy's 1960 outdoor acceptance speech at the Los Angeles Memorial Coliseum. The ticket and campaign button were purchased from a political memorabilia vendor at the 1996 Republican convention in San Diego, where I was otherwise covering media activities.
By ED BARK
Barack Obama's crowning moment Thursday night found two cable news networks playing their respective roles as cheerleader and naysayer.
But Fox News Channel's nays were far more muted than MSNBC's yays. So in that sense at least, FNC in fact achieved a semblance of fairness and balance in the oft-polarized battle of two networks that despise one another.
MSNBC's resident hot air balloon, Chris Matthews began as usual by first referencing himself.
"I've written speeches all my life, of course nothing like this," he said from the network's outdoor post amid the usual gathering of boisterous Obama supporters. "And let me tell you what was great about it."
Matthews opined that Obama repeatedly and effectively attacked "from a defensive position," using presumed opponent John McCain's words against him.
"It was a great way of throwing back the other side's best shot and saying it's full of crap," Matthews thundered as the crowd behind him roared.
Deskmate Keith Olbermann also rhapsodized.
"There was no stone left unturned here," he said before later assuring correspondent Andrea Mitchell that the speech in fact played as beautifully on TV as it did before an estimated 80,000 partisans gathered at Denver's Invesco Field.
Tom Brokaw termed it "a wonderfully crafted political speech" and then faulted the initial Republican response as weak.
"They didn't know how to react to this speech," added analyst Chuck Todd. "As a political show, this has got to be hard to top."
MSNBC's sub-panel of political jabberers, helmed by Kelly O'Donnell, responded in kind after she asked each of her three colleagues to "pick their favorite part of the speech."
Rachel Maddow, the Democratic partisan getting her own prime-time show later this year, offered another rave review. Even Pat Buchanan, the leathery and lately mellower GOP warhorse, went a bit cuckoo for Obama.
"I was a genuinely outstanding speech. It was magnificent," he said. "This is the greatest convention speech and probably the most important."
Olbermann interrupted with relish to introduce a commercial break.
"We had to stop Pat Buchanan gushing over Obama's speech for the sake of time," he said. "Perhaps that will tell you the story better than anything else we can say."
Over on FNC, anchor Brit Hume marveled at the pageantry he had just witnessed, terming it "an extraordinary night of spectacle and speech."
But analyst Juan Williams, the only reliably left-leaning member of the
Fox News Sunday
team, went against his usual grain by proclaiming himself underwhelmed.
"What we heard from Barack Obama, I think, was more prose than poetry," he said. "This was not a motivational, inspirational speech. At times it looked more like a laundry list . . . People will say, 'Gosh, there's magic to him.' But I don't know that he did the closing sale tonight."
Conservative analyst Bill Kristol then turned the tables on
his
usual political bent.
"Barack Obama faced very high expectations tonight. And honestly, I think he met them," Kristol said. "And I honestly think he exceeded them . . . I thought it was an awfully impressive performance."
Nina Easton of
Fortune
magazine, also on the FNC panel, said she liked the introductory biographical film of Obama better than his big speech.
"I thought it was a lost opportunity," she added.
"Well, amazing theatrics. I kind of loved them," said conservative-minded Fred Barnes. Otherwise, "this was the same liberal speech, only better delivered . . . This speech will not build bridges."
Chris Wallace, on the ground at Invesco, credited Obama with making "an exceedingly smart speech."
The usually sour-minded Charles Krauthammer likewise used Wallace's words -- "exceedingly smart" -- before also crediting Obama with making "a generic Democratic speech, because he realizes that if he becomes a generic Democrat in this election year, he wins by a landslide."
That's a pretty good teeter-totter of reviews compared to the merry-go-round of unfailing acclamation on MSNBC. On this night at least, Fox News Channel easily "faired" better than its principal antagonist.
Also of note
-- Someone should have their journalistic head examined at CBS News. All of its rivals, cable and broadcast alike, played the mood-setting Obama biographical film before the candidate took the stage at 9:11 p.m. Thursday. But CBS first had an inconsequential interview and then went to a commercial break before belatedly joining the film in its final minutes.
Imagine the number of viewers who clicked away from CBS during that time and then never returned. What idiocy on its part.