Super Bowl XLVII ranks III on all-time list while post-game Elementary falls into late-starting ratings ditch
02/04/13 03:12 PM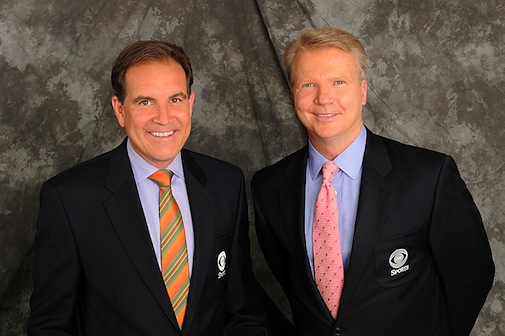 Super Bowl XLVII commentators Jim Nantz, Phil Simms. CBS photo
By ED BARK
@unclebarkycom
The NFL's steady Super Bowl growth spurt slowed a bit after Sunday's XLVII between the victorious Baltimore Ravens and San Francisco 49ers drew fewer viewers than the previous two.
Interrupted by a lengthy second half partial power outage that CBS did not include in its final national Nielsen ratings, the game averaged 108.4 million viewers. That put it No. 3 on the all-time list behind Super Bowl XLVI (111.3 million) and Super Bowl XLV (111.0 million). Super Bowl audiences had grown each year since the 2005 game.
CBS measured Sunday's Super Bowl audience from 5:32 to 7:41 p.m. and from 8:11 to 9:47 (central times).
The in-game delay and a post-game show pushed the start of the network's tagalong entertainment attraction -- a new episode of the first-year series
Elementary
-- completely out of Sunday's prime-time window. Starting at 10:11 p.m. central, it averaged 20.8 viewers in falling dramatically from last year's haul for NBC's
The Voice
(37.6 million).
CBS noted, however, that
Elementary
fared better than the only other post-Super Bowl attraction to start entirely past prime-time. In 2003, an episode of ABC's
Alias
had 17.4 million viewers.
The all-time post-Super Bowl champ is still NBC's 1996 episode of
Friends
, which drew 52.9 million viewers.
CBS' last previous Super Bowl telecast, in 2010, led to 38.6 million viewers for the premiere episode of the network's
Undercover Boss
.
unclebarky@verizon.net